Local subscription boxes are a great way to discover some of the amazing products that different cities produce. Batch Nashville is a monthly subscription box that highlights great, local Nashville purveyors and artisans, delivering an assortment of good made in Nashville, TN.
Each month, Batch Nashville builds a box around a different theme. The February 2014 Batch Nashville theme was "Movie Night":
We nominate this Batch –"Movie Night"—for Best Supporting Batch. Whether you go to the multiplex or watch Netflix from the comfort of your couch, these five delightful items made in and around middle Tennessee will steal the show.
Our Batch Nashville February 2014 Movie Night box was a simple brown box, with Batch Nashville stamped on top.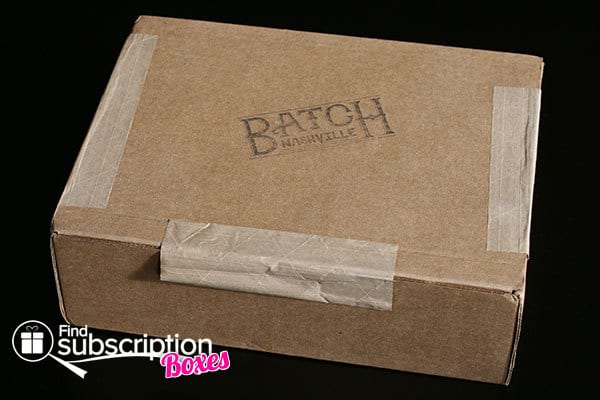 When we opened the box, we found welcome card on top of the brown filling, which hid the products within.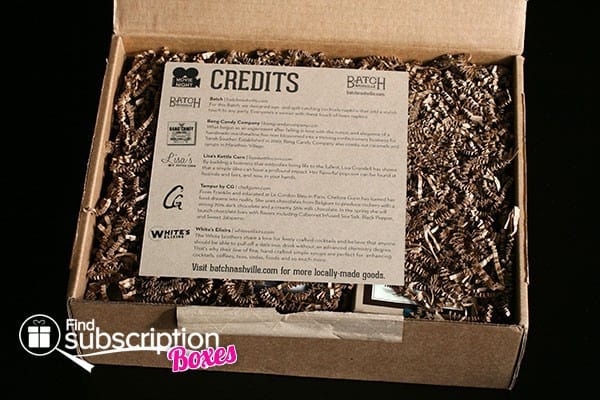 The welcome card included the box "Credits" which described each of the products the Movie Night Batch Nashville box. On the back of the card was a fun "script" that also had additional information about each item.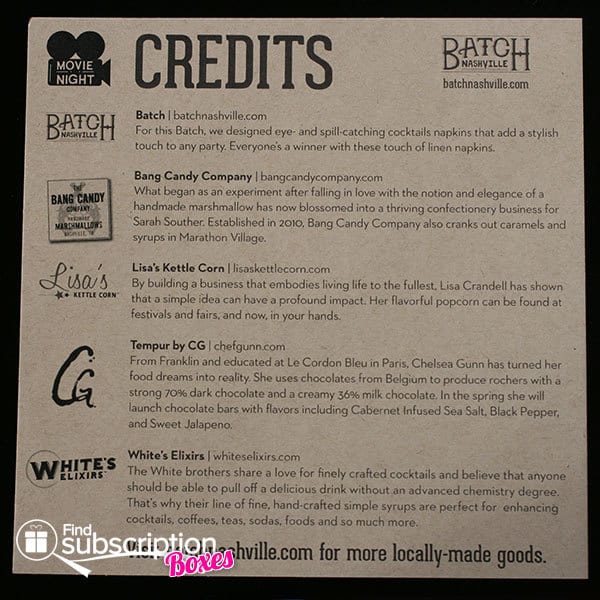 Inside the February 2014 Batch Nashville Box
There were 5 products inside the February 2014 Batch Nashville Box.

1. Bang Candy Company Handmade Marshmallows – 4 marshmallows, Retail Value: $5.00
Give yourself a sweet treat with these handmade marshmallows in exotic flavors link Rose Cardamom and Orange Ginger Cinnamon.
2. Lisa's Kettle Corn, Caramel – 5 oz bag, Estimated Retail Value: $5.00
Enjoy the salty, sweet, and caramel flavors of Lisa's Kettle Corn, a perfect crunch treat that will please everyone.
3. Tempur by CG Artisan Chocolates – 4 chocolates, Estimated Retail Value: $9.00
Perfect for chocolate lovers, these artisan chocolates are made from a blend of 70% dark chocolate and 36% milk chocolate from Belgium.
4. White's Elixirs – Saigon Cinnamon – 8 oz bottle, Retail Value: $10.00
Add a kick to your  favorite cocktails, coffees, and other beverages with this hand-crafted simple syrup.
5. Batch Cocktail Napkins, Estimated Value: $1.00
Because snacking can get a little messy, Batch has provided some movie-themed napkins to help keep your fingers and hands clean.
February 2014 "Movie Night" Batch Nashville Box Wrap-Up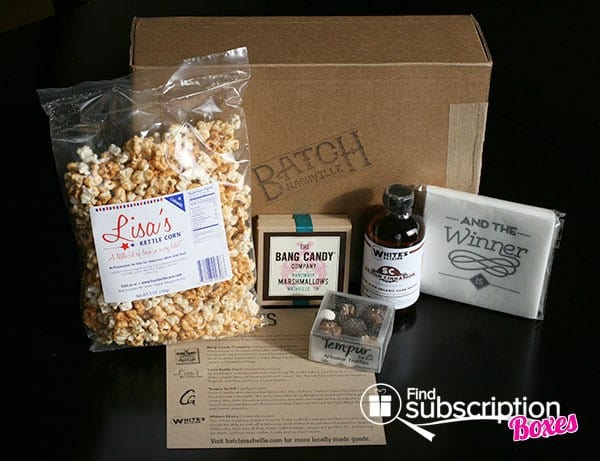 The February 2014 Batch Nashville box was a delicious mix of sweets that are perfect for any movie night. We loved the chance to taste-test these handmade snacks and treats and were impressed by the freshness and quality of the products. The total estimated value of the February 2014 Batch Nashville Movie Night box is $30.00.
Did you get the Batch Nashville Movie Night Box? What was your favorite item from this month's box?