BuddhiBox is a monthly yoga and lifestyle subscription box. BuddhiBox subscribers receive a monthly yoga box of yoga products to enhance your yoga practice and lifestyle. With today's BuddhiBox review, we're unboxing the February 2016 BuddhiBox yoga box.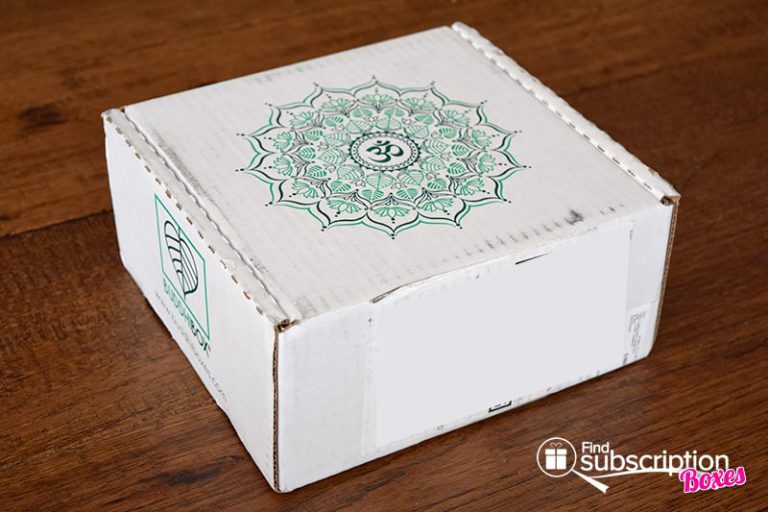 BuddhiBox donates a portion of proceeds from boxes sold to a different charity each month. February's boxes helped support Corazon de Vida – a for-purpose organization supporting orphaned and abandoned children in Baja, Mexico.
BuddiBoxes have product cards describing each of that month's goods. The box also has a card with a guide for a yoga pose. This month's box teaches the One-Legged King Pigeon Pose. Yogi foodies will love the recipe for Strawberry Chocolate Mousse provided by the Wellness Gypsy, Lindsay LaPaugh.
Inside the February 2016 BuddhiBox Yoga Box
There were 5 products and 1 Buddhi Bonus in our March BuddhiBox.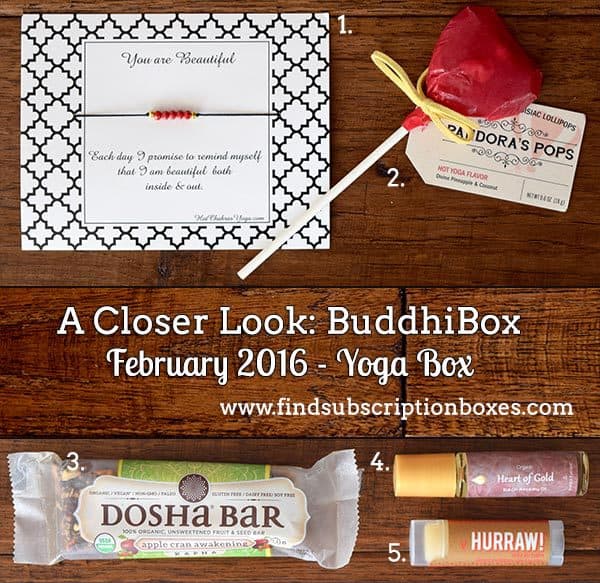 Hot Chokras Clothing You Are Beautiful Bracelet, Retail Value: $20.00
Made with red and gold beads, this bracelet is a daily reminder that you are beautiful, inside and out.
Pandora's Pops Aphrodisiac Hot Yoga Lollipop, Retail Value: $8.00
This hand-crafted, organic lollipop is flavored with pineapple and coconut. It has herbs chosen to add a spark to relationships.
Dosha Bar, Retail Value: $4.00
Feed your soul and your appetite with this delicious snack bar, made to harness the power of Ayurveda to balance and heal mind, body and spirit.
Quintessetials Heart of Gold Blend Annointing Oil, Retail Value: $30.00
Spread the love and harmonize with your heart center using this handmade, aromatherapy roll-on.
Hurraw Vata Lip Balm, Retail Value: $4.00
Infused with rich, cold-pressed organic sesame oil, this Vata balm inspires creativity while soothing your lips.
Buddhi Bonus – Buddha Teas 5th Chakra Tea, Retail Value: $10.00
February 2016 BuddhiBox Review Wrap-Up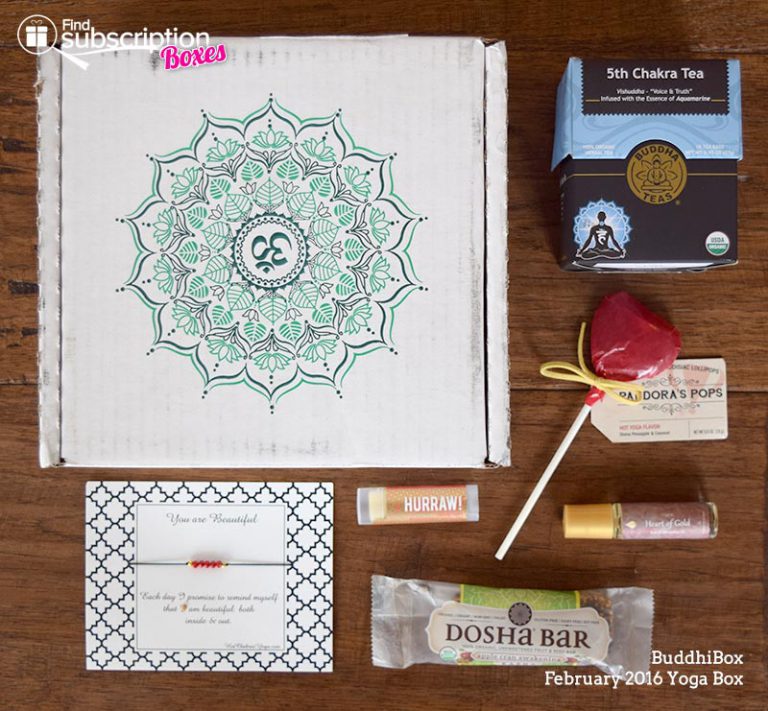 The February BuddhiBox featured a great mix of uplifting products for all levels of yogis. The Heart of Gold aromatherapy oil has as fresh, vibrant scent with floral and wood notes. Use it at home, work, or on the go to help you be open to positivity. The You are Beautiful bracelet is a simple, yet stylish reminder of both inner and outer beauty.
The Dosha bars are really unique snacks, made to harness the power of Ayurveda, the ancient Indian healing system. Each Dosha bar is made for a specific mind-body type (dosha.) We received apple cran awakenening, which helps balance the Kapha dosha.  We can't wait to relax with a cup of the 5th Chakra Tea. It is infused with Essence of Aquamarine and is designed to invigorate the 5th Chakra of "Voice & Truth (vishuddha).
What was your favorite February BuddhiBox goodie?
BuddhiBox Coupon Code
Save on your monthly yoga box! Use BuddhiBox coupon code yogaeveryday for 10% off all subscriptions. Stock up on favorite yoga products and save 25% off the BuddhiBox store with code spring25. Shop now!