The Hole In Wall Box delivers  bimonthly travel subscription boxes filled with unique goodies from mom & pop shops, local farmers markets, and hole-in-wall restaurants every month. Each month's Hole In Wall box features a different travel destination. The February 2016 Hole In Wall Box destination was Seattle! All of the items in the February Hole In Wall Box were sourced from local and small businesses that embody the spirit of Seattle.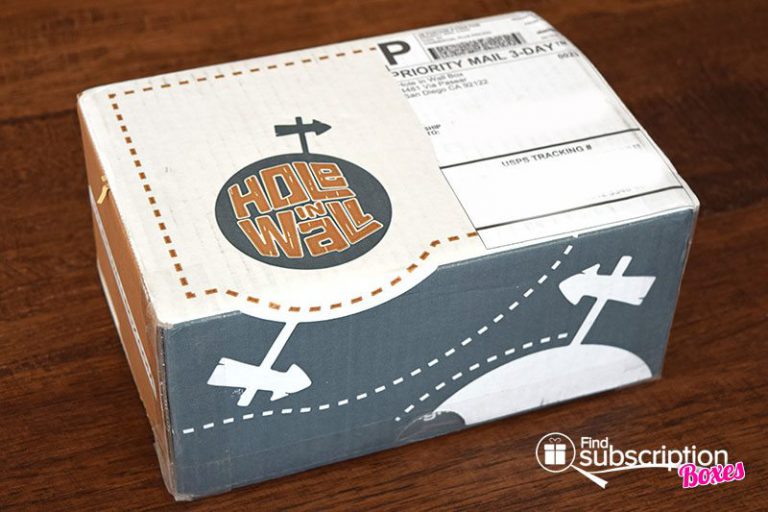 Hole In Wall Box includes a product card that describes each of the artisan ingredients in that month's box.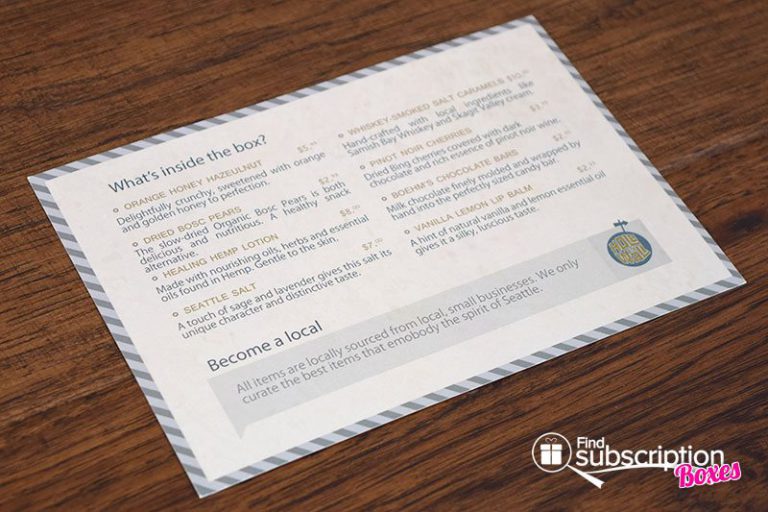 Here's a first look inside our Seattle Hole In Wall Box.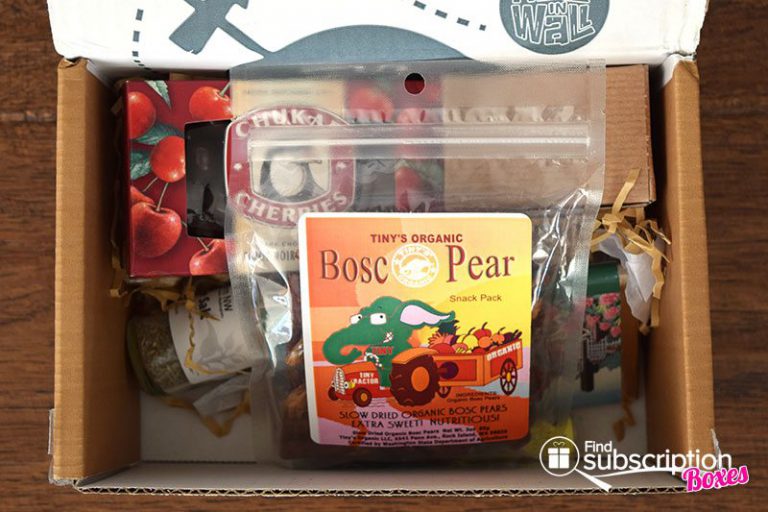 Inside the Hole In Wall Box February 2016 Seattle Box
There were 8 products in our February Seattle Hole In Wall Box.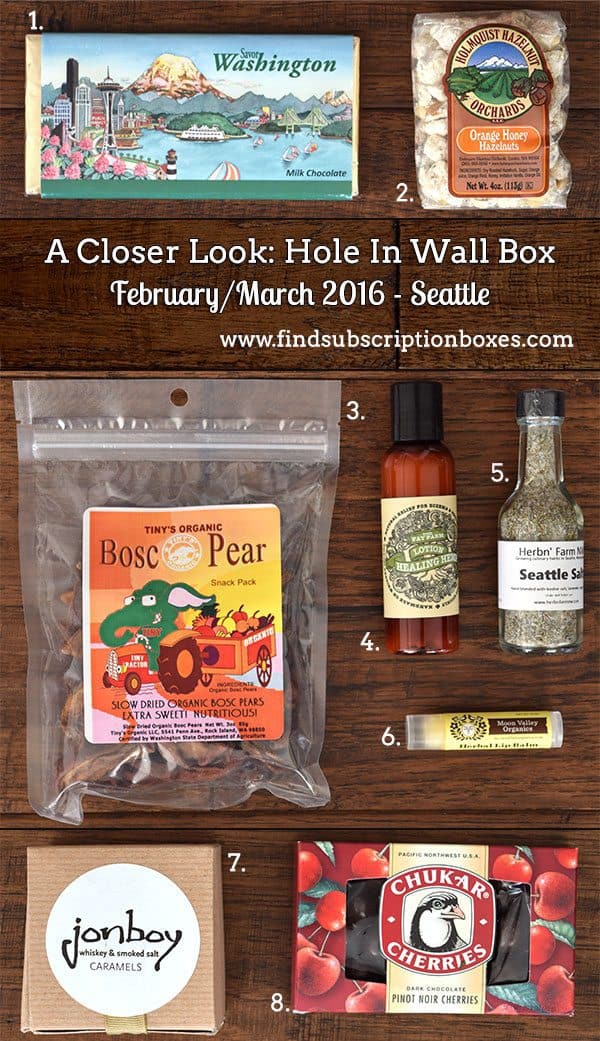 Boehm's Chocolate Bars, Retail Value: $2.99
Enjoy some of Seattle's milk chocolate in this perfectly sized, hand-wrapped candy bar.
Orange Honey Hazel Nut, Retail Value: $5.99
Sweetened with orange and golden honey, these hazel nuts are delightfully sweet and crunchy.
Dried Bosc Pears, Retail Value: $2.99
These slow-dried Organic Bosc Pears are a healthy snack alternative that is both delicious and nutritious.
Healing Hemp Lotion, Retail Value: $8.00
This gentle hemp lotion is made with nourishing oils, herbs and essential oils.
Seattle Salt, Retail Value: $7.00
Use this salt to add a unique flavor of salt, sage and lavender to your dish.
Vanilla Lemon Lip Balm, Retail Value: $2.99
Nourish your lips with this lip balm made with natural vanilla and lemon essential oil.
Whiskey-Smoked Salt Caramels, Retail Value: $10.00
These caramels are hand-crafted with local ingredients like Samish Bay Whiskey and Skagit Valley cream.
Pinot Noir Cherries, Retail Value: $3.99
Savor the rich flavors of pinot noir wine, dark chocolate, and cherries in this decadent treat.
February 2016 Hole In Wall Box Review Wrap-Up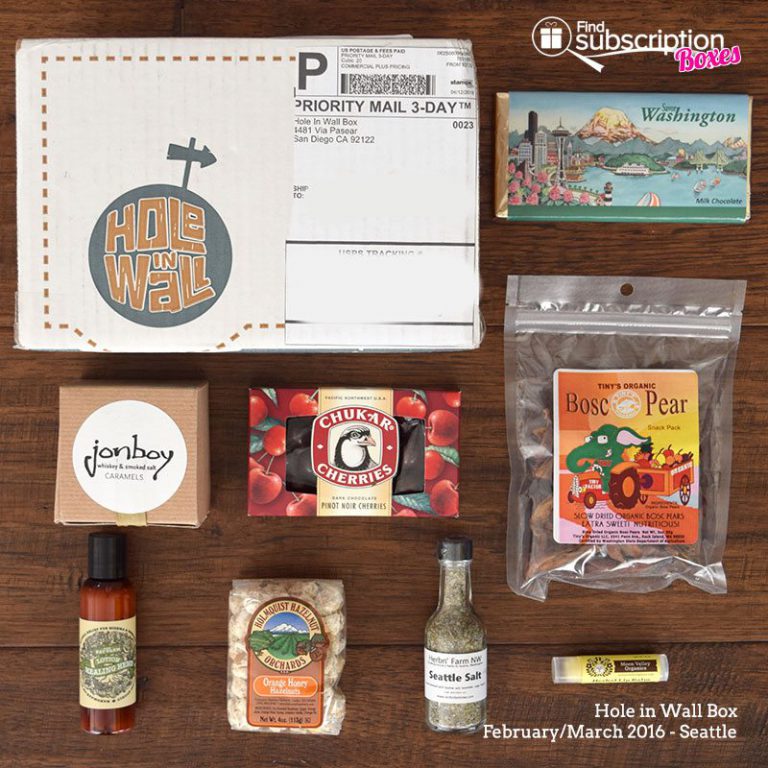 February's Hole In Wall box delivered some wonderful artisan foods and beauty products from Seattle small businesses. Seattle might be "known" for rain and coffee, but Hole In Wall helped us see there is so much more that Seattle offers. The hemp lotion provided quick moisture to dry skin and smells AMAZING with scents of lavendar, eucaplytus and tea tree oils. The lip balm is organic (yeah!), made with beeswax, and has a delicious flavor of vanilla and lemon.
The Seattle Hole In Wall box also let us try some of Seattle's snacks and treats. The milk chocolate bar was smooth and delicious. A drawing of Seattle's skyline and famous was on the wrapper. The Whiskey-Smoked caramels and pinot noir cherries were also great sweet treats. We're used to dried applies and mangos, so we really enjoyed trying the smoother flavors of dried pears. The total retail value of the Hole In Wall Seattle box was $43.91.
What was your favorite item from the February 2016 Hole In Wall Box Seattle box?