Comic Block sends monthly comic book subscription boxes for comic book collectors and fans. Each Comic Block subscription box is a mystery comic box filled with exclusive merchandise, comic books, and other comic collectibles from your favorite comic book franchises including Marvel, DC Comics and more. With today's Comic Block review, we're unboxing the February 2017 Comic Block.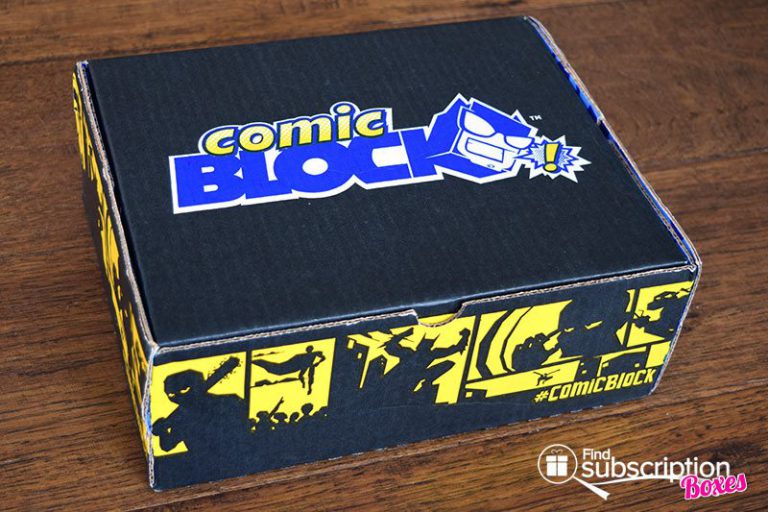 Comic Block includes colorful magazine that has fun articles and describes each of the comic collectibles in the box.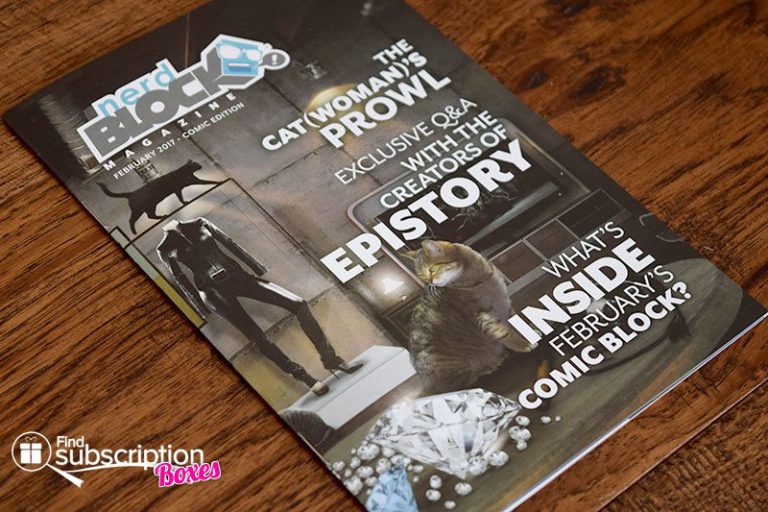 Here's a first look inside our February 2017 Comic Block.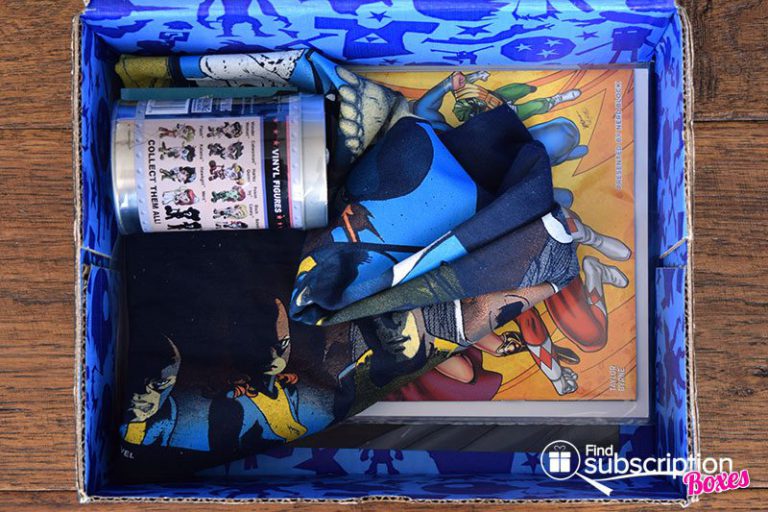 Inside the February 2017 Comic Block
There were 7 comic book collectibles in Comic Block's February box.

EXCLUSIVE X-Men Classic Lineup T-Shirt
Go back to where it all began with this sweet tee showcasing your where your favorite mutants got their start.
EXCLUSIVE Catwoman Print by W. Scott Forbes
Catwoman can keep watch of all that's going on around her when you decorate with this Catwoman art print.
EXCLUSIVE DC Comics Lil' Bombshells: Catwoman
This DC Comics Lil' Bombshells Catwoman Classic Purple variant figure is the last of the 3 exclusive pin-up inspired figures. Batman beware!
The Raid Anthology Issue #0 with Exclusive Variant Cover
With all-new material from the minds at RAID Studios, this issue is a primer to the complete RAID Anthology. Cover art by Francis Manapul.
Assassins Creed Issue #1 with Exclusive Variant Cover
Will Charlotte's training in the Assassins' art be enough to help er survive as she sets out to learn more about her ancestors' path? Exclusive variant cover by Maria Laura Sanapo.
Agents of P.A.C.T. Issue #1
Find out what happens as Manon DesChamps and her team of super-agents try to restore the balance in the midst of an extra-dimensional breach.
Power Rangers and Justice League #1 with Exclusive Variant Cover
A breach in the Rangers' Command Center has thrown the Black Ranger into an alternate universe! Cover Art by Emanuella Lupacchino.
Bonus: Every Comic Block box has a $10 credit to the Nerd Block Shop.
February 2017 Comic Block Review Wrap-Up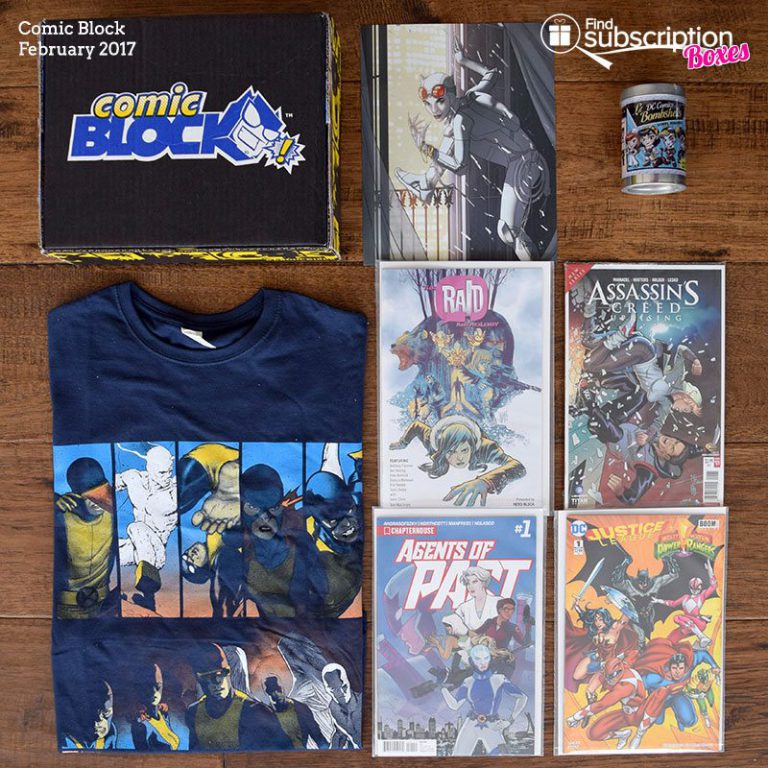 Once again, Comic Block delivered a great collection of exclusive comic books and collectibles. If you've been following our Comic Block reviews, you'll know that Comic Block has delivered exclusive Lil' Bombshells figures in each box for the past 3 months. This month's figure was the exclusive DC Lil' Bombshells Catwoman. The February art print was also Catwoman themed, featuring her stealthily sneaking out of the room.
February's comic book t-shirt featured classic X-Men characters in their original vintage designs. The Original X-Men featured are Angel, Beast, Cyclops, Iceman, and Marvel Girl.
There were 4 comic books in the February ComicBlock. First up is a DC Comics crossover featuring Justice League and Power Rangers. Zack has been flung into another universe where he's mistaken for a villain by Batman. Can the other Power Rangers rescue their friend in time?
Agents of P.A.C.T. is the new flagship series from Chapterhouse Comics. In this Issue #1 comic, we meet P.A.C.T. Director Manon DeChamps as she assembles a team of female super-agents to keep extraterrestrial breaches in check.
Next is Titan Comics' Assassins Creed Issue #1 comic with exclusive variant cover. An adaptation of the Ubisoft game, we meet conspiracy theorist Charlotte de la Cruz who has just learned of her ancestral history. At the same time, she'll also have to defend herself from the Templar Order that is challenging her quest.
Finally, The Raid Anthology Issue #0 has exclusive content from Ramon Perez, Ian Herring and the other minds at RAID Studios. Readers are introduced to the Raid anthology that's debuting early this year.
What was your favorite February Comic Block comic book item?
February 2017 Comic Block
For a limited time, use exclusive Comic Block coupon code FINDBOXES to save 15% off the 1st month of any new Comic Block subscription.  Subscribe today!