Nerd Block Classic is a monthly subscription box for nerds. Every month Nerd Block curates a mystery nerd subscription box filled with nerd gear and collectibles to include in each Classic Block. Each Nerd Block Classic Block has 4-6 nerd items, including an exclusive nerd t-shirt. With today's Nerd Block Classic review, we're unboxing the February 2017 Nerd Block Classic nerd subscription box. The February Nerd Block Classic theme was Time Travel.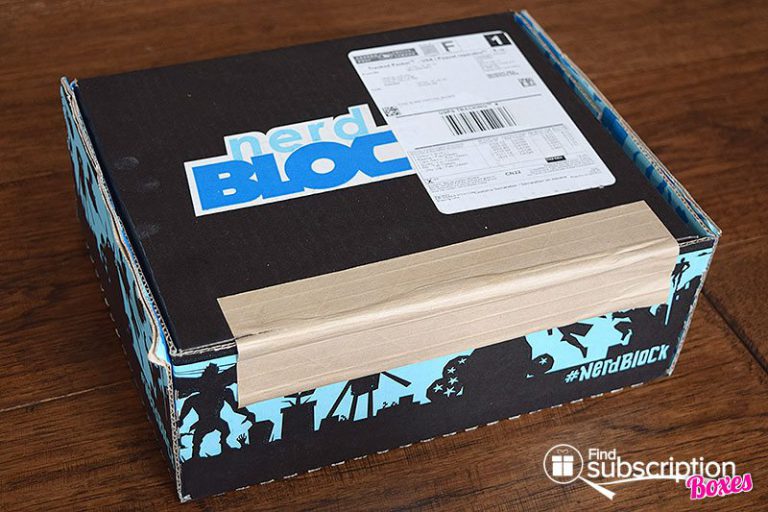 Nerd Block Classic boxes includes a Nerd Block Magazine that describes all the nerd collectibles in that month's nerd box. In addition, February's Nerd Block Magazine – Classic Edition had fun articles surrounding the Time Travel theme. There was also a spoiler for the March Nerd Block Classic Theme – Team Up!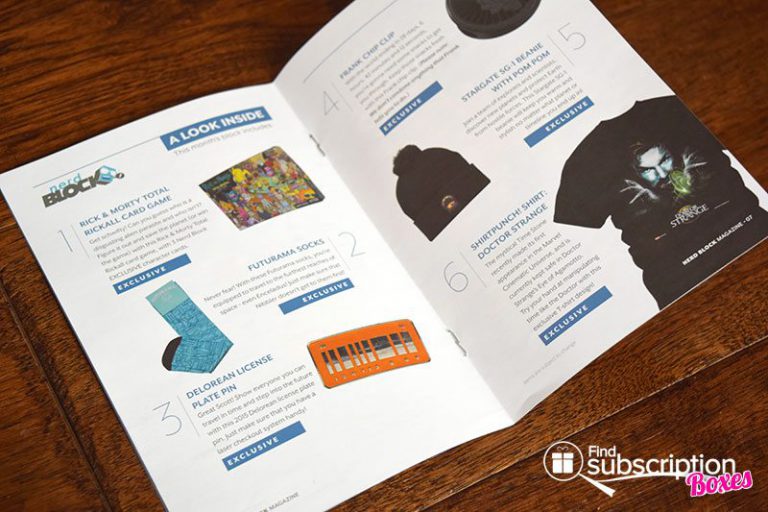 Here's a first look inside our Nerd Block Classic February nerd subscription box.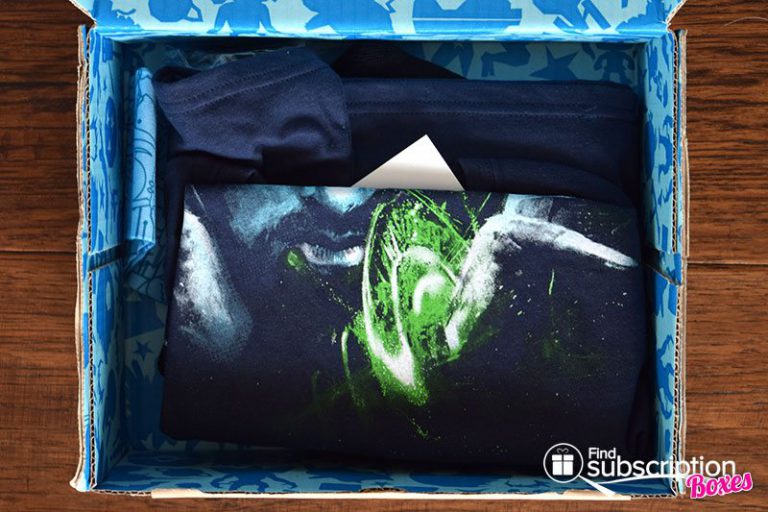 Inside the February 2017 Nerd Block Classic
There were 6 collectibles in our February Nerd Block Classic monthly nerd box.

EXCLUSIVE ShirtPunch! Doctor Strange T-Shirt
See if you can manipulate time with this exclusive Doctor Strange shirt.
EXCLUSIVE Stargate SG-1 Beanie with Pom Pom
Stay warm and stylish wearing this Stargate SG-1 beanie with pom pom.
EXCLUSIVE Rick & Morty Total Rickall Card Game
Save the planet while trying to win this Rick & Morty Total Rickall card game featuring 3 Nerd Block EXCLUSIVE character cards.
EXCLUSIVE Futurama Socks
Keep your feet looking stylish while you travel to the furthest reaches of space with these exclusive Futurama socks.
EXCLUSIVE Frank Chip Clip
Keep your snacks fresh with this Frank chip clip.
EXCLUSIVE Delorean License Plate Pin
Great Scott! Show of your time travel flare with this 2015 Delorean license plate pin.
February 2017 Nerd Block Classic Review Wrap-Up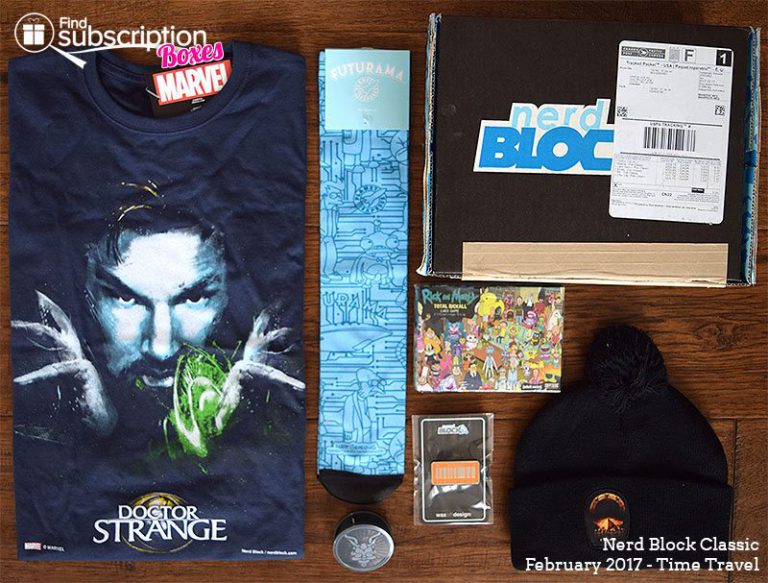 February's Time Travel Nerd Block Classic was filled with exclusive nerd collectibles from some of our favorite Time Travelling franchises. Doctor Strange makes an appearance in the box with this month's EXCLUSIVE Doctor Strange t-shirt. The design features Doctor Strange activating the Eye of Agamotto.
There were two other nerd apparel items in February's Classic Block. The exclusive Futurama socks have a circuit-like design and features your favorite Futurama Characters. Next is the exclusive Stargate SG-1 Beanie. This cozy cap has a small patch showing a team of explorers in front of a pyramid. A puffy black pom pom is on top of the beanie.
If you enjoy card games, you'll get a kick out of the Rick & Morty Total Rickall card game. Based of the episode with the same name, in this game you need to use your deductive skills to determine which characters are real and which ones are parasites that need to be exterminated. This card game features 3 Nerd Block exclusive character cards.
Even if the world is ending, you can keep your chips fresh with the Frank chip clip. There's a magnet on the back of the clip so you can stick it on your fridge or metallic surface for storage or to hold notes. Finally, the Delorean pin is a fun Back to the Future collectible that you can use to add nerd style to your jacket or bag.
Which was your favorite collectible from February's Nerd Block Classic nerd box?
February 2017 Nerd Block Classic Coupon
Join Nerd Block Classic today and save on your first nerd mystery box! Use Nerd Block Classic coupon code FindBoxes to save 15% off the first month of any new Nerd Block Classic subscription. Save more with multi-block and multi-month subscriptions!