If you love candles and home decor, the Scent From candle and home fragrance monthly subscription box by IWOOT is for you. Each month, Scent From selects a different travel destination and delivers premium candles and home decor products featuring that location. With today's Scent From review, we're unboxing the February 2017 Scent From candle subscription box. The February Scent From destination was Paris.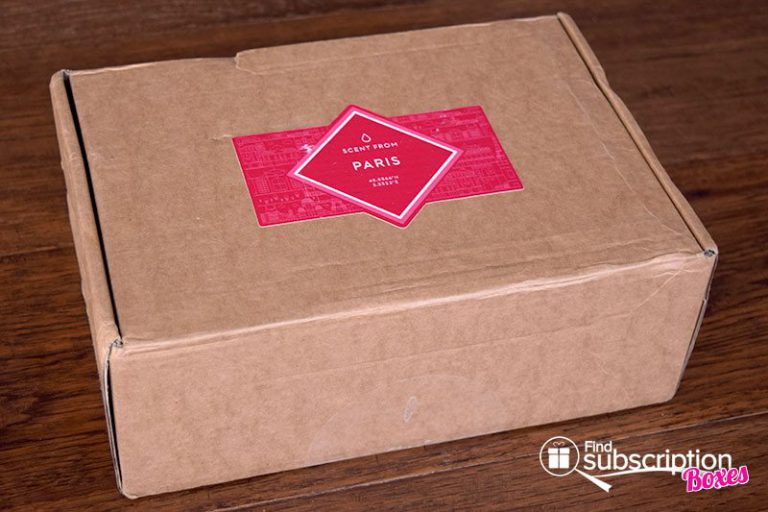 Each Scent From candle box has a card describing that month's theme. The card also describes each of the candles and home decor products in the box.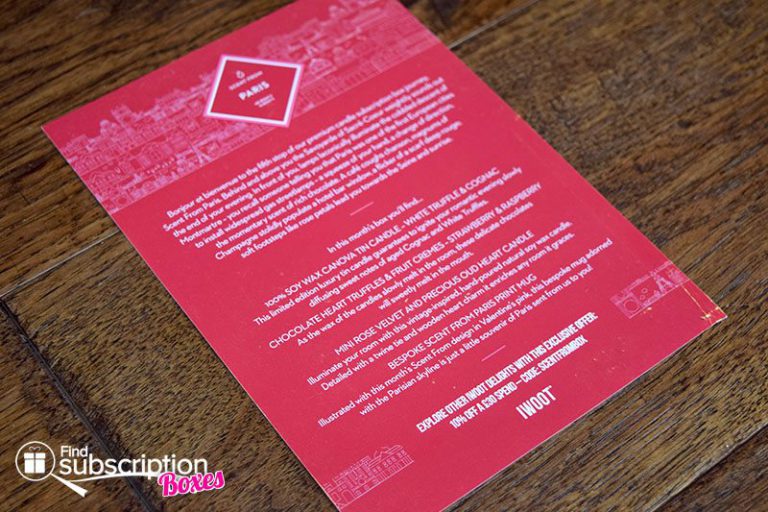 Here's a first look inside our Scent From February 2017 Paris box.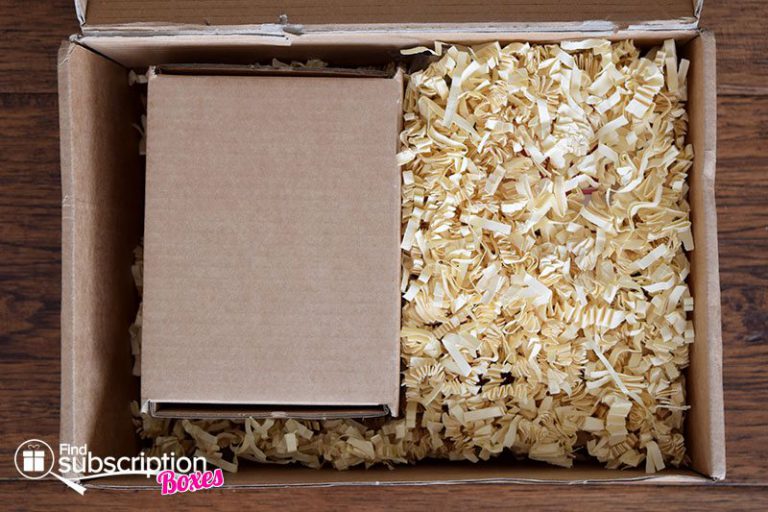 Inside the February 2017 Scent From Paris Box
There were 4 candles, home fragrance and home decor items in our February 2017 Scent From Paris box.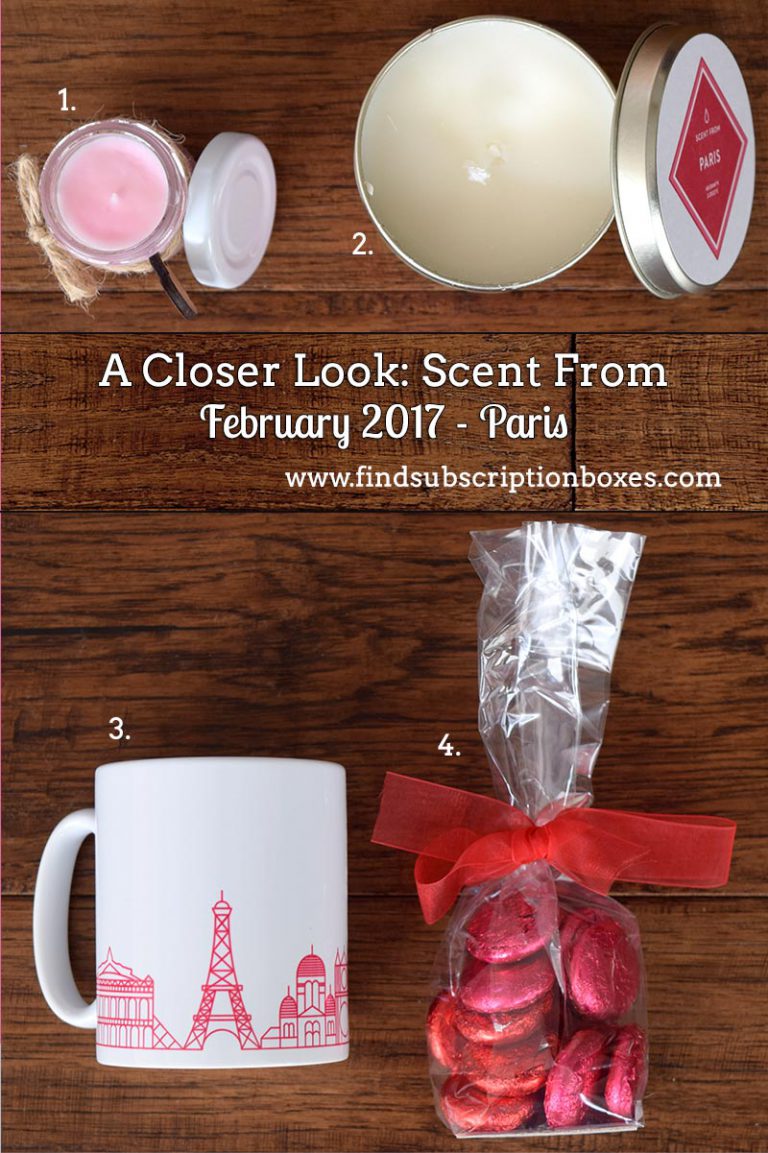 Mini Rose Velvet and Precious Oud Heart Candle
This vintage-inspired natural soy wax candle is detailed with a twine tie and wooden heart charm.
100% Soy Wax Canova Tin Candle – White Truffle & Cognac
Ignite your romantic evening with sweet notes of aged Cognac and White Truffles with this limited edition luxury tin.
Bespoke Scent From Paris Print Mug
This bespoke mug is adorned with the Parisian skyline to give you a little souvenir of Paris.
Chocolate Heart Truffles  Fruit Cremes – Strawberry & Raspberry
Enjoy these delicate chocolates as they sweetly melt in the mouth.
February 2017 Scent From Paris Box Review Wrap-Up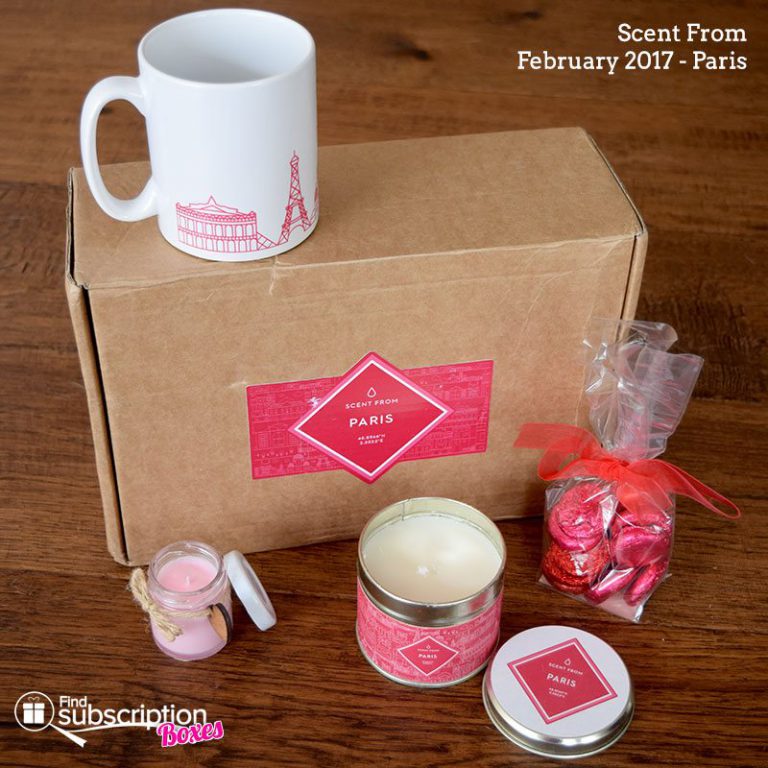 February's limited edition tin candle evoked the romantic fragrances of Paris with white truffle and Cognac. It has a warm vanilla base and a great throw that fills the room.
For a more rustic look, the miniature candle is in a lidded hexagonal jar. The wooden heart charm can be reused for decorating others gifts or as a keychain. This candle scent is sweet and floral. The rose fragrance is bright and fresh.
The Paris print mug is a lovely and classy mug that's perfect for your morning coffee or afternoon tea. The Paris skyline is outlined in pink to remind you of the romantic city.
Finally, we can't say "No" to chocolate! Scent From included a generous bag of delicious chocolate truffles and fruit cremes. These are such a sweet way to indulge.
What was your favorite candle from the Scent From February 2017 Paris Box?
Scent From Coupon Code
For a limited time, use Scent From promo code SCENT5 to save £5 off ($6.40) off your first box PLUS get free shipping to the US and Canada. Your first Scent From box is just $18.99 after savings!