Geek Fuel is a monthly subscription box for geeks that delivers $50 in geek toys, collectibles and other geeky goodness. Every Geek Fuel box includes an exclusive geek t-shirt as well as a full downloadable game. With today's Geek Fuel review, we're unboxing the August Geek Fuel box.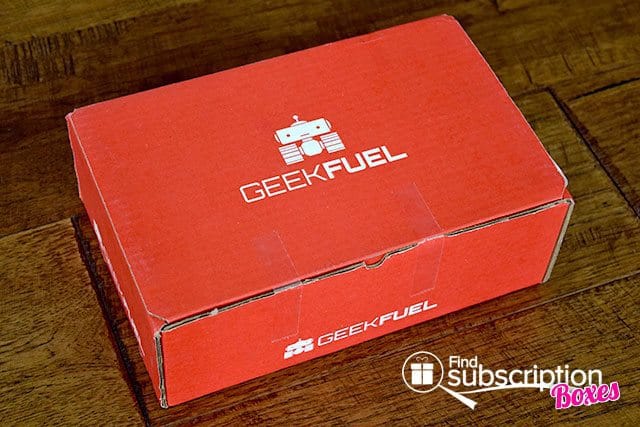 Geek Fuel includes a product card that describes the geek items in that month's box. There is also a monthly issue of Geek Fuel magazine which features fun geek articles.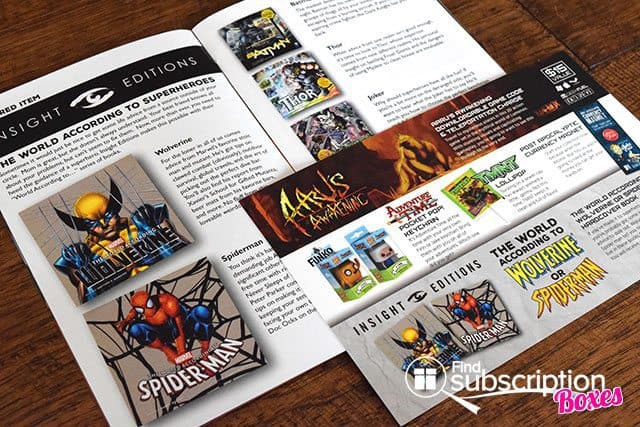 New Geek Fuel subscribers you subscribe using our exclusive Geek Fuel subscription offer receive a FREE Retro Magazine #0 with their first box.

Inside the Geek Fuel August 2015 Box
There were 6 geek items in our August 2015 Geek Fuel box.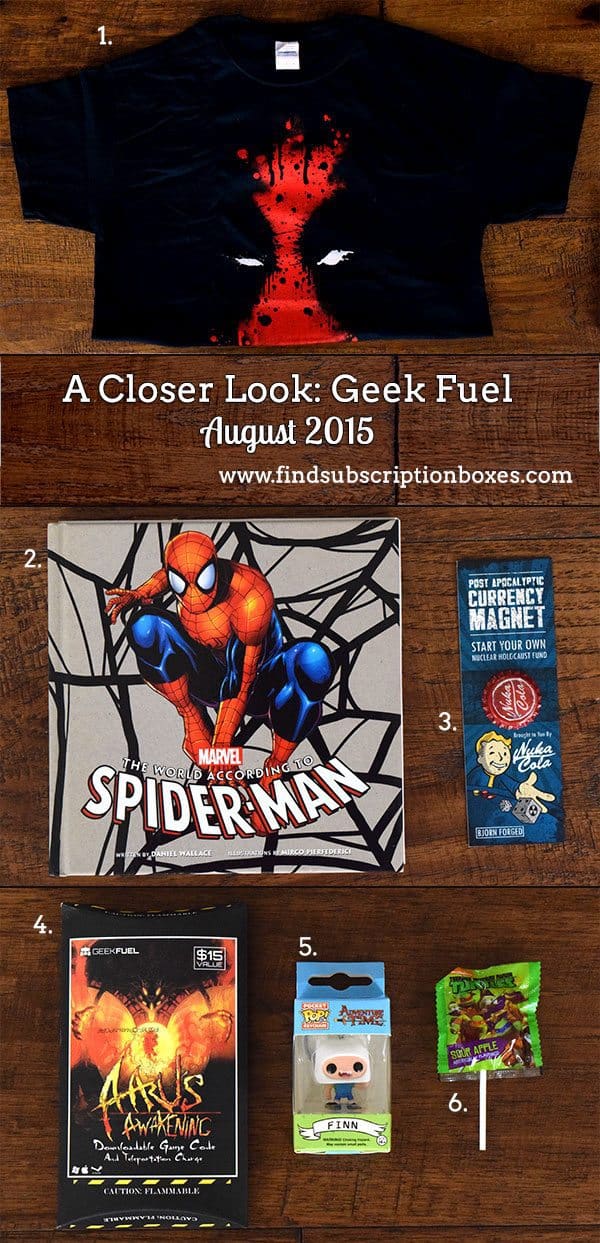 1. EXCLUSIVE DeadPool T-Shirt
Whether you're catching the next Marvel flick or fighting evil, this Deadpool shirt will always be in style.
2. Insight Editions The World According to Spider-Man Hardcover Book
See the world through Spider-mans eyes through this colorful illustrated book. Geek Fuel subscribers received either Spider-Man or Wolverine.
3. Post Apocalyptic Currency Magnet
Build your collection of post apocalyptic money with this handmade Nuka-Cola bottle cap magnet.
4. Aaru's Awakening Downloadable Game Code & Teleptoration Charge
This 2D action game takes players to the mythical world of Lumenox where they'll use their  teleporting and charging abilities to defeat evil and restore balance.
5. Adventure Time Pocket Pop! Keychain
Bring Jake or Finn on your next adventure with this Funko Pocket Pop! vinyl keychain.
6. TMNT Lollipop – Sour Apple
When you're looking for something a little sweeter than pizza, this TMNT candy could be the answer.
Geek Fuel August 2015 Box Review Wrap-Up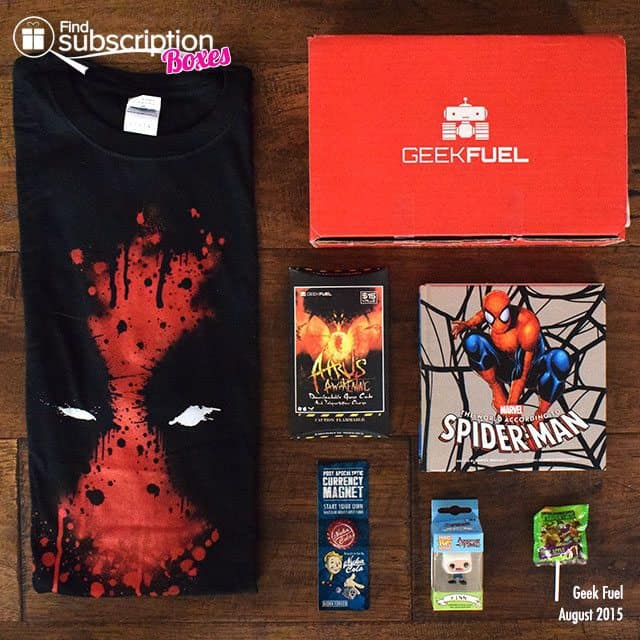 The Geek Fuel August 2015 geek box was filled with amazing items from a variety of favorite geek franchises. The Spider-Man book provides a fun, unique insight into a popular super hero. We can't wait to see the puzzles and action promised with Aaru's Awakening. To quote one of our reviewers, "An awesome book, cool t-shirt, AND a video game? What's not to love?"
What was your favorite item from the August Geek Fuel geek box?
For a limited time, get a FREE exclusive Issue #0 Retro Magazine with new Geek Fuel subscriptions with our exclusive free gift offer.