Geek Fuel delivers a surprise monthly geek box filled with $50+ worth of geek toys and collectibles. In addition, each Geek Fuel box includes a geek t-shirt and a full downloadable video game. With today's Geek Fuel review, we're unboxing the October 2015 Geek Fuel box.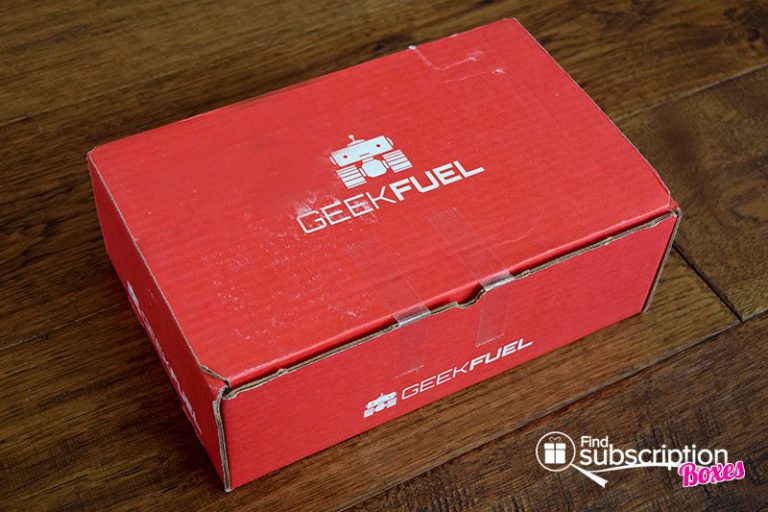 Geek Fuel includes a product card describing each of the items in that month's geek box. They also include a monthly Geek Fuel magazine which provides fun articles related to that month's geek items.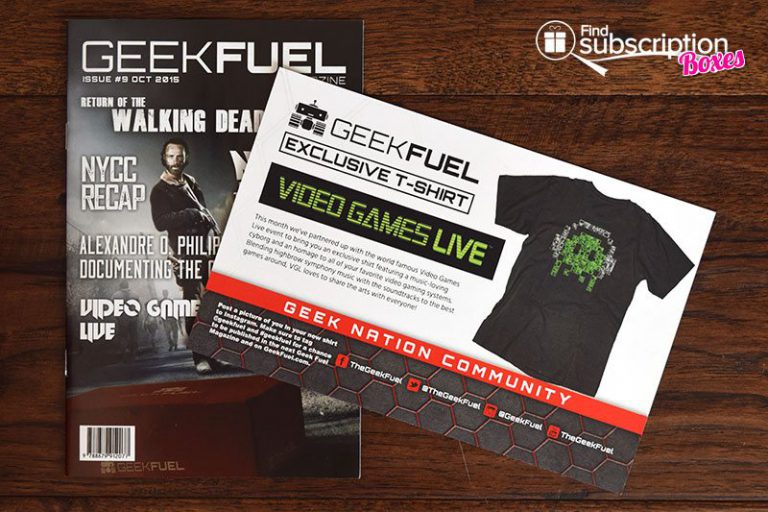 Here's a first look inside our October Geek Fuel box.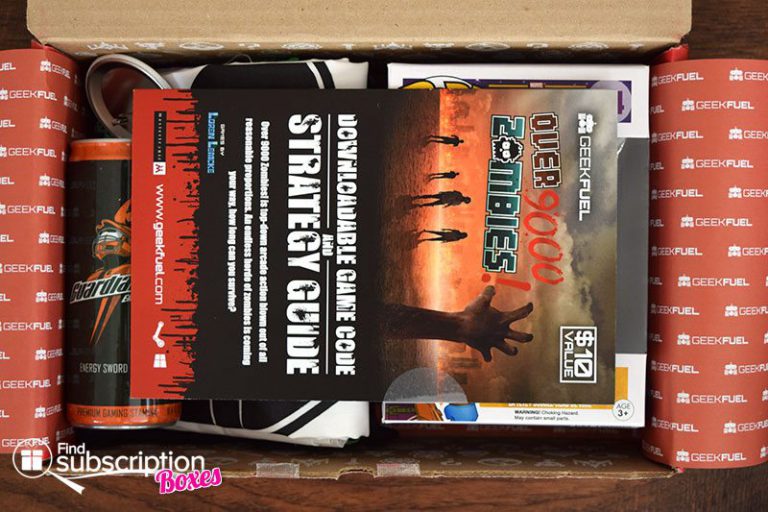 Inside the Geek Fuel October 2015 Box
There were 7 items in our October 2015 Geek Fuel.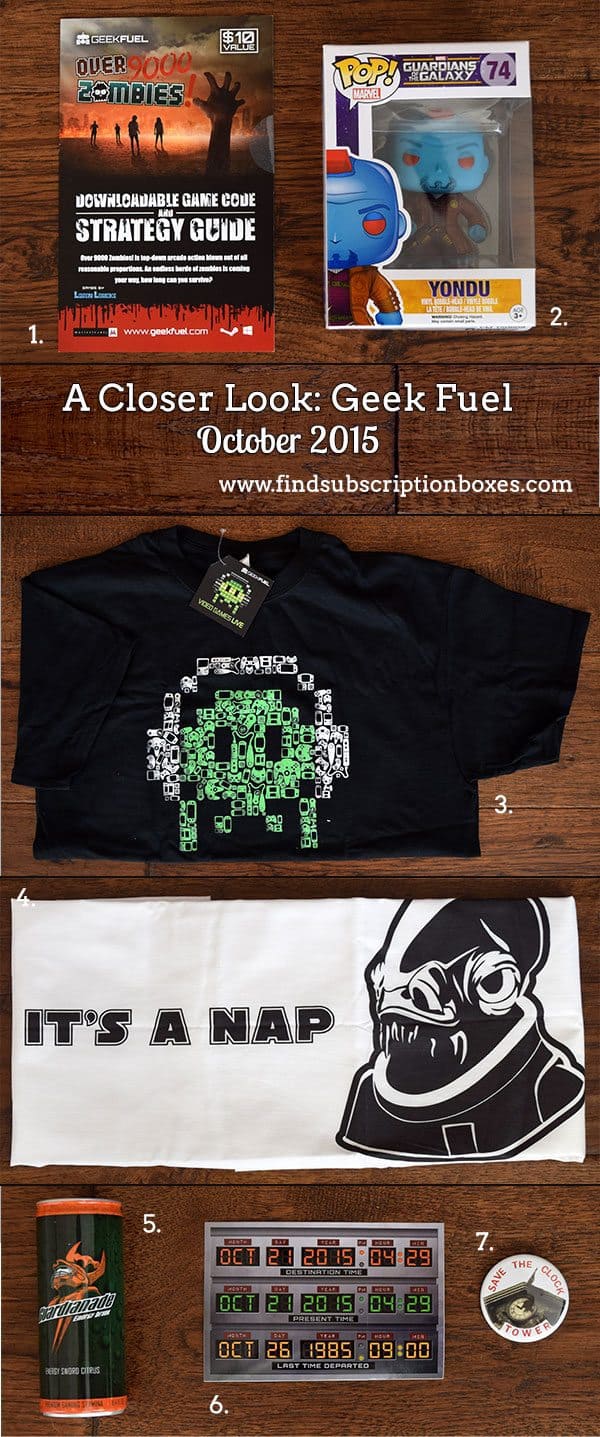 EXCLUSIVE Video Games Live T-Shirt


Update your geek fashion with this exclusive Video Games Live t-shirt. It features a music-loving cyborg that pays homage to all of your favorite video gaming systems.

Guardians of the Galaxy Yondu Funko Pop! Vinyl


This blue vinyl figure will use his sixth sense to provide that extra bit of protection.

The Force Sleeps Pillowcase


Keep the force strong even while you sleep with this Star Wars pillowcase.

Guardianade Energy Drink


Energize your all-night gaming sessions with a thirst-quenching drink.

Over 9.000 Zombies! Downloadable Game


Download the full game from Steam and see how long you can survive Over 9,000 Zombies!

Delorean Time Travel Vinyl Sticker


Add some time-traveling flare to your vehicle, walls or bags with this Back to the Future sticker.

Save the Clock Tower Pin & Back to the Future Giveaway


Help save the clock tower and see if you're one of the lucky 88 winners!
October 2015 Geek Fuel Review Wrap-Up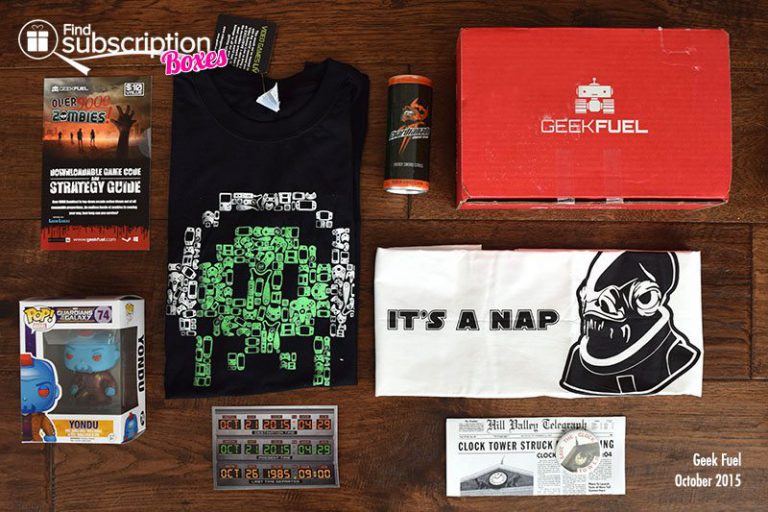 The October Geek Fuel box was filled with geek treats from Marvel, Star Wars, and more. Guardian of the Galaxy fans will love their vinyl Yondu, the bad guy everyone loves. The exclusive Video Games Live t-shirt had a great cyborg design made of video game controllers and systems. The Star Wars pillowcase is a unique geek gift that is perfect for power naps. While we weren't one of the Back to the Future giveaway winners, we'll definitely show our support of the clock tower with our pin. Zombie video game fans are sure to enjoy the zombie-fighting challenge of Over 9,000 Zombies!
What was your favorite Geek Fuel October geek collectible?
Geek Fuel Promo Offer
Join Geek Fuel to get a mystery geek subscription box delivered every month! For a limited time, get a FREE exclusive Issue #0 Retro Magazine with new Geek Fuel subscriptions when you subscribe using this link – a $10 free gift value!