Glossybox is a monthly subscription that sends out 5-6 full sized and deluxe sample sized beauty products. You could receive a mix of makeup, skincare, haircare, body, and nail products.
Glossybox currently has four subscription options:
1 Month Plan: $21
3 Month Plan: $58.50  ($19.50/box)
6 Month Plan: $111  ($18.50/box)
12 Month Plan: $210  ($17.50/box)
Today, I am reviewing the August Glossybox. I am loving the different styles of boxes they have been sending out lately. This month's box has cute little bikinis, shells, and sunglasses printed on the top.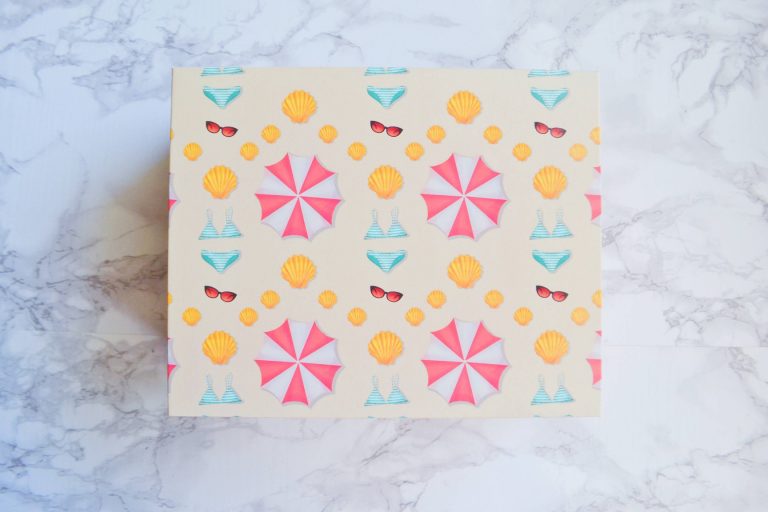 Glossybox always includes a little pamphlet with information about each product. It includes retail value of the full sized products, as well as tips on how to use them. I like to flip through this before trying any of the products.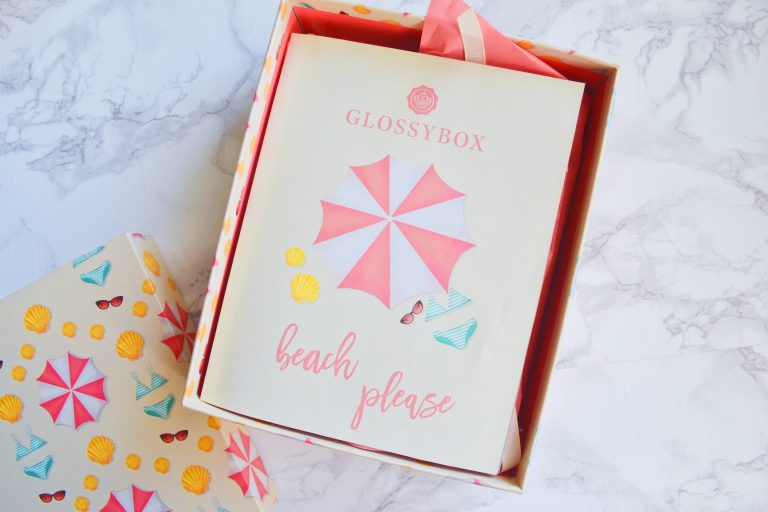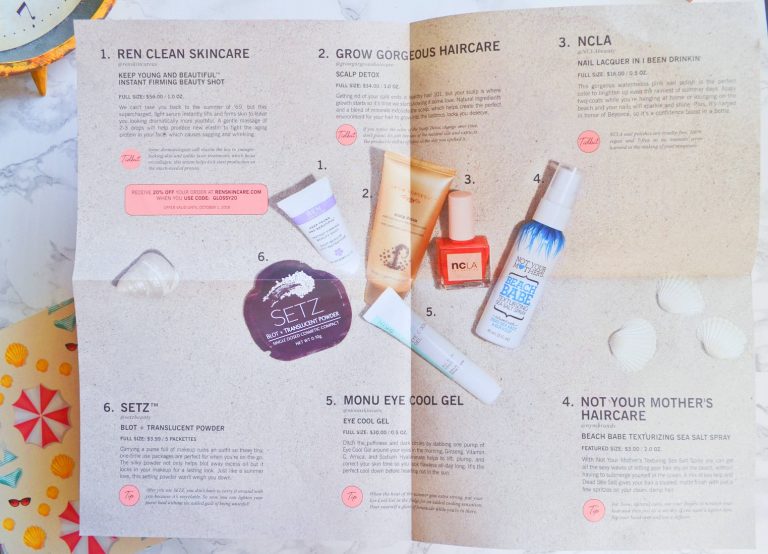 There was a little insert in my box, with three Setz Blot + Translucent Powder packets. These are sold in sets of five for $3.99, which makes these three packets worth $2.39. These are little one-time use packets that can be used to touch up your makeup and blot away excess oil. This is perfect for summer, and I'll be keeping these in my purse. My face tends to get oily and break up my foundation after a few hours, so I know these will come in handy.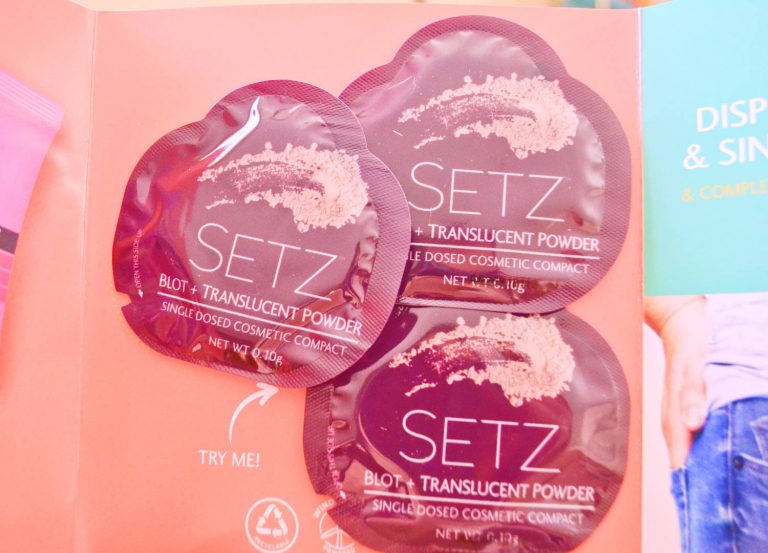 Okay, now here is a look at the rest of the items included in August's box. I'm loving the whole salmon pink color theme!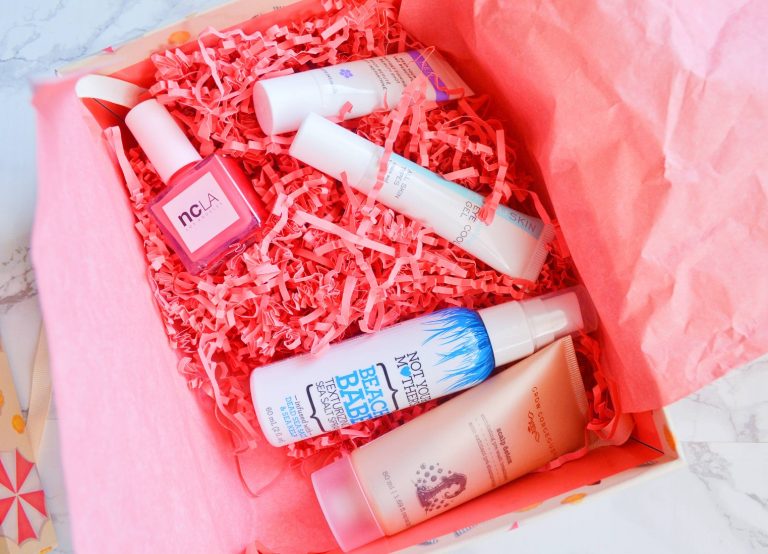 There were five items in August's Glossybox. They are all pretty small, and fit in the palm of my hand. This is pretty unusual for Glossybox, because they usually include at least one large product.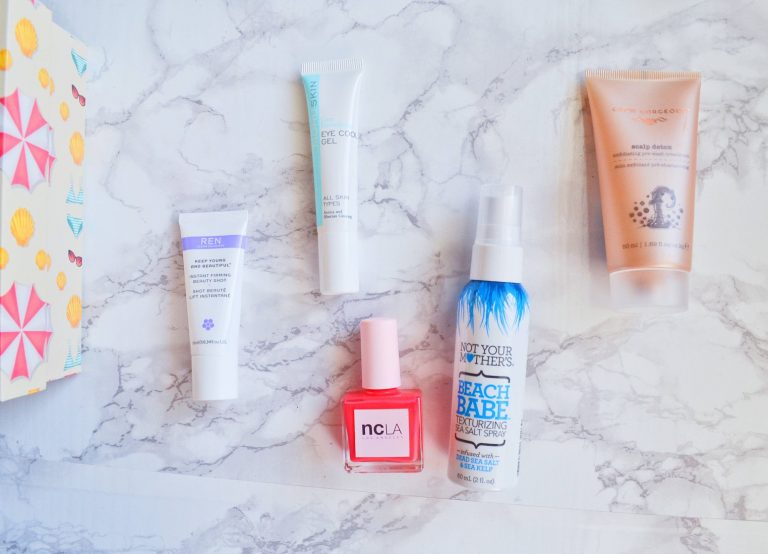 Grow Gorgeous Scalp Detox (sample, $19.15)
This detox hair treatment is meant to be used before you wash your hair, and it uses plant based ingredients (such as white willow bark and pomegranate fruit enzymes) to gently exfoliate your scalp. This product clears up clogged pores and eliminates dry skin and dandruff. Cleaning up your scalp will help your hair grow quickly and healthily!
I have used this treatment a couple times over the last two weeks, and I'm loving it! I don't really get dandruff, but my scalp does produce excess sebum – if you've ever had little hard white balls near your scalp, that's what that is. Anyways, I've noticed a decrease in my sebum after using this a couple times.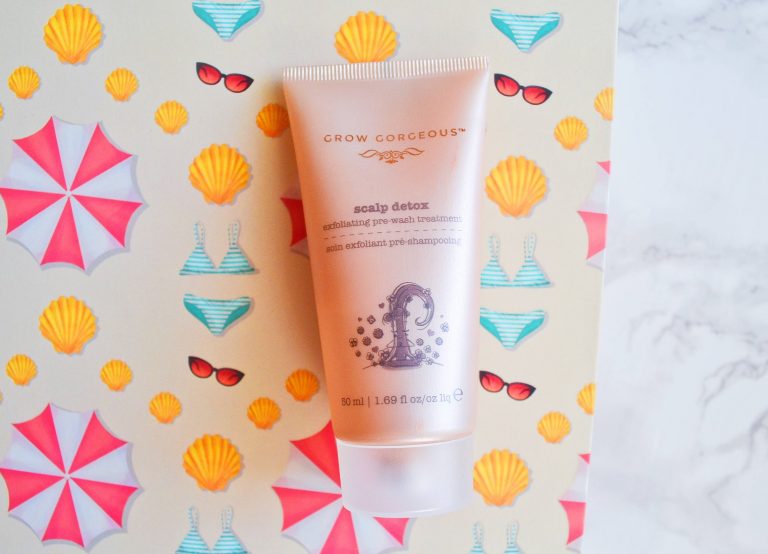 Not Your Mother's Beach Babe Texturizing Sea Salt Spray (sample, $3)
This texturizing spray will give your hair tousled waves and matte finish – leaving no greasiness or crunchiness behind. It is infused with Dead Sea Salt and Sea Kelp, so it's really like taking a dip in the ocean! My hair's natural state is tousled and wavy, so I will probably be giving this to a friend.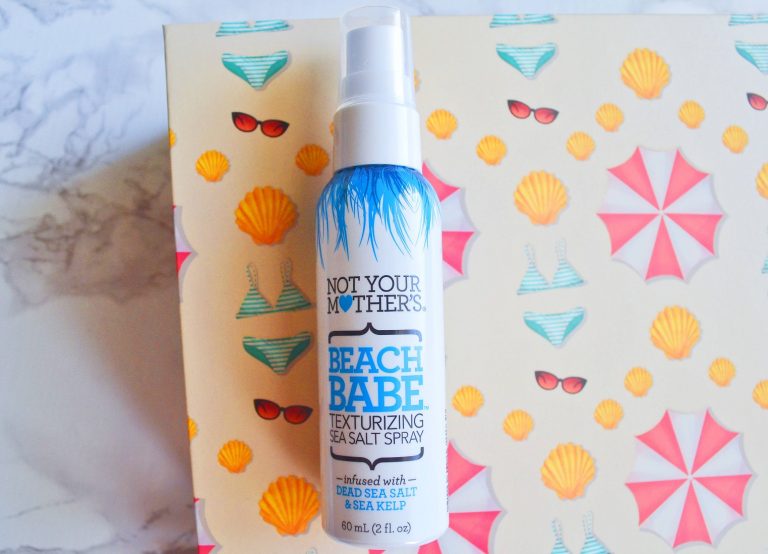 Mono Skin Eye Cool Gel ($30)
This cooling eye gel uses ginseng, Vitamin C, Arnica, and Sodium Hyaluronate to lift, plump, and correct your undereye skin tone. I have to get up for work at 4 a.m., so I'm loving how this lessens my dark circles. It also feels cool to the touch, which is so refreshing.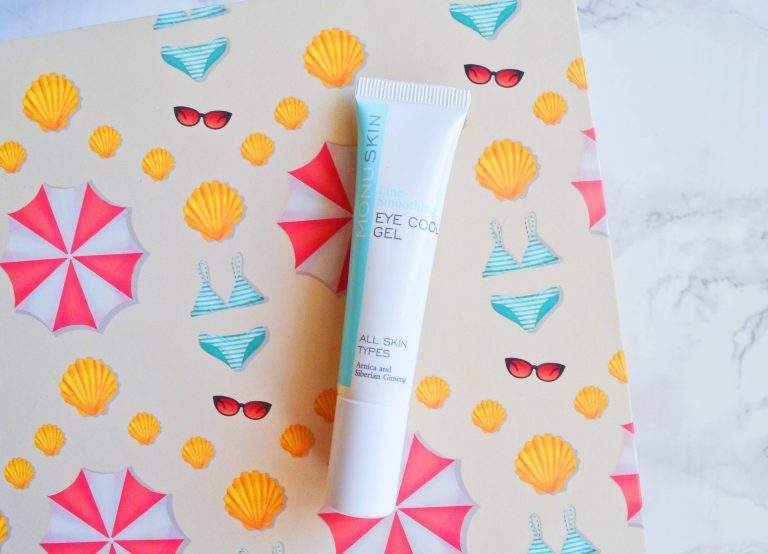 Ren Clean Skincare Instant Firming Beauty Shot (sample, $19.04)
This "beauty shot" is a serum that uses it uses a liquid matrix of hyaluronans to supercharge your skin, while firming it and increasing moisture retention. It can reappied overmakeup throughout the day for a skin pick-me-up. You are supposed to use only a couple drops, but the packaging makes that difficult. It is very liquidy, and the slightest pressure makes a lot shoot out at once.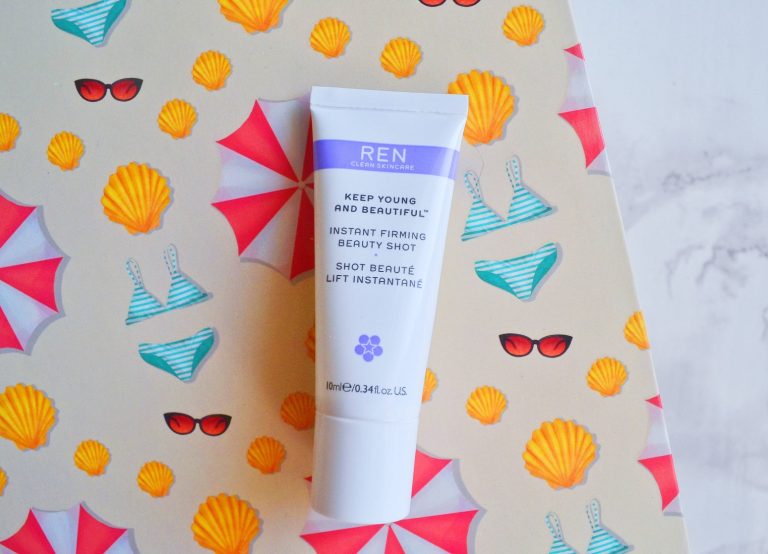 NCLA Nail Lacquer in "I Been Drinkin" (Full Sized, $16)
This nail polish is a pretty watermelon pink, and it is 7-Free (Which means it contains  no Formaldehyde, Formaldehyde Resin, DBP, Toluene, Camphor, TPHP, OR Xylene). I don't really paint my nails because of one of my jobs, but I do think this is such a gorgeous color. It is so summery, and goes with most of my outfits! I may use this to paint my toes.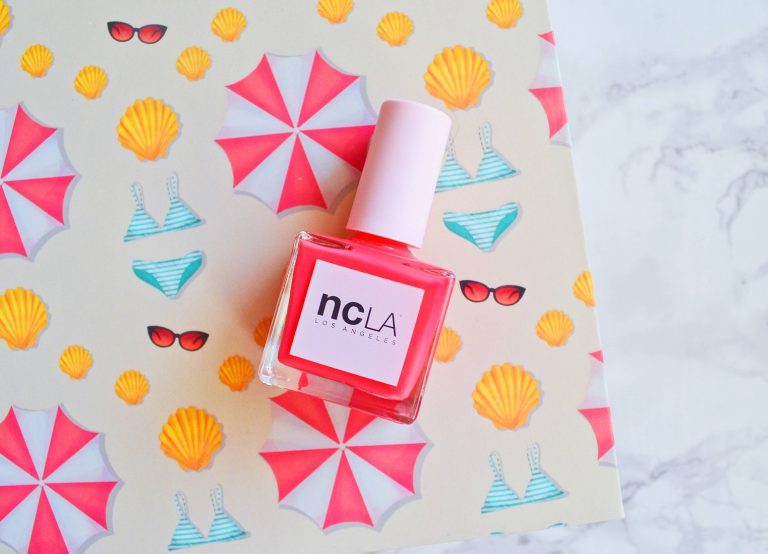 That was all of the items in the August Glossybox! I noticed that this is the second month in a row that they didn't send out any makeup products (I don't count the blotting sheets as makeup), and I'm a little disappointed. Plus, all of the products were pretty small – and three out of the five were sample sized. Glossybox is known for sending out full sized products with a healthy dose of makeup, but it looks like that is changing. Over the last few months, there have been a lot of sample products. However, the value of the box is still higher than the cost of the subscription – this month is worth $90.