Hamptons Lane has revealed the delicious contents of the Hamptons Lane August 2015 box! Every month Hamptons Lane releases a new curated box that spotlights a different region, food, ingredient, skill, or activity. Available for $47 + FREE shipping, each Hamptons Lane box includes artisan foods, kitchen tools, and tabletop items.
The August Hamptons Lane box theme is: Fresh Grill!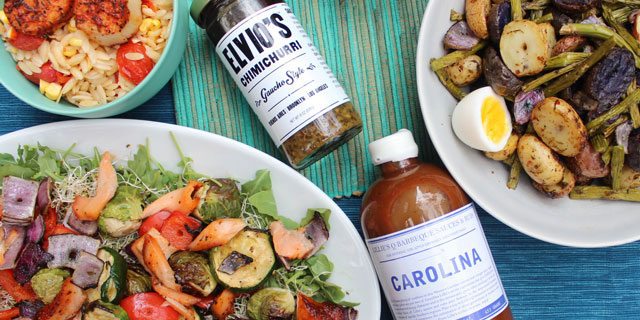 Fire up your grill and pile on the freshest vegetables, steaks, and fish you can find. Marinades, sauces, & rubs like an award-winning Carolina-style BBQ sauce, a hand-made authentically Argentine chimichurri, and top-chef favorite Salmon Rub season your farmer's market haul with gorgeous fresh flavor.
Here are the full box spoilers for the August Fresh Grill Hamptons Lane box:
Trio of Maple, Cedar, & Hickory Grill Planks from Hamptons Lane, New York, New York, MSRP: $15.00 – Discover the superior quality of plank grilling with three different types of wooden grill planks custom made for Hamptons Lane by the grilling experts at Outdoor Gourmet.
Set of FireWire Bendable Grilling Skewers from Smith Products, Hot Springs, Arkansas, MSRP: $15.00 – A simple adaptation of the traditional skewer makes kabob grilling so much easier and more effective. Made from nonreactive stainless steel, these flexible skewers bend easily – without compromising durability – to give you more options for both marinating and grilling.
Award-winning Carolina BBQ Sauce from Lillie's Q, Chicago, Illinois, MSRP: $11.75 – Concocted in one of the best BBQ restaurants in the country, this Carolina-style BBQ sauce has a fresh, time-honored tangy flavor.
Tom Douglas' Award-winning Salmon Rub by Rub with Love, Seattle, Washington, MSRP: $8.25 – Flavoring the "best salmon in Seattle" at Etta's restaurant, Tom Douglas' Salmon rub is a griller's best friend. It's a combination of paprika, thyme, and brown sugar that perfectly caramelizes on a piece of salmon to create a balanced sweet and spicy flavor infused with cedar smoke from your grill plank.
Small-batch Argentinian Chimichurri Sauce from Elvio's Chimichurri, Brooklyn, New York & Los Angeles, California, MSRP: $17.50 – A special, rustic chimichurri made with Argentine spices and a few, very fresh ingredients, Elvio's chimichurri was born on cattle drives by his grandfather, Ignacio, a real Argentinian gaucho.
The total retail value of the Hamptons Lane August 2015 Fresh Grill box is $67.50.  Order yours today for just $37 with our exclusive Hamptons Lane promo code!
What meat are you excited to grill up using the August Hamptons Lane Fresh Grill box?
Hamptons Lane Free Box Offer
Through August 13, 2015, subscribe to Hamptons Lane using this exclusive link and get a Summer Picnic Box FREE – a $67 free gift value!
Free box offer expired? Use promo code Findsub10 to save $10 off your first Hamptons Lane box. Pick up the Fresh Grill box today for just $37 + FREE shipping with code Findsub10!