Each month, Loot Crate delivers $40+ worth of geek and gamer gear to your door. The theme of the January 2015 Loot Crate is REWIND! 
One Loot Crate subscriber is randomly selected every month to win that month's Loot Crate Mega Crate. Here are the REWIND-themed epic goodies in the January 2015 Mega Crate worth over $2,000!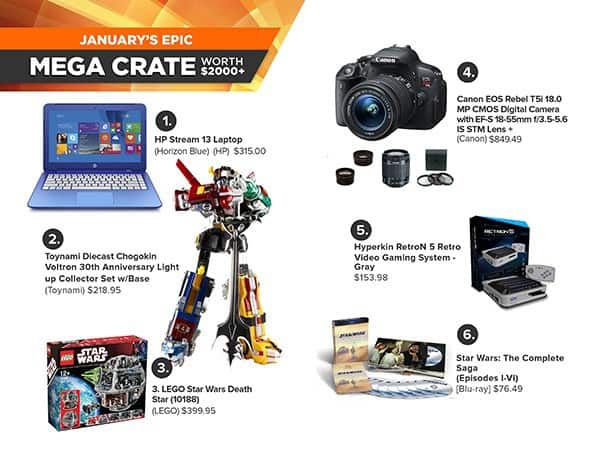 January's Mega Crate captures the theme of REWIND by not only letting you experience the most epic franchises from the past, but also capture memories of today to look back on, in the future!
The January Loot Crate Mega Crate includes:
HP Stream 13 Laptop (Horizon Blue) – $315 value
Toynami Diecast Chogokin Voltron 30th Anniversary Light up Collector Set w/Base – $218.95 Value
LEGO Star Wars Death Star – $399.95 Value
Canon EOS Rebel T5i 18.0 MP CMOS Digital Camera with EF-S 18-55mm f/3.5-5.6 IS STM Lens – $849.49 Value
Hyperkin RetroN 5 Retro Video Gaming System (Gray) – $153.98 Value
Star Wars: The Complete Saga (Episodes I-VI) – $76.49 Value
Only January Loot Crate subscribers are eligible to win the January Loot Crate Mega Crates. The cut-off date for the January 2015 Loot Crate is 9PM PST, January 19, 2015. Use Loot Crate coupon code FINDBOXES to save 10% off any Loot Crate subscription or use code NEWS3 to save $3 off any Loot Crate subscription.
We have a sneak peek into the January 2015 Loot Crate! Check out our January 2015 Loot Crate box spoilers post to learn about some of the epic goodies in this month's crate.
Which January Loot Crate Mega Crate prize do you want most?