Loot Crate delivers monthly, themed geek subscription boxes to your door. Each monthly geek box features $40+ worth of epic geek and gamer gear. With today's Loot Crate Review, we're unboxing the January 2016 Loot Crate. The January Loot Crate theme was Invasion!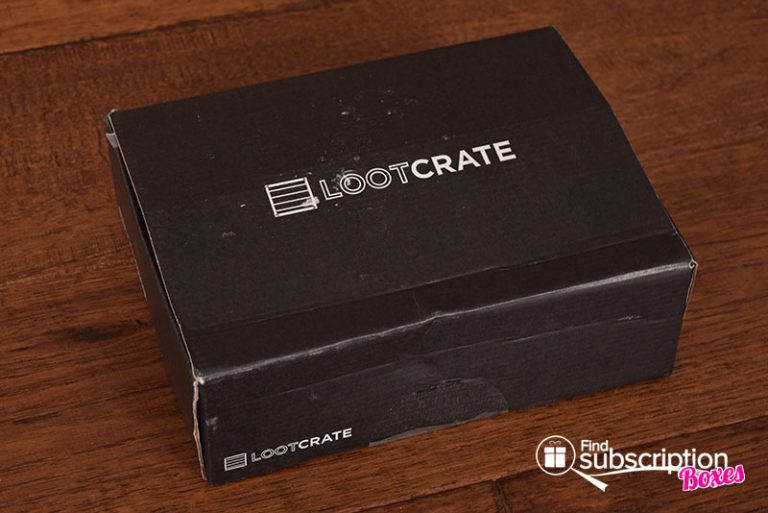 Each Loot Crate has the latest issue of Loot Crate Magazine. The magazine has information about that month's geek items and articles related to the monthly theme. The January Loot Crate Magazine had an X-Files Quick Start Guide and a guide on How to Survive an Alien Invasion.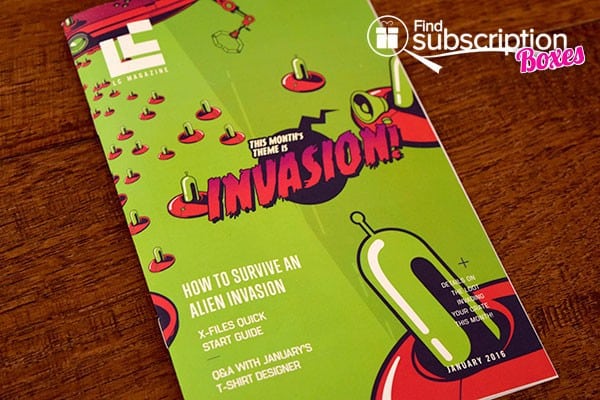 Here's a first look inside our Loot Crate January 2016 Invasion Crate.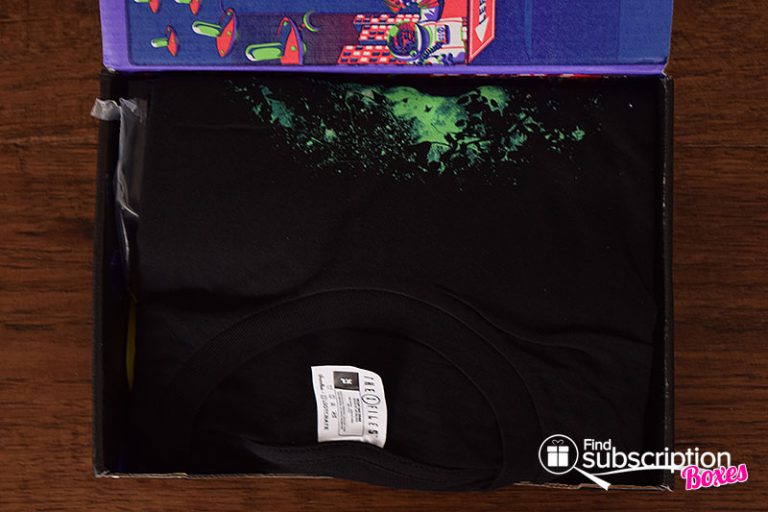 Inside the January 2016 Loot Crate Invasion Crate
There were 7 geek collectibles in the January Invasion Loot Crate.

EXCLUSIVE X-Files The Day Has Come T-Shirt
Featuring a contest-winning design, this Loot Crate and Threadless t-shirt celebrates the return of The X-Files.
EXCLUSIVE Alien Facehugger Plush
While you wouldn't want to meet a real one, this cuddly plush version of an Alien in it's facehuggr stage is much friendlier. It comes with an elastic "Facehugger Bandband".
EXCLUSIVE The Fifth Element Prop Replica Multi Pass
Show your ID in geek style with this never-before-offered, offically licensed prop replica.
EXCLUSIVE "Invasion" Mini Art Prints
These 9″x6″ art prtins pay homage to some movie classics – The Day the Earth Stood Still and The War of the Worlds.
EXCLUSIVE Space Invaders Vinyl Figure
This vinyl comes in one of three colors and celebrates the classic 2D shooter game.
EXCLUSIVE X-Files LED Flashlight
Batteries are included with this strong LED flashlight. It's water-resistant, officially licensed and perfect for your own alien investigations.
January 2016 Loot Pin
Redesigned with a new style, the January 2016 Loot Pin unlocks a free digital download of Letter 44.
January 2016 Loot Crate Review Wrap-Up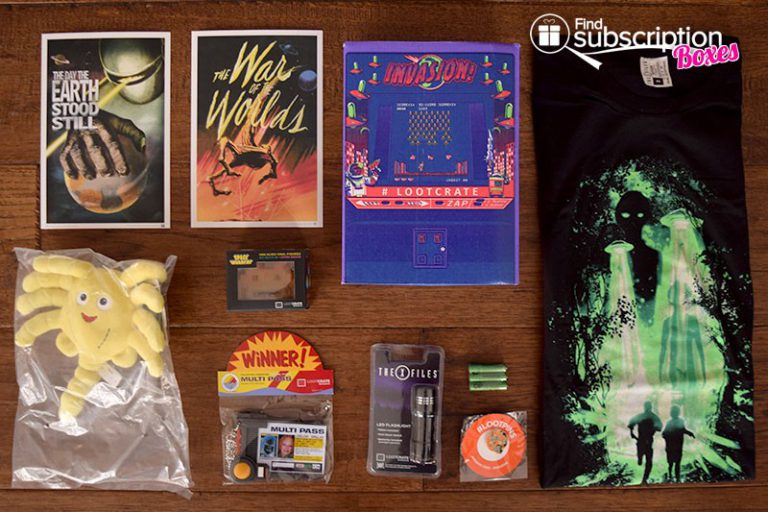 The Invasion Loot Crate was the perfect box for alien and science fiction fans. Loot Crate's January 2016 Invasion crate was packed with exclusive items from favorite alien shows, movies, and classic arcade games. The X-Files t-shirt features everyone's favorite FBI duo – Agents Scully and Mulder – and is perfect for the return of the TV series. Fans of Aliens will love the softer, "family-friendly" version of the terrifying, parasitic alien from the movie.
What was your favorite January Loot Crate Invasion crate item?
Loot Crate Coupon Code
Don't miss another box! Save $3 off new Loot Crate subscriptions when you use coupon code LOOTR3or use code FINDBOXES to save 10% off any Loot Crate subscription.