Created by Starlooks, the Starbox beauty subscription box is created for women who want to receive products from a PRO quality makeup line every month. One of the things Starlooks prides themselves about the Starbox is that each month's box is designed to have products that are selected based on professional beauty and fashion forecasts. Today, we're taking a look at the July Starbox beauty box. The Starbox came in a padded white envelope.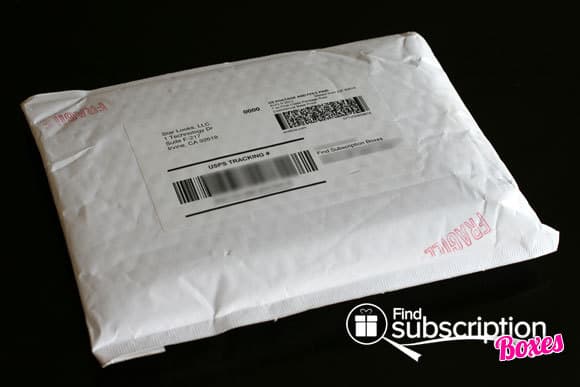 Inside the envelope was a nice black gift box with a copper bow wrapped around it. My initial thoughts were that it was a classy looking box.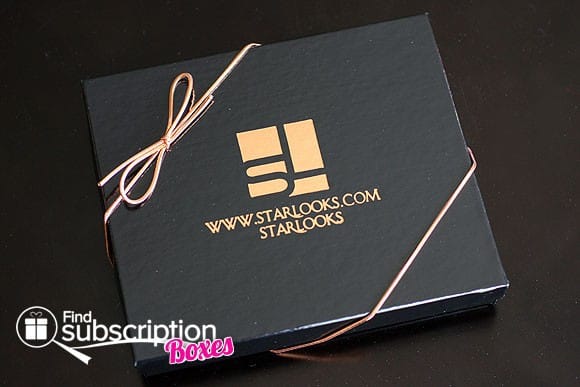 Upon opening the box, I found the July 2013 Starbox information card, which lists the products in the Starbox and provides additional information about the products and usage on the back of the card.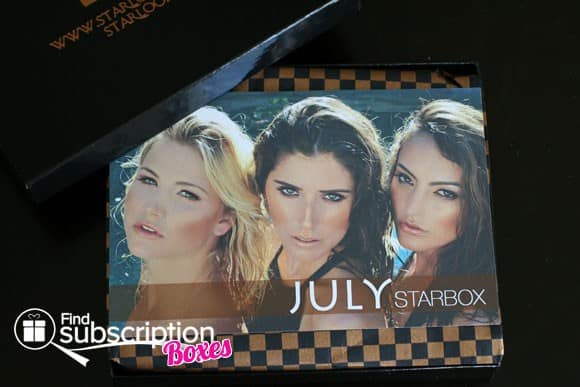 I appreciated the product descriptions that were on the card, as well as special instructions for the Special Surprise items that were included in this month's Starbox.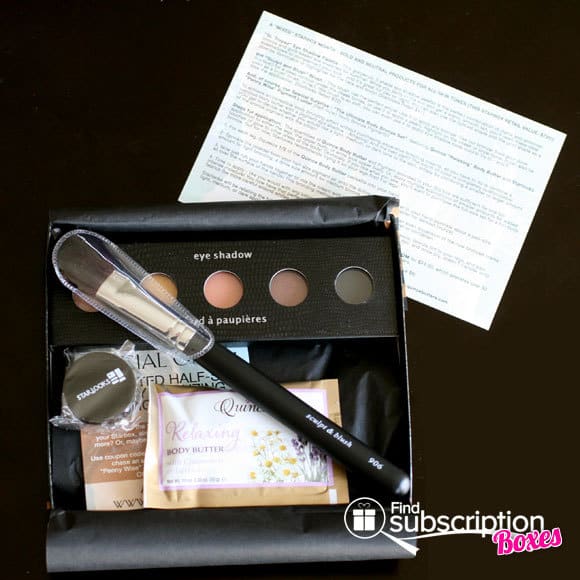 Inside the July 2013 Starbox Monthly Subscription Box
The July 2013 Starbox had four products inside.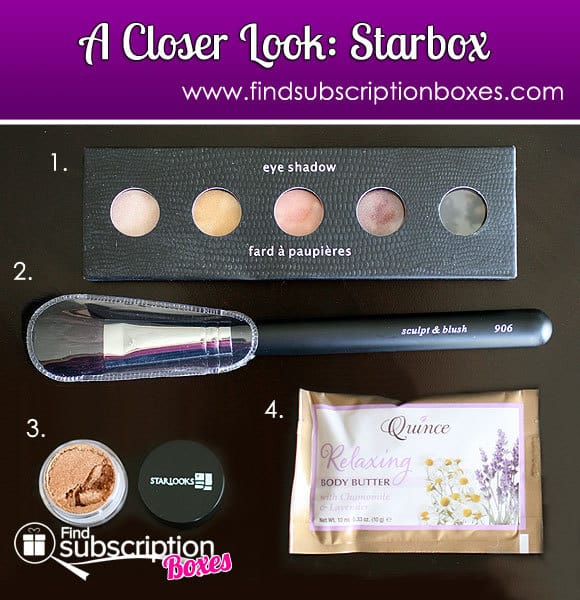 1. "St. Tropez" Eye Shadow Palette – Full Size, Retail Value: $41
You can create the perfect summer looks with the "St. Tropez" Eye Shadow Palette. The palette includes 5 warm shadows that can be used whether it's day or night.  The palette includes a base color, corner/crease color, contour color, and liner color. Colors in the Starlooks 5 Shade Eye Shadow Palettes are only available in the palettes and cannot be purchased individually.
2. 906 "Sculpt and Blush" Brush – Retail Value: $22
The Sculpt and Blush brush is a super soft brush with a slight ankle. The handle is thicker which allows you to hold the brush easily to apply bronzer, blush, or even eye shadow base colors.
3. Starlooks "Penny Wise" Pigment Luster – Half Size, Retail Value: $9
The Starlooks Pigment Lusters are powders that are packed with color. They have a variety of different color options, from a Royal blue to an Emperor orange. The July Starbox had a half-sized container of the "Penny Wise" color, which was a subtle copper color with a hint of sparkle  that is perfect for body bronzing. You can also use the lusters as a mix with other Starlooks products to create custom colors.
4. Quince "Relaxing" Body Butter – Sample Size, 0.33 oz, Estimated Value: $2.14
The Quince "Relaxing" Body Butter is included to be used with the Starlooks "Penny Wise" Pigment Luster as part of the Starlooks "The Ultimate Body Bronze Set." By mixing the body butter with the pigment luster, you can custom create a bronzed creme that you can use for a hint of color, as well as moisture, to your body.
July Starbox Monthly Subscription Box Wrap-Up
The July Starbox was perfect for summer. It had great summer colors and I loved that we could test out The Ultimate Body Bronze Set. We're always a fan of full-sized products, and coming in with an estimated total box value of $74.14, this box is a great deal at just $15 + shipping.