The Handy Box is the first monthly subscription box for the handy men, women, and DIYers who love working with their hands. Each month, The Handy Box delivers $40 worth of handy tools and gadgets for you to use at home, in the garage, in the car, etc. The Handy Box subscriptions start at just $24.95/month and include free shipping. There is a discount for 3 and 6 month The Handy Box subscriptions.
Our July The Handy Box arrived in their usual cardboard box with The Handy Box logo stamped on the side and top. Our box included a product card that provided information about the tools and gadgets in this month's The Handy Box.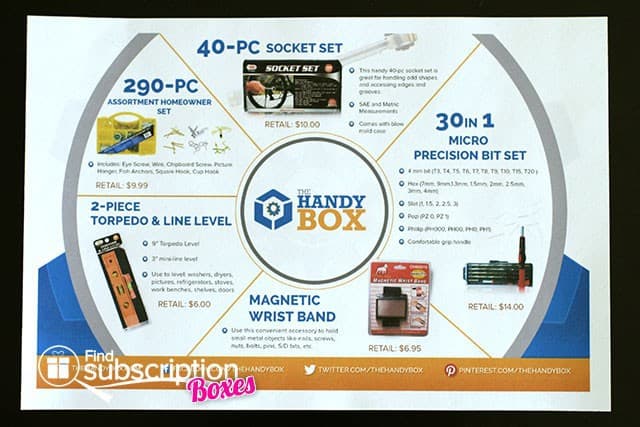 Under the card, we got our first look into the box.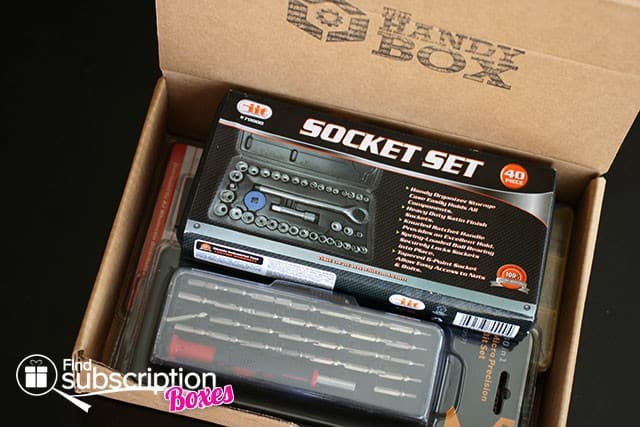 Inside the July 2014 The Handy Box
There were 5 tools and gadgets in our July 2014 The Handy Box.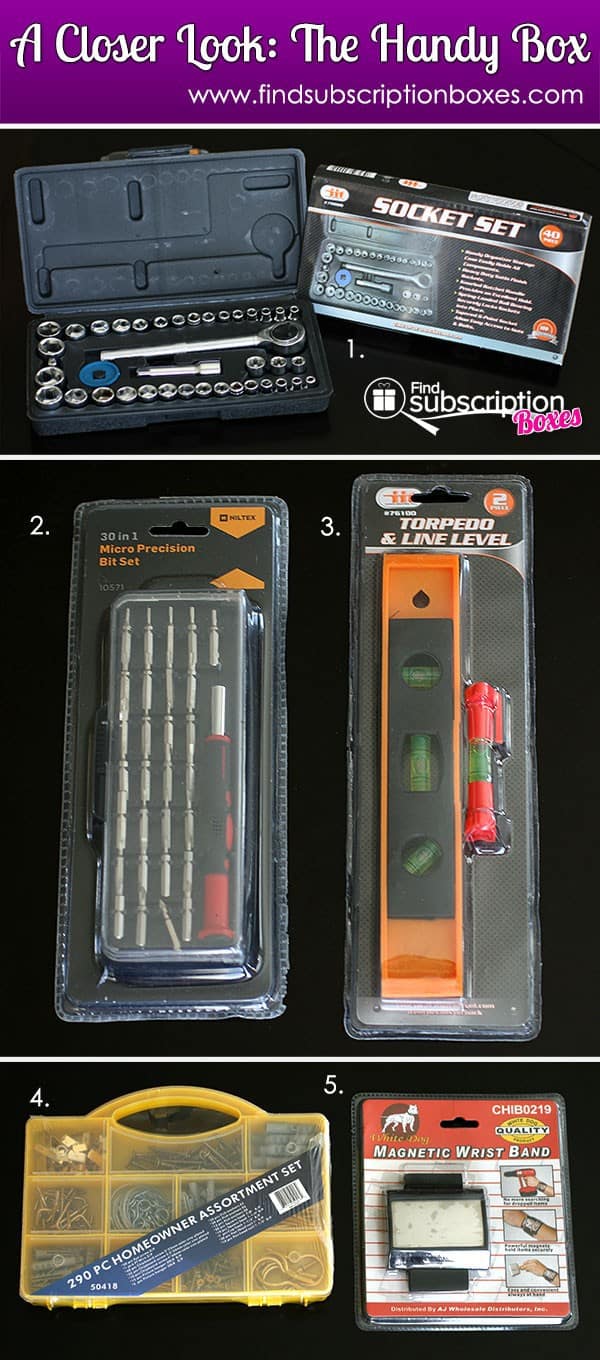 1. 40 piece Socket Set, Retail Value: $10.00
Loosen or tighten nuts and bolts and more with this handy socket set.
2. 30-in-1 Micro Precision Bit Set, Retail Value: $14.00
Have you ever needed to replace a battery in a remote control or toy only to find out the screwdriver you have is too large? This micro precision bit set provides the bits you need for smaller projects!
3. 2-piece Torpedo & Line Level, Retail Value: $6
From hanging pictures to setting up appliances, use this 2-piece set to ensure your projects are level.
4. 290-piece Assortment Homeowner Set, Retail Value: $9.99
You'll have the right hook or screw on hand with this great variety of screws, hangers, and more.
5. Magnetic Wrist Band, Retail Value: $6.95
No need to hold nails or tacks between your teeth. With this magnetic wrist band, small metal objects are always securely within reach.
July 2014 The Handy Box Wrap Up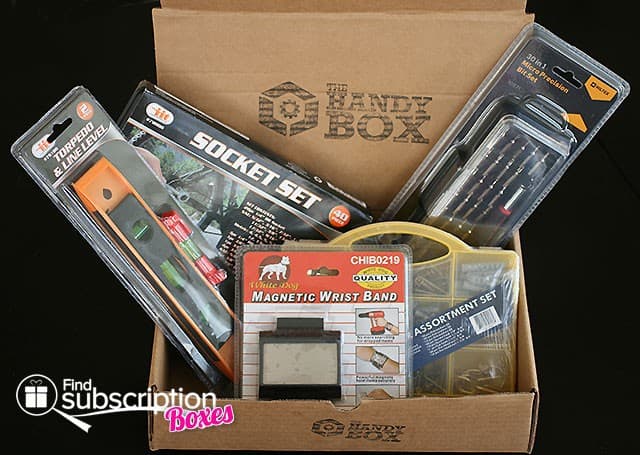 Once again, our monthly The Handy Box had products that seem to fit together for a certain project. For example – the wrist band, level, and homeowner sets are just the items needed for hanging artwork or other items on the wall or on fences. We also loved that the July The Handy Box included so many sets. 4 of the 5 items in this month's box were sets which helps ensure our tool collections will have the sizes needed for any project. The total retail value of the July The Handy Box was $46.94.
Did you get the July 2014 The Handy Box? Leave a comment letting us know which was your favorite tool!
Not a The Handy Box subscriber? Use coupon code 2HANDY to save $2 off any The Handy Box subscription.