The BlockheadBox by Fight4Them is a monthly dog subscription box for Bully Breeds, Heavy Chewers, and your favorite Blockhead Dog. Each Blockhead box features durable dog chews and toys, and high quality treats, as well as t-shirts, hats and other gear for dog-loving owners. A portion of Blockhead Box sales support charities, rescues and humane law enforcement to combat animal cruelty and dog fighting. With today's Blockhead Box review, we're unboxing the July 2016 Blockhead Box.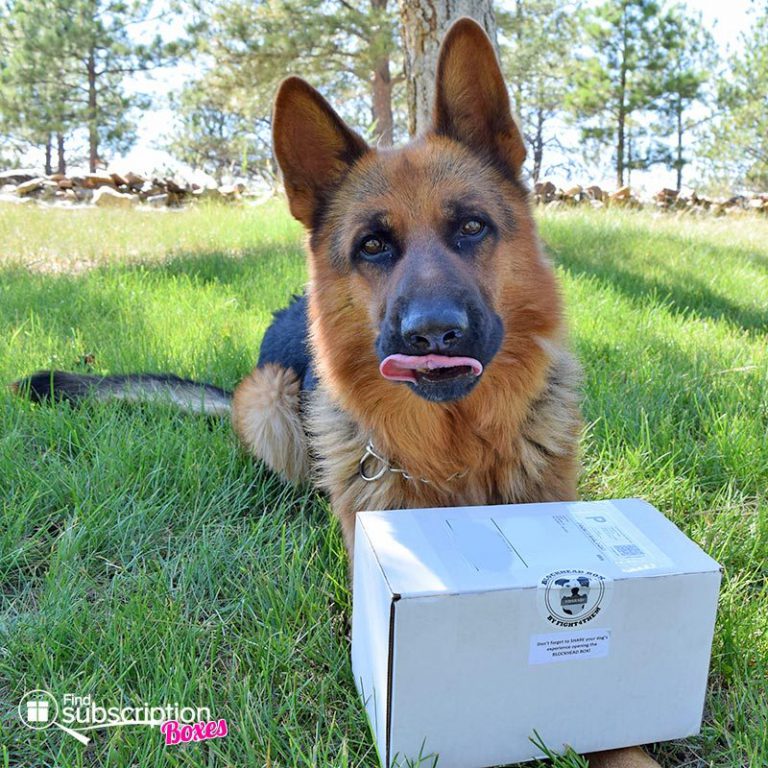 Fight4Them.org includes a product card that describes a little about the organization, as well as listing the durable dog products in that month's dog box. A portion of all Blockhead Box proceeds go to charities. This month's box also had a flyer for FurBridge – an animal rescue and community outreach program.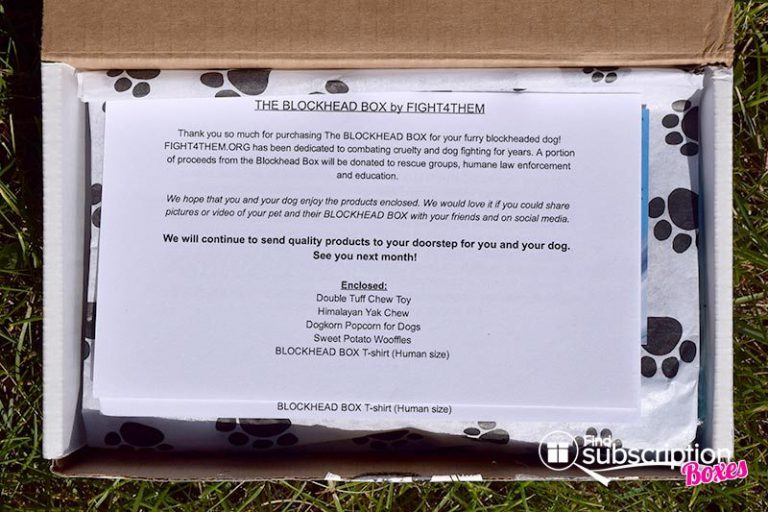 Here's a first look inside our July 2016 Blockhead Box.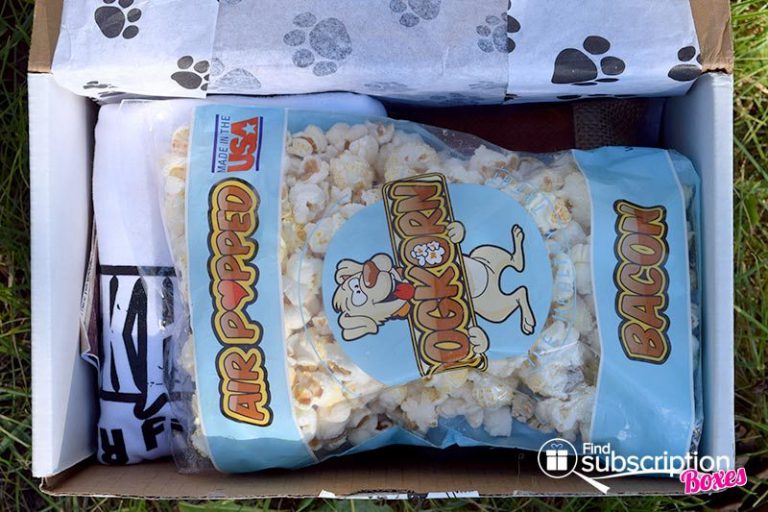 Inside the July 2016 Blockhead Box
There were 4 dog products and 1 human item in the July Blockhead Box.

Yak-9 Himalayan Yak Dog Chew
Orbee-Tuff Diamond Plate Double-Tuff
Dogkorn Air Popped Popcorn for Dogs, Bacon Flavor
Shorty's Gourmet Treats All Natural Organic Sweet Potato Wooffles
Blockhead Box T-Shirt (Human size)
July 2016 Blockhead Box Review Wrap-Up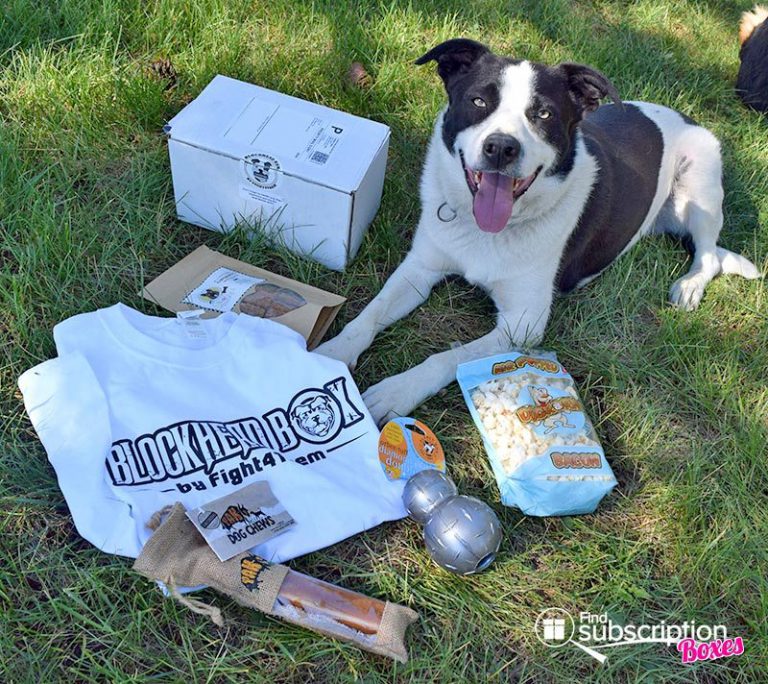 The July Blockhead Box delivered dog treats and chew toys our Blockhead dogs drooled over. This month's dog box had two dog snacks. The Dogkorn Popcorn for dogs is an air popped popcorn healthy snack option for dogs. Ours came in a tasty bacon flavor that dogs love. The popcorn smelled fresh and good enough for the humans to eat. It always feels good to know our dogs are eating healthy. The sweet potato wooffles dog treat is handmade with fresh, organic sweet potatoes that are boiled and pureed by hand.
We first heard about yak cheese on Shark Tank and is a perfect chew toys for our German Shepherd. The all-natural yak cheese dog chew is made from 100% yak milk with no added ingredients. The dog has to chew on it for hours to make it soft enough for them to gnaw off. Our Border Collie loved the Double Tuff Chew Toy. He couldn't stop staring at the chew toy once the Blockhead box was opened. It was the perfect toy for a game of fetch. You can also hide dog treats in the chew toy as an added bonus for your pup.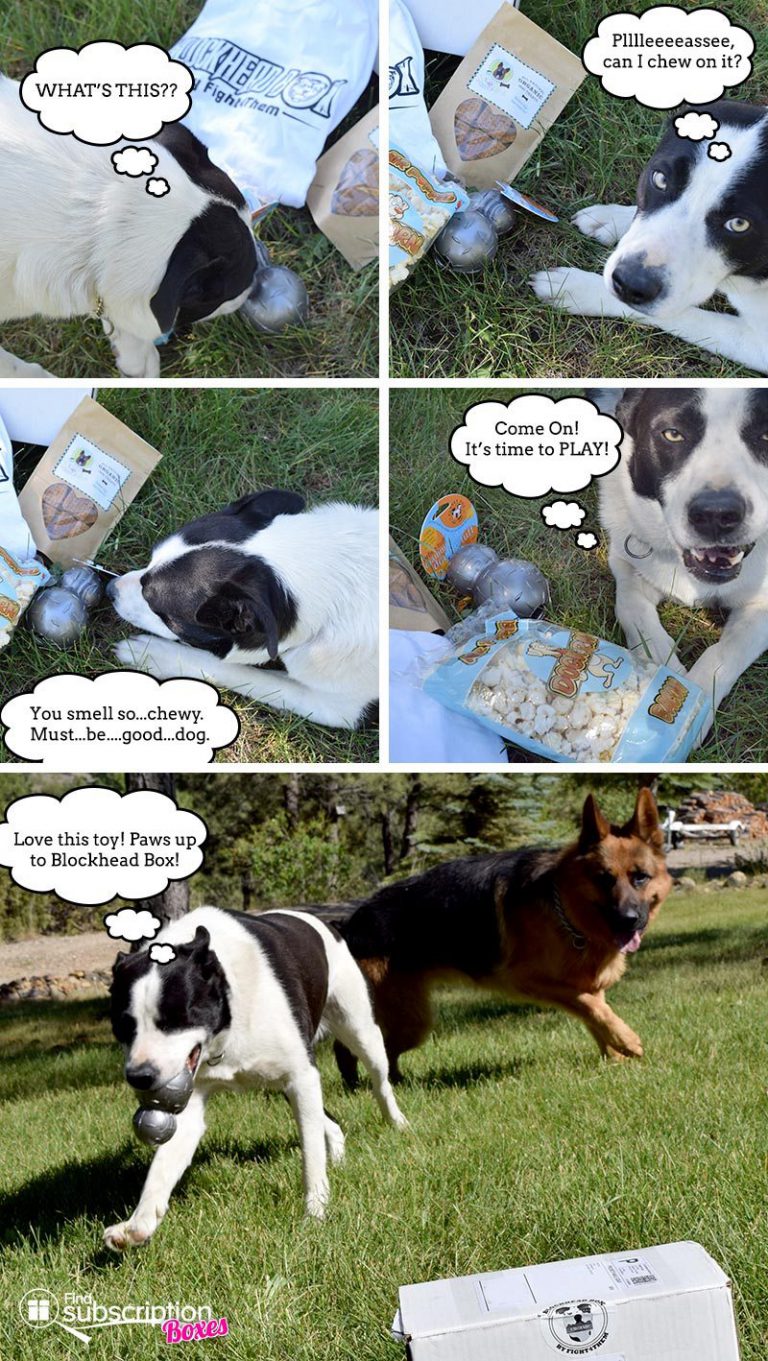 The last item in the box was the Blockhead Box t-shirt. We really like that this dog subscription box also had something for the dog owners. It's perfect for the humans to wear on their next adventure with their dog.
Which was your dog's favorite July Blockhead Box dog item?
Blockhead Box Coupon Code
For a limited time, the first 100 Blockhead Box subscribers can save 10% off their Blockhead Box subscription for life with Blockhead Box coupon code FOUNDER10.