Geek Fuel delivers is a monthly subscription box for nerds and geek. Monthly Geek Fuel boxes are filled with over $50 worth of exclusive geek t-shirts, toys, collectibles, and more. Every Geek Fuel box also includes a full downloadable video game from Steam. With today's Geek Fuel review, we're unboxing the July 2016 Geek Fuel box.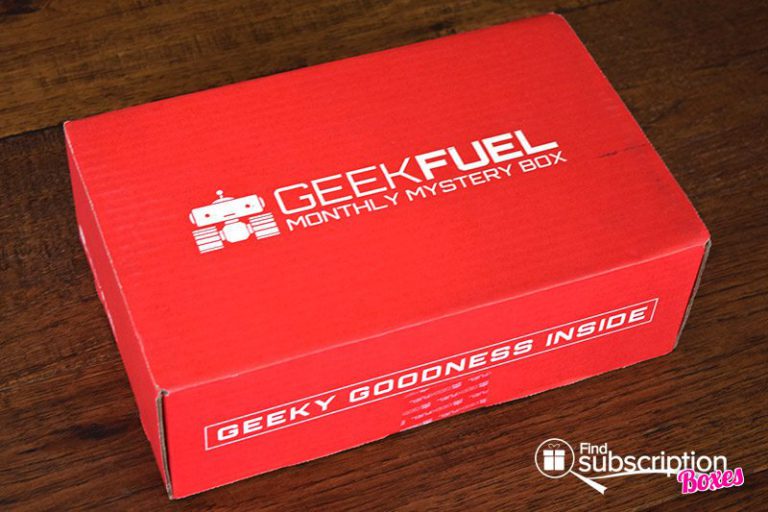 Geek Fuel includes an issue of Geek Fuel Magazine in each mystery Geek Fuel box. July's issue had an article looking at Star Trek Beyond, as well as an article looking at popular Ghostbusters ghosts. Geek Fuel boxes also have a product card that describes each of that month's geek goodies.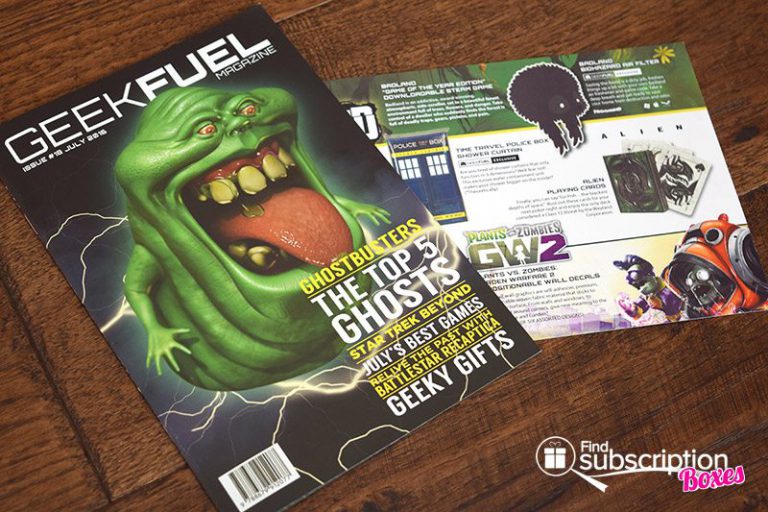 Here's a first look inside our Geek Fuel July 2016 monthly geek box.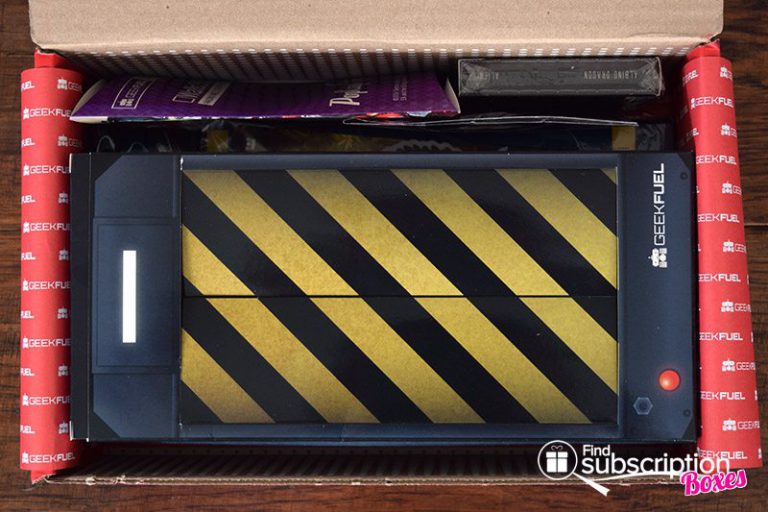 Inside the July 2016 Geek Fuel Box
There were 6 geek goodies in our Geek Fuel July 2016 geek box.

EXCLUSIVE It's a Trap Ghostbusters T-Shirt
Wear this shirt, featuring Slimer, on your next ghost hunting trip or to catch the Ghostbusters movie reboot.
EXCUSIVE Doctor Who Time Travel Police Box Shower Curtain
Ditch the boring 2D shower curtains and use this exclusive Time Travel Police Box Shower curtain to (theoretically) make your shower bigger!
Badland "Game of the Year Edition" Downloadable Steam Game + EXCLUSIVE Biohazard Air Filter
Keep the air around you smelling fresh as you journey through the Badland forest to save your home.
Alien Playing Cards
From Go Fish to poker, these Alien poker cards with Alien-inspired card faces and artwork provided by Matt Demino.
Plants vs. Zombies: Garden Warfare 2 Repositionable Wall Decals
Receive one of 6 repositional wall graphics. They're made of a premium, woven fabric material that lets you stick and remove te decal from almost any surface.
EXCLUSIVE Boo-Busters Button
Pi this exclusive Ghostbusters button on your shirt or bag if you ain't afraid of no ghosts.
July 2016 Geek Fuel Review Wrap-Up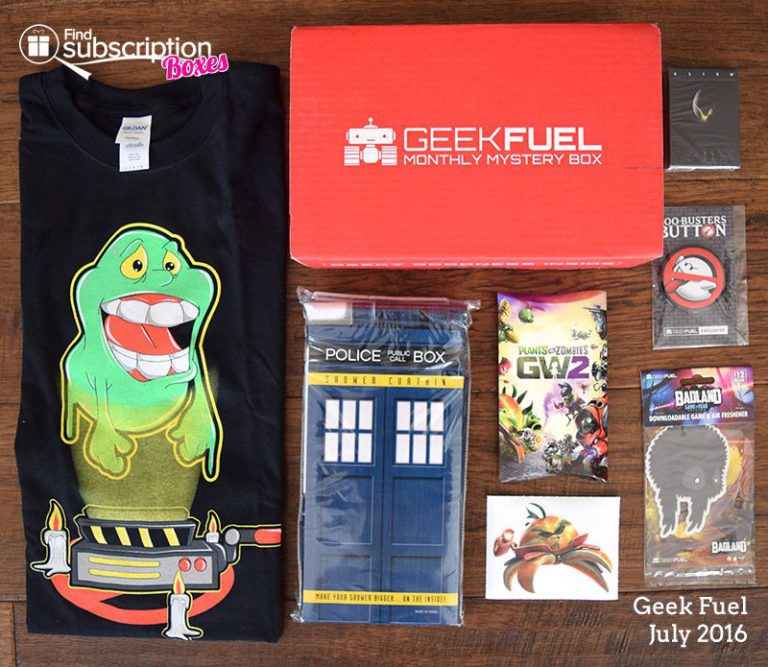 July's Geek Fuel delivers mystery geek items featuring current blockbuster movies. By far, the Doctor Who Shower Curtain was one of our favorite items. How did they know we needed a new shower curtain that is totally geek chic? For another touch of geek decor, the Plants vs Zombies GW2 wall decal is another fun twist. It's really nice that in can be easily removed an positioned so you can easily move it to another spot if you want.
The recent reboot of Ghostbusters has caused a lot of controversy. Whether you're a Ghostbusters purest or a new fan, both of the Ghostbusters collectible in July's Geek Box are winners. Slimer is one of our favorite Ghostbuster ghosts, so it was great getting a fun t-shirt featuring Slimer and a ghost trap. The Boo-Busters button is a cute geek accessory that's great for any Ghostbusters fan.
The artwork on the Alien Playing cards is really unique and detailed. It's the perfect deck of cards for your next geek-themed poker night.
We've seen the Badland video game on Steam and can't wait play this award-winning game. Here's a look at the Badland "Game of the Year Edition" Trailer:
What was your favorite Geek Fuel July 2016 geek item?
The first Geek Fuel August 2016 box spoiler has been announced!
Geek Fuel Free Gift Coupon
For a limited time, new Geek Fuel subscribers can get a free Star Wars item or Star Wars Gift Pack with new 3, 6 and 12 month Geek Fuel subscriptions. Subscribe now to reserve your May Geek Fuel box and claim your free geek gift.