GLOSSYBOX is a monthly beauty box for beauty addicts and fans. GLOSSYBOX delivers five deluxe and full-size beauty products from popular and emerging luxury and niche beauty brands in each beauty subscription box. In recent months, there have been one or two additional beauty picks in each box.With today's GLOSSYBOX review, we're unboxing the July 2016 GLOSSYBOX box.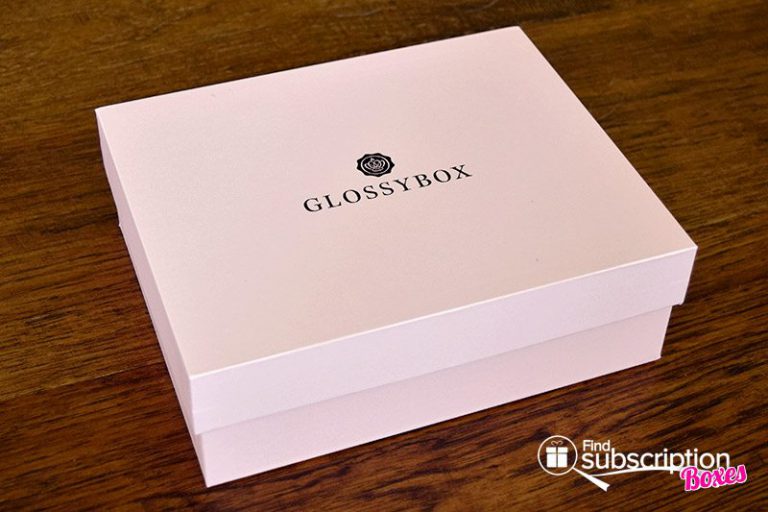 Each GLOSSYBOX has a product card describing each of that month's beauty products. There are also useful tips and tidbits of information for using the products.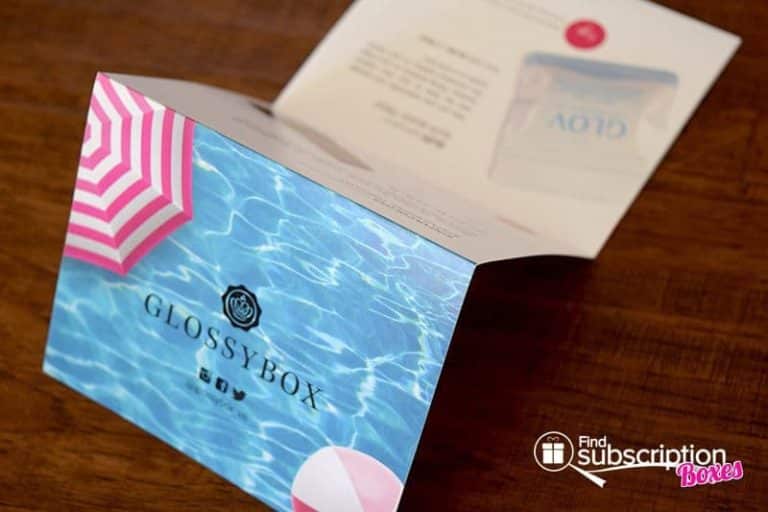 Here's a first look inside our July GLOSSYBOX.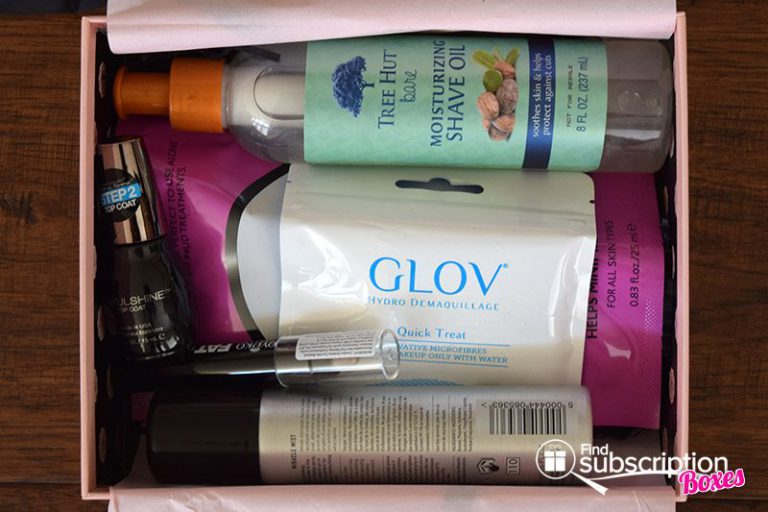 Inside the July 2016 GLOSSYBOX
The July GLOSSYBOX had 6 luxury beauty products.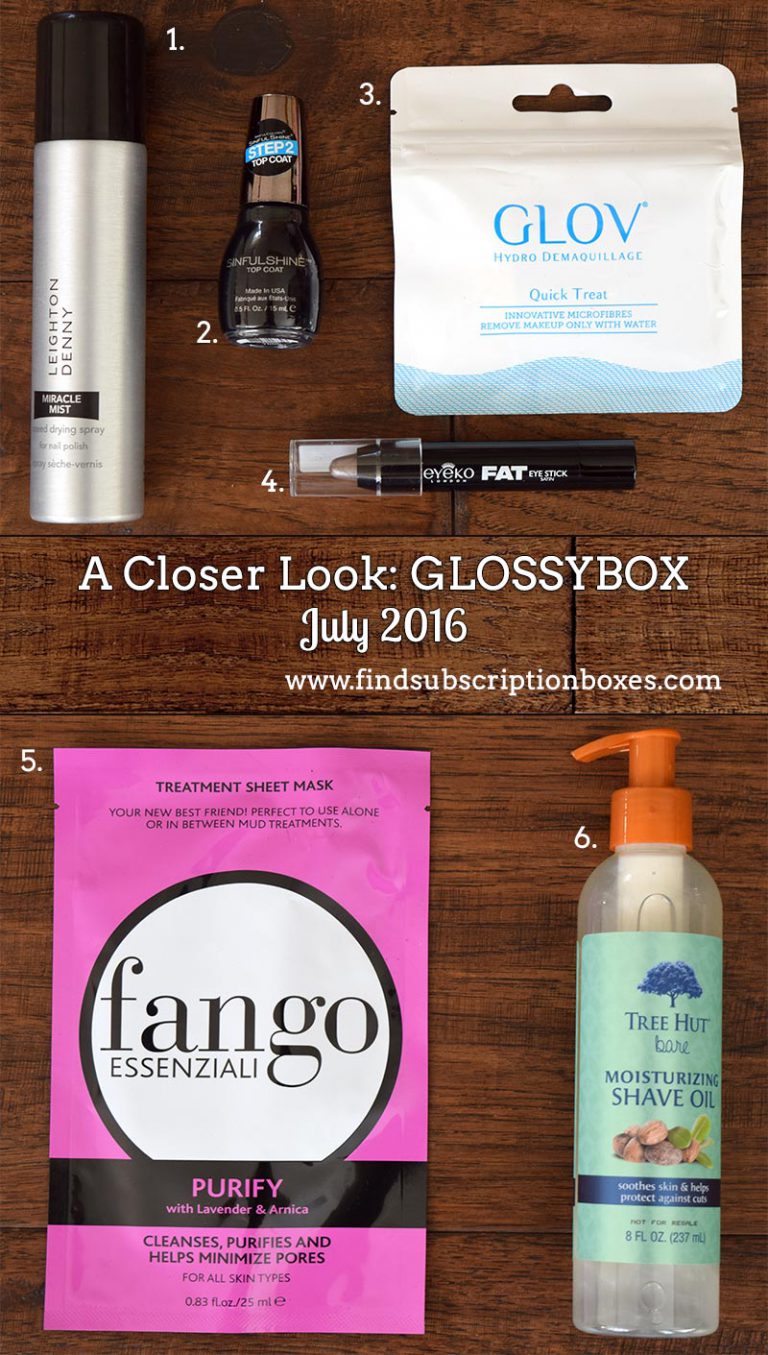 Leighton Denny Expert Nails Miracle Mist
Speed up the drying process for your new home manicure with this speed drying spray for nail polish.
SinfulColors SinfulShine Top Coat
Add high-shine and lasting coverage with this formaldeyde-free top coat.
GLOV Quick Treat
This unique makeup remover fits over your finger to quickly and easily wipe away makeup.
Eyeko Fat Stick in Satin
Conveniently transform your makeup with this glossy eye stick with iridescent shimmer.
Fango Essenziali Purify Treatment Sheet Mask
If acne treatments have dried out your skin, this face mask has lavender oil and Arnica flower to help control oil and tighten pores.
Tree Hut Bare Moisturizing Shave Oil
Rid yourself of razor bumps, ingrown hairs, and skin irritation with Tree Hut's unique shave oil with shea butter and natural oils.
July 2016 GLOSSYBOX Review Wrap-Up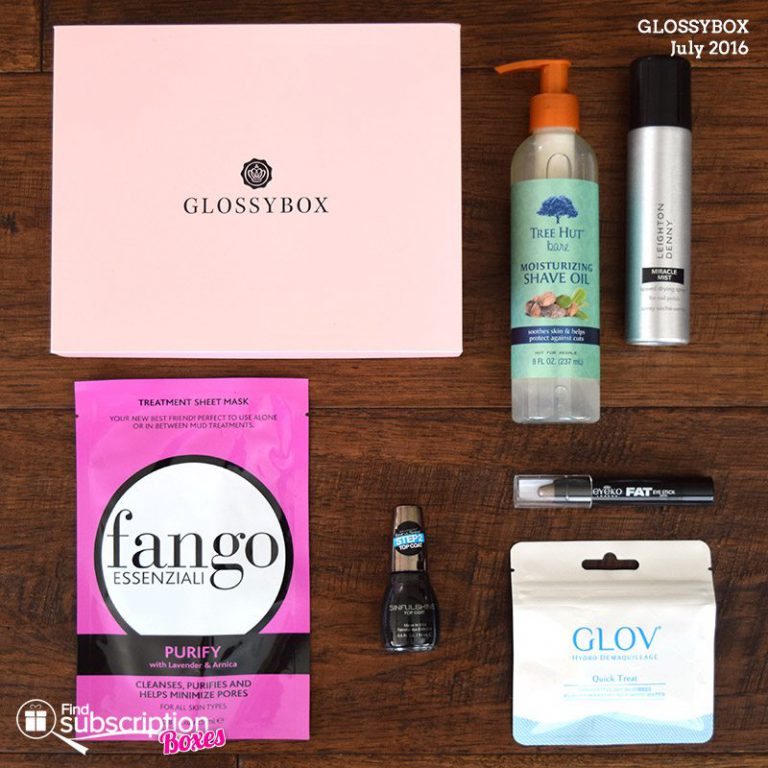 For us, the July 2016 GLOSSYBOX was all about convenience. Each of this month's luxury beauty treats made parts of beauty routine so much easier. The Eyeko Fat Stick is the perfect eyeshadow stick to take day time looks into night. Just dab it onto your lids and blend with your fingertips for a sheer shimmer. You can also use it as a liner or a shadow.
At the end of the day, the reusable GLOV makeup wipes quickly remove makeup using only water. The GLOV is made with super thin fibers that absorb the makeup like a magnet. You can rinse it off, dry it and re-use it for up to 3 months. The purifying Fango Essenziali face mask is the perfect way to relax and give your face a treat. The lavender oil as anti-inflammatory and antiseptic properties and also provides a soothing scent. The mask also has Arnica flower to soothe and renew your skin.
This month GLOSSYBOX included two nail products we absolutely love. In June, GLOSSYBOX included one of the new Kylie Jenner and SinfulColors nail polishes. The SinfulColors SinfulShine top coat is the 2nd step to getting amazing nails. We like that it is Toluene, Formaldehyde and DBP Free. Don't forget to paint the edges of your nail when you add the top coat layer. This helps seal the edges and prevents chipping. To quickly dry your nails, the Leighton Denny nail drying spray is the perfect trick. After applying your polish, just spray the drying spray directly onto your nails for a few seconds. This is a must-have product for anyone who has woken up in the morning to find their previous evening's manicure ruined.
Finally, the Tree Hut Bare Shave Oil is a new way to get smooth skin while shaving. It has a gel-liked texture that makes the razor glide smoothly over the skin as you shave. It's packed with all natural oils like Jojoba Oil, Grape Seed Oil, Argan Oil and Shea Butter. It also has an amazing spa-like fragrance.
What was your favorite July GLOSSYBOX beauty pick?
GLOSSYBOX August 2016 box spoilers have been revealed. Get your sneak peek into this month's beauty box.
July 2016 GLOSSYBOX Coupon: 3 Free Beauty Gifts
Through August 31, 2016, new GLOSSYBOX subscribers can get THREE FREE beauty products in their August GLOSSYBOX (a total of 9 beauty picks) when you join GLOSSYBOX today! Use code SUNSET at checkout to get your bonus beauty products.
1 Doucce Click Click Lipstick and 2 Florapy Hydration Masks will be included in your August GLOSSYBOX. That's $38 in free beauty gifts when you subscribe to GLOSSYBOX this month!
GLOSSYBOX free gift offer expires 8/31/2016; 11:59 PM EST. Available while supplies last.