Nerd Block Classic delivers monthly mystery subscription boxes of nerd gear and collectibles. Each Nerd Block Classic has 4-6 nerd collectibles, including an exclusive nerd t-shirt, with a total $60+ value. Every Nerd Block also includes a free $10 credit to ShirtPunch.com! With today's Nerd Block Classic  review, we're unboxing the July 2016 Nerd Block Classic nerd subscription box. July's Nerd Block Classic Block theme was SQUAD.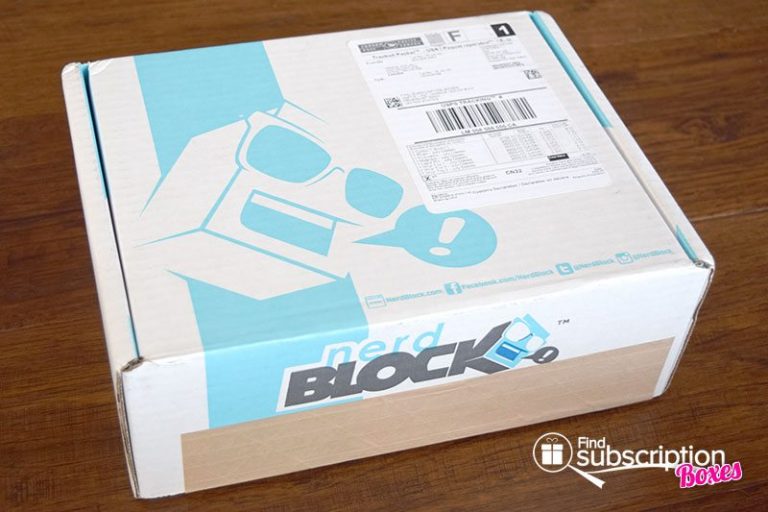 Nerd Block Classic boxes include a product card sharing information about the nerd collectibles in that month's nerd box. There was also a spoiler for the August Nerd Block Classic box.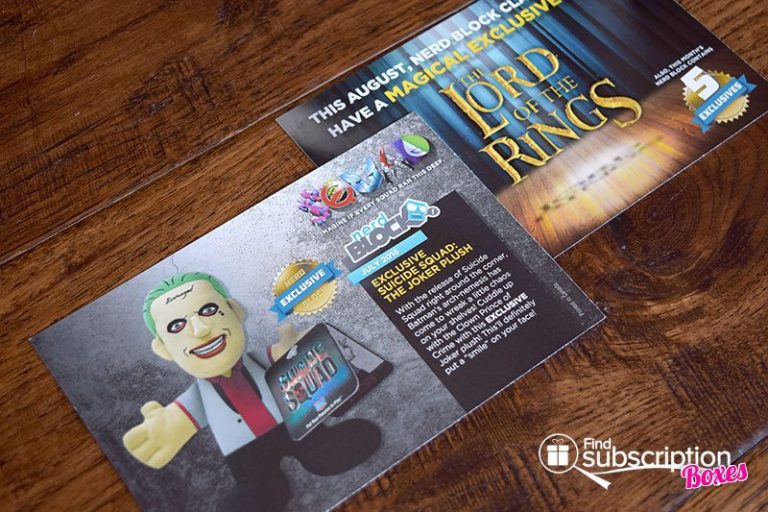 Here's a first look inside our Nerd Block Classic July nerd subscription box.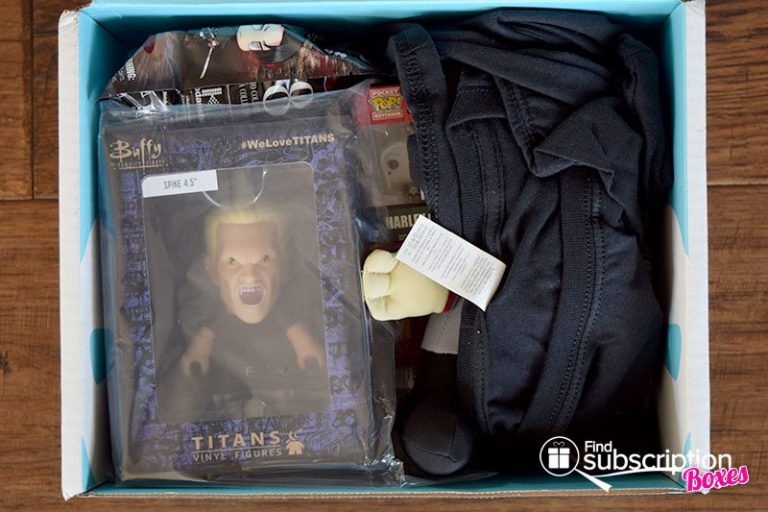 Inside the July 2016 Nerd Block Classic
There were 5 collectibles in our July Nerd Block Classic monthly nerd box.

EXCLUSIVE ShirtPunch T-Shirt: Ghostbusters
Show your friends that "You ain't afraid of no ghosts" with this Ghosbusters shirt featuring Zuul.
EXCLUSIVE Suicide Squad The Joker Plush
After surviving a helicopter crash in Suicide Squad, Batman's nemesis is coming to you in cuddly, or scary, plush form.
Attack on Titan Blind Bag Backpack Hanger
Show off your Attack on Titan pride with this backpack hanger. Your hanger will be one of the members of the Survey Corps or an emblem.
EXCLUSIVE Harley Quinn Black and White Funko Pocket Pop! Keychain
Another collectible from Suicide Squad, this tiny Harley Quinn is ready to cause some chaos with your keys.
EXCLUSIVE Transformers Autobot Pin
This year is the 30th anniversary of The Transformers: The Movie. This pin has the Autobot insignia and will help you celebrate in style.
Bonus Items: July's Nerd Block also had three bonus items from previous Nerd Blocks – a Buffy the Vampire Slayer Spike Titans Vinyl Figure, Awkward Family Postcards, and Night of the Living Dead Magnets.
July 2016 Nerd Block Classic Review Wrap-Up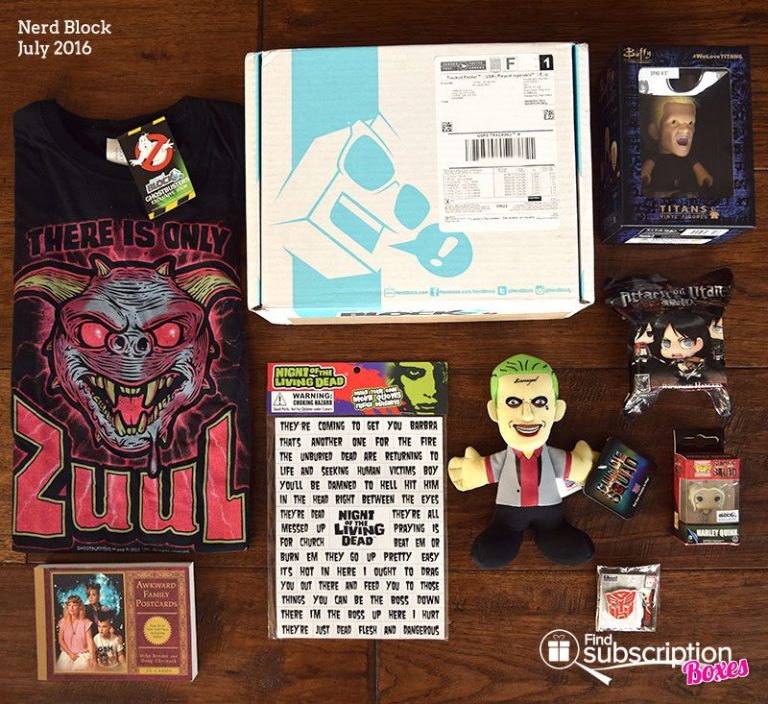 July's Nerd Block Classic Block featured nerd items and collectibles from epic teams and gangs from both comic books and pop culture. There's been a lot of debate over the recent Ghostbusters reboot. Whether or not you liked the movie, both new and classic Ghostbusters fans will appreciate this exclusive Ghostbusters shirt. It features Zuul, the Gatekeeper of Gozer, who possessed Dana Barrett in the Original movie.
The Joker was as creepy as ever in the latest Suicide Squad movie. This tiny Joker plush features his notorious evil grin and has "Damaged" tattooed across his forehead. Harley Quinn is another Suicide Squad character in July's Nerd Block. This Funko Pocket Pop! Keychain is an exclusive black and white version that will add a bit of Harley's mischievous antics to your keys or bags.
Tell the world there's "more than meets the eye" with the Transformers Autobots pin. It's a fun way to honoring 30 years of Optimus Prime, Bumblebee and all your favorite Transformers. The last "team"-inspired nerd item is the mystery Attack on Titan backpack hanger. Attach it to your backpack to arm yourself against the Titans.
Nerd Block also included several nerd items from past boxes. A couple of these are duplicates for us but bonus items are always a nice surprise.
Which was your favorite July Nerd Block Classic nerd item?
July 2016 Nerd Block Classic Coupon
Join Nerd Block Classic today and save on your first nerd mystery box! Use Nerd Block Classic coupon code FindSubBox16 to save 15% off the first month of new monthly Nerd Block Classic subscriptions. Save more with multi-block and multi-month subscriptions!