GLOSSYBOX is a monthly beauty subscription box for beauty lovers. Each GLOSSYBOX is a beauty and makeup subscription the delivers 4-5 deluxe and full size beauty products every month. Beauty and make products are from popular and emerging luxury and niche beauty brands like Doucce, benefit, Biossance, bang beauty and more. With today's GLOSSYBOX review, we're unboxing the July 2017 GLOSSYBOX. The July GLOSSYBOX was their Tropical Beauty box!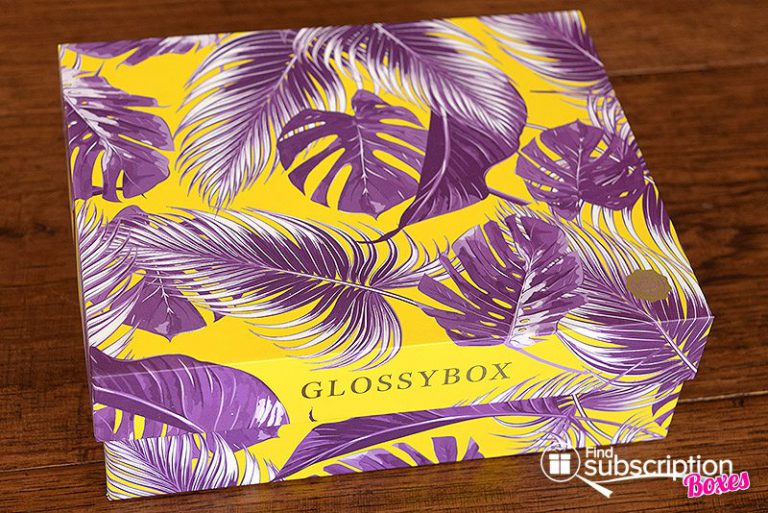 Every GLOSSYBOX beauty box includes a colorful fold out brochure with pictures and descriptions for each of the beauty products in the box. There are also useful tips and tidbits of information for using the beauty treats in the box. GLOSSYBOX also gave a sneak peek into the August GLOSSYBOX.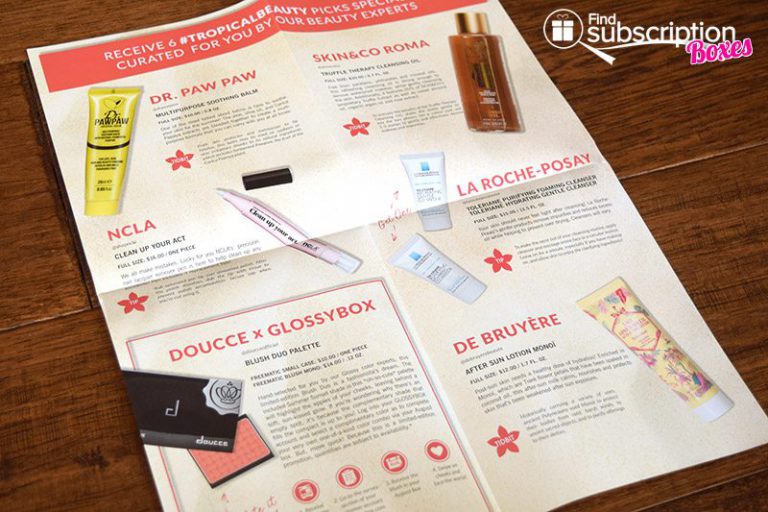 Here's a first look inside our July GLOSSYBOX.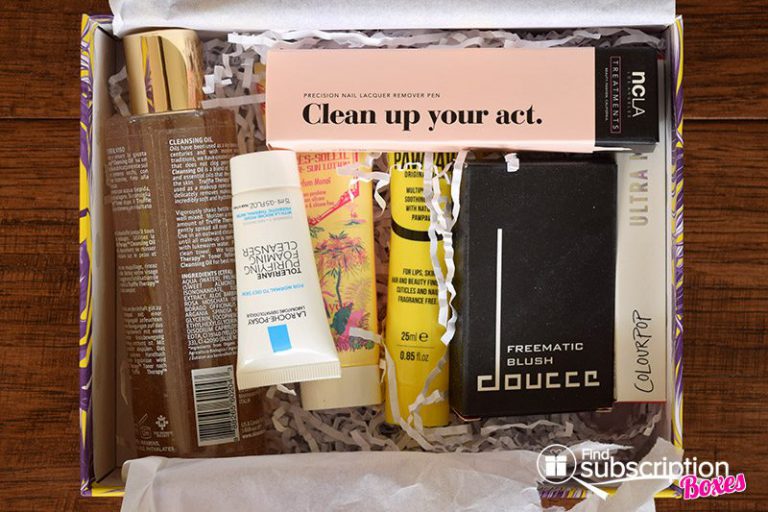 Inside the July 2017 GLOSSYBOX
Our July 2017 GLOSSYBOX had 6 makeup and beauty products.

Skin&Co Roma Truffle Therapy Cleansing Oil
Easily remove waterproofer makeup while gentle cleansing your skin with this refreshing cleansing oil.
NCLA Clean Up Your Act
Clean up any nail polish accidents with NClA's precision nail lacquer remover pen.
doucce x GLOSSYBOX Blush Duo Palette
This hand-selected, limited edition Blush Duo includes the Summer Sunset shade and an empty spot in the compact for your to choose your OWN color to be in August's GLOSSYBOX.
Dr. Paw Paw Multipurpose Soothing Balm
Soothe your skin this summer with this multi-purpose formula made with aloe, olive oil and Carica papaya extracts.
De Bruyère After Sun Lotion Monoï
Hydrate your skin after a day in this sun with this after-sun milk made with Monoï to calm, nourish and protect skin weakened by sun exposure.
La Roche-Posay Toleriane Purifying Foaming Cleanser
Remove impurities and reduce excess oil with this gentle face cleanser. (Other GLOSSYBOX subscribers may have receive La Roche-Posay's Toleriane Hydrating Gentle Cleanser.)
BONUS: The July FREE Gift With Purchase was 2 ColourPop Ultra Matte Lip liquid lipstick. We received the shades Speed Dial (a rich peach) and Wednesday (vibrant hot pink.) Keep reading to find out the August GLOSSYBOX free gift offer!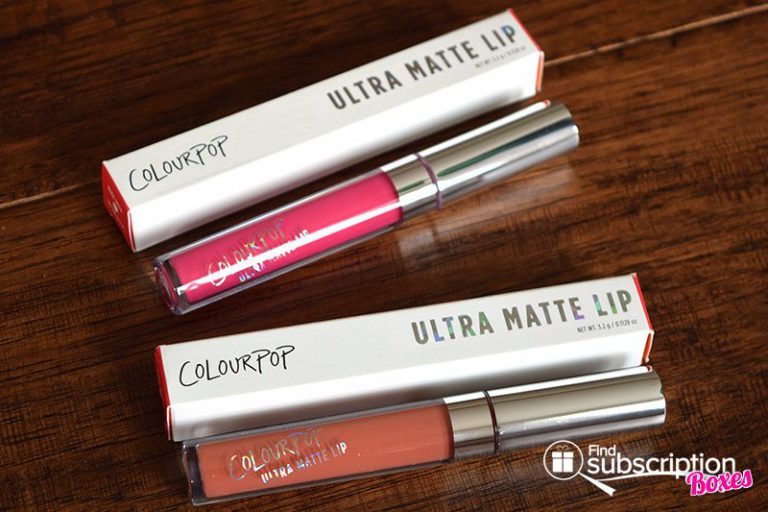 July 2017 GLOSSYBOX Review Wrap-Up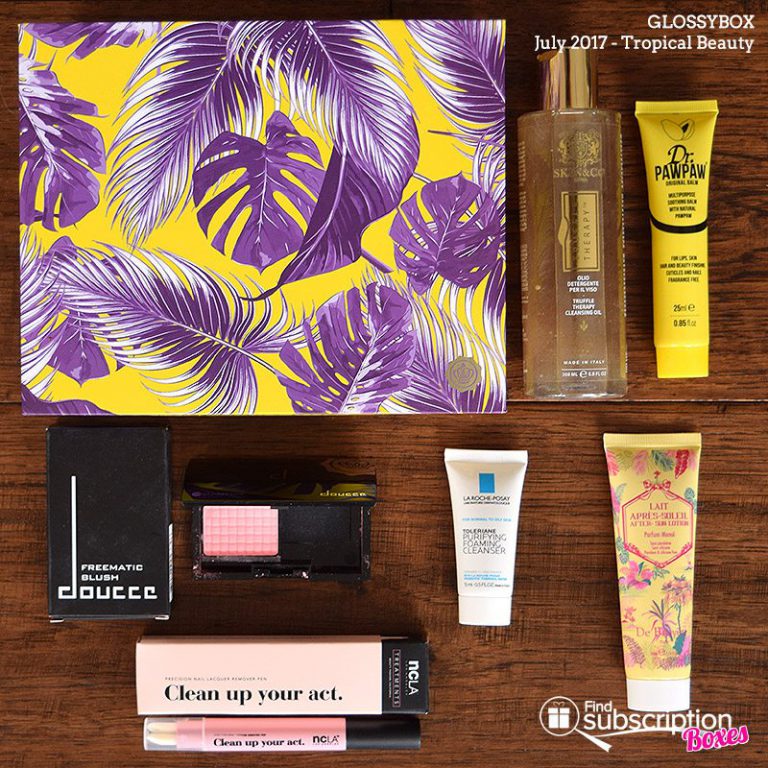 July's GLOSSYBOX was packed with amazing products that are perfect for summer. We can't choose a favorite product this month! There were two new face cleansers in the Tropical Beauty GLOSSYBOX. The La Roche-Posay Toleriane Purifying Foaming Cleanser is one of the few cleansers we've tried that combats oil without leaving your skin feeling dry. The second cleanser is the luxurious Truffle Therapy Cleansing Oil from Skin&Co Roma. This unique oil consists of 2 parts that get shaken together before using it with a cotton pad. With just 2-3 pumps you wipe away the day's makeup to reveal smooth, hydrated skin.
We love the soothing De Bruyère After Sun Lotion Monoï. Monoï are Tiare flower petals that have been soaked in coconut oil. Just apply this lightweight milk onto clean skin after a day in the sun and feel an immediate difference. There's a very light and pleasant scent and the milk easily rubs into the skin – a must when it's sensitive from the sun.
Dr. Paw Paw was a surprising new favorite for us. Normally we use Shea Butter as a go-to moisturizer, but Dr. Paw Paw proved that their multipurpose soothing balm is a hydrating contender. After just 1 application to some dry, chapped hands, there was an immediate and noticeable improvement. The moisture and relief lasted well into the next day, even after multiple hand washes. The balm absorbs quickly and there's no scent, so it's great for the guys too.
While we can color between the lines, keeping the nail polish off our nail beds still requires a bit more practice. The solution is the incredibly convenient NCLA Clean Up Your Act Nail Lacquer Remover Pen. Just press the tip so it soaks up the remover, then rub along the polish you want to remove.
Finally, the Tropical Beauty GLOSSYBOX had an exclusive doucce Freematic Blush in an exclusive Freematic Small case. This lovely blush comes in a perfect for Summer Shade. If you haven't logged in to GLOSSYBOX to select your complimentary color, make sure you do so ASAP!
What was your favorite July 2017 GLOSSYBOX Tropical Beauty product?
GLOSSYBOX August 2017 Free Gift Offer
Get a free beauty gift when you join GLOSSYBOX today! Get 2 FREE ColourPop Ultra Matte Lips in your 1st GLOSSYBOX when you use GLOSSYBOX promo code MATTELIP at checkout!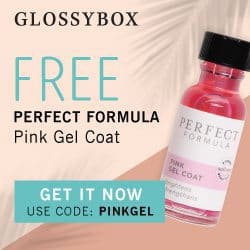 You can click here and use code FREEJOSIE to get a FREE full-size Josie Maran Argan Illuminizing Powder – a $30 free gift value!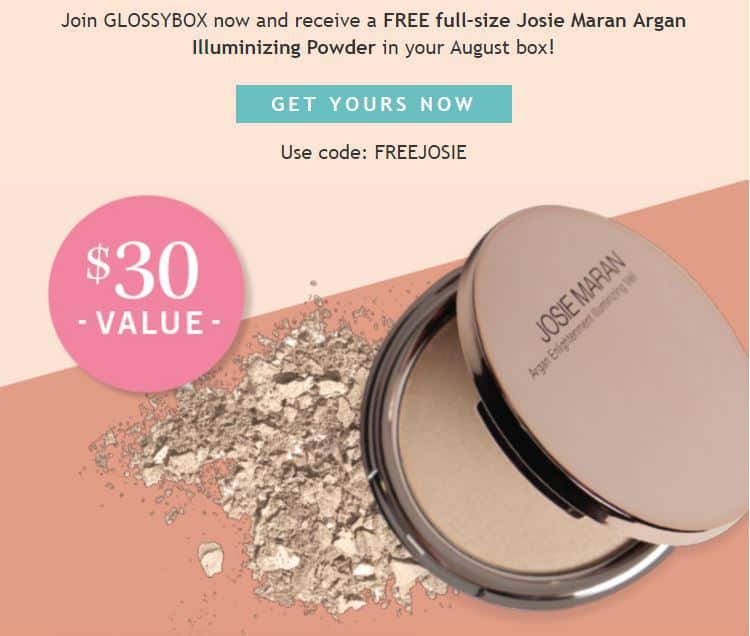 *Offer valid through August 31st, 2017, 11:59 pm ET. Valid only on the purchase of any new recurring subscription (Monthly, 3-Month, 6-Month or 12-Month). New plans will begin the date they are created and cannot be combined with an existing subscription/order. Apply code in the Enter Promotion Code section at checkout. If code does not apply successfully before checkout, it cannot be added at a later time. One code per customer. Available while supplies last.