The KissMe Club monthly subscription service by LiveGlam provides customers with three new liquid lipsticks every month – you will never get the same color twice! These "lippies" are long-lasting and have a user-friendly shaped applicator. KissMeClub lippies are creamy in consistency and therefore give full color without much application effort. Not only are these lippies rich with color, they are also cruelty-free, vegan, and made in the USA. At $20 per month, this is a great deal! With today's KissMe Club review, I'm unboxing the July 2017 KissMe Club delivery. The KissMe Club July 2017 theme was Glam Gala.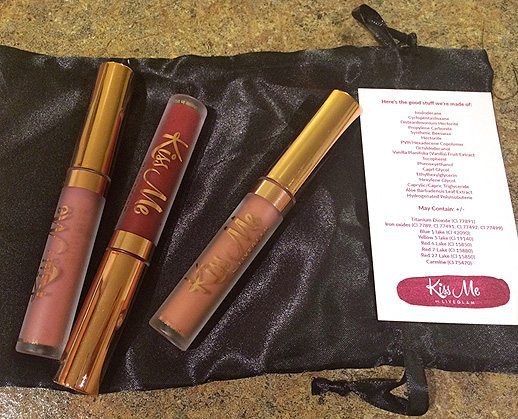 Inside the July 2017 KissMe Club Collection
Here's a look at the July KissMe Club liquid Lippie shades:
Couture – This deep wine-red matte color would be perfect for a night out; however, that isn't the only possibility! Because of this matte finish, you could also wear in the day with a fall outfit. This color is a bit too dark for my daily look and the amount of makeup I wear but I'm thinking it would go best with a more finished look in general.
Luxe – This color is my personal favorite! Labeled as a "peachy nude matte", I was excited to give this more subtle color a try. I had fun wearing it on slow-going days without makeup but also pulled it off with a more finished look. I can't think of one complexion that this color would not compliment!
Royal – This mauve pink matte lippie is a nice bump up in color from Luxe but a lot lighter than Couture. This color would look beautiful paired with fall colors. One aspect of the matte finish in this look that I like is that you can choose whether to add a glossy look for a dressy occasion or a more dramatic matte look.
KissMe is customer friendly, as they allow you to skip a month or trade colors for something more liked. As an added bonus, KissMe offers customers an opportunity to gain points with every received package that can earn weekly updated rewards.
Which was your favorite Glam Gala KissMe Club liquid lippie color?
Check out the September 2017 KissMe Club spoilers for a sneak peek at the next limited edition lippie collection!
July 2017 KissMe Club FREE Gift Offer
We're excited to bring FSB readers an exclusive free gift KissMe Club promo offer! Click here to subscribe to KissMe Club and get a FREE BONUS LIPPIE in the shade "Bestie" in your 1st box. That's a total of 4 liquid lipsticks for just $19.99! The free gift offer will automatically apply to your card when your sign-up through our link.
Subscribe for 6 months to get the FREE lippie and a 10% discount. Sign-up for an annual subscription and you'll get 1 month FREE in addition to the Free "Bestie" lipstick. What are you waiting for? Subscribe to KissMe Club today!