It's time for our latest Loot Anime review! Loot Anime is a monthly subscription box for anime and manga. Every month, Loot Crate and crunchyroll team up to create a Loot Anime mystery box filled with $60+ worth of figures, collectibles, apparel, accessories and more from popular manga and anime series. With today's Loot Anime review we're unboxing the July 2017 Loot Anime crate. The July Loot Anime theme was ACTION COMEDY.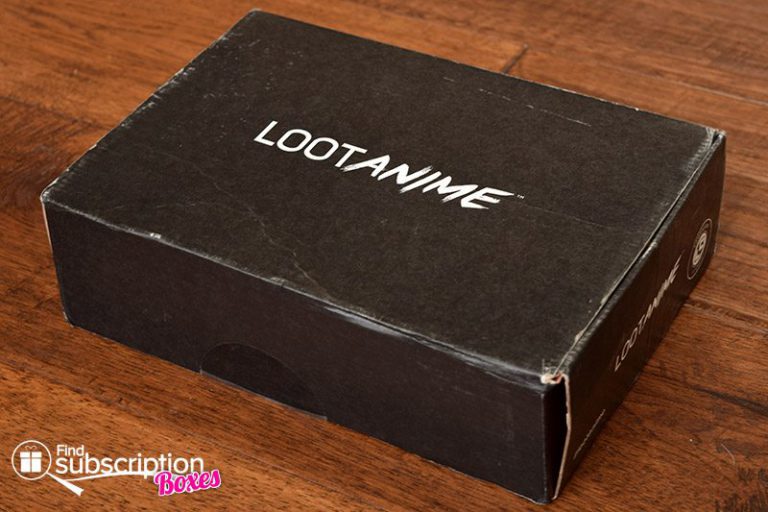 Loot Anime provides a large, full-sized poster with custom anime art work on one side. The Unnatural Loot Anime poster was illustrated by Stephanie Kao. The back of the poster has pictures and descriptions of the mystery anime and manga gear in that month's box.
Here's the first look inside our July 2017 Loot Anime Action Comedy crate.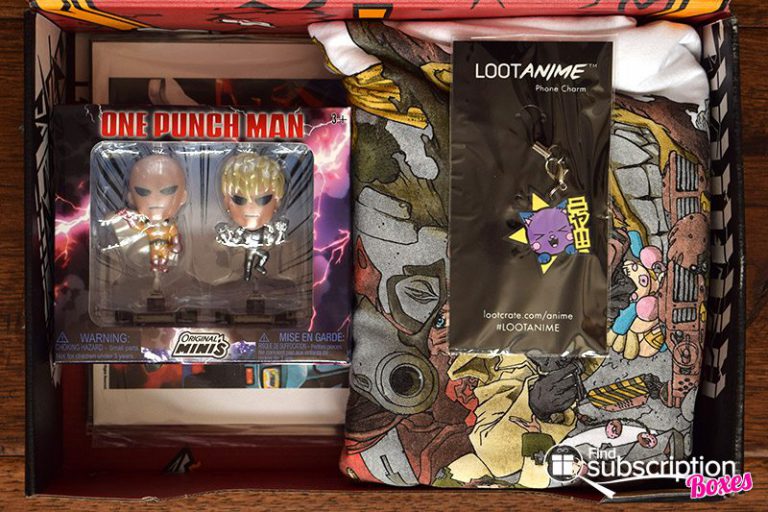 Inside the July 2017 Loot Anime Action Comedy Crate

There were 5 anime collectibles in the May Unnatural Loot Anime subscription box.
EXCLUSIVE Trigun: Badlands Rumble T-Shirt
Feel like $$60 billion with this exclusive shirt featuring Vash, agents Meryl and Milly, Nicholas D. Wolfwood and more Trigun: Badlands Rumble characters.
KonoSuba: God's Blessing on This Wonderful World! Vol. 1 Manga
Find out what happens when gamer Kazuma Sato is given the option to be reincarnated into a new MMORPG-like world.
EXCLUSIVE FLCL Art Print
This exclusive print captures the spirit of Naota's and Haruko's wacky, giant robot fighting adventures.
EXCLUSIVE High School DxD Art Print
This exclusive art print shows one of the awkward, funny and/or risque situations Teeneager Issei gets into as Rias's servant.
EXCLUSIVE One-Punch Man Figure 2-Pack
Get 1 of 4 One-Punch Man figure 2-packs featuring Saitama, Genos, and Boros in an exclusive metallic collectible set.
EXCLUSIVE Kitty ACTION COMEDY Phone Charm
Yume's kitty pal adds some charm and fun to your adventure with this phone charm.
July 2017 Loot Anime Review Wrap-Up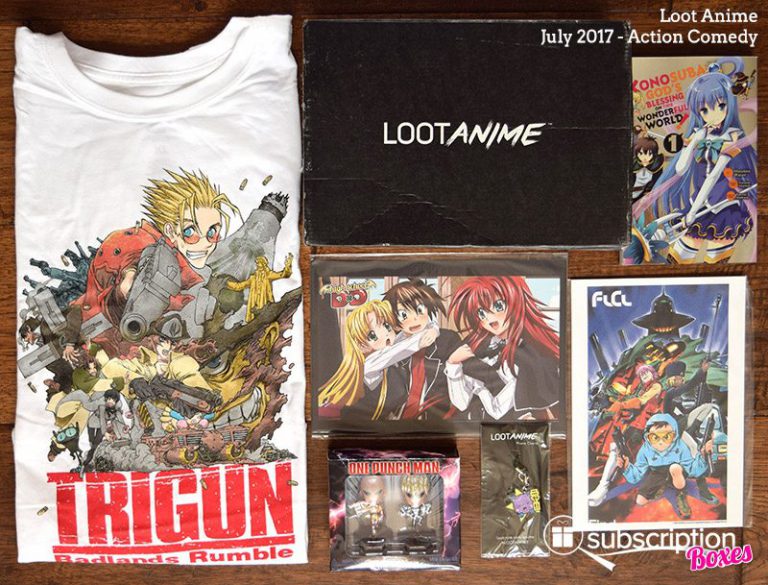 The July 2017 Loot Crate had a lot of fun anime and manga that captured the spirit of Action Comedy. The Trigun: Badlands Rumble t-shirt screams ACTION. It features all of the favorite characters from the film in bright colors that really pop against the white tee.
As video game fans, KonoSuba: God's Blessing on This Wonderful World! is a cool crossover manga. It has great artwork and a crazy and comical storyline. In this 160-page volume, we meet Kazuma Sato who, after a humiliating traffic accident, is invited into another world by a beautiful girl claiming to be a goddess. But the perks he's promised may not be all that they seem.
There were two art prints in the July Loot Anime crate. Both of these are high quality, vibrant prints that are great for framing.
Finally, Loot Anime included TWO exclusive figures in the Action Comedy Loot Anime crate. These exclusive figures of Saitama & Geno have exclusive metallic detailing and epic poses.
What was your favorite anime collectible from the July Action Comedy Loot Anime crate?
Loot Anime Coupon Code
Use Loot Anime coupon code SAVE3 to save $3 off any new Loot Anime subscription or use code ANIME10 for 10% off any subscription. Subscribe today!