The destination-themed Escape Monthly subscription box delivers a monthly box of local products from a new vacation destination every month. In June, Escape Monthly took subscribers to Las Vegas.
Our June 204 Escape Monthly box arrived in the familiar blue box.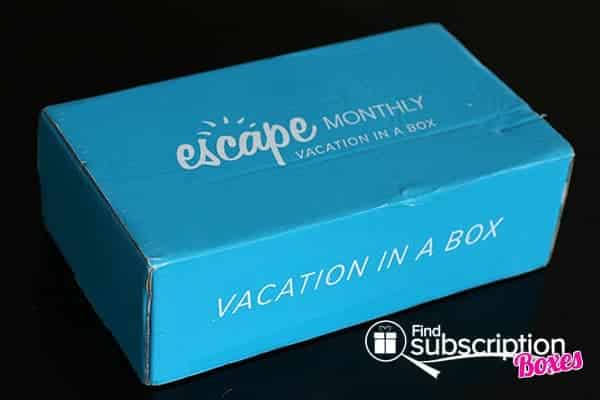 We set-aside our product information brochure until after we finished opening the box. This flyer includes information about Las Vegas, as well as details describing the products inside this month's Escape Monthly Box.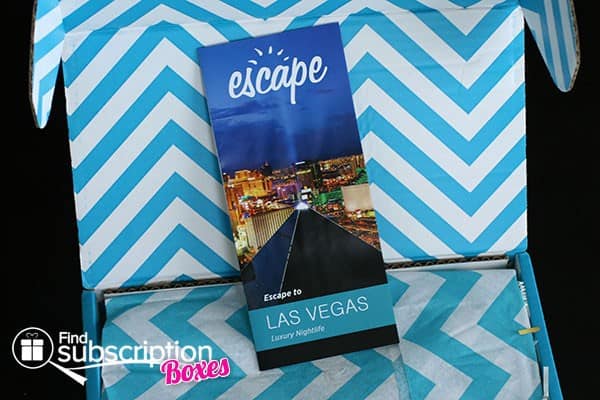 This month, most of the products were hidden by box filler, which created even more anticipation during the unboxing.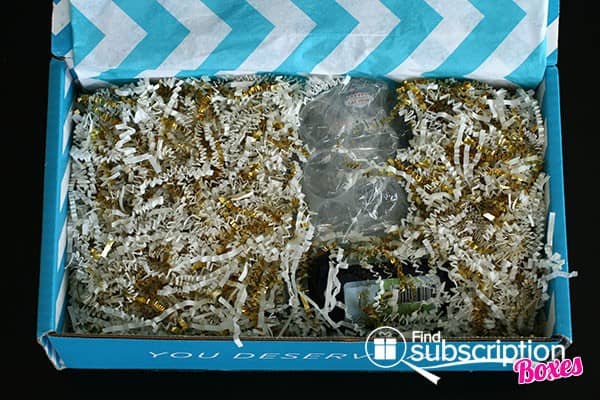 Inside the June 2014 Escape Monthly Box
There were 8 items in our June 2014 Escape Monthly Box.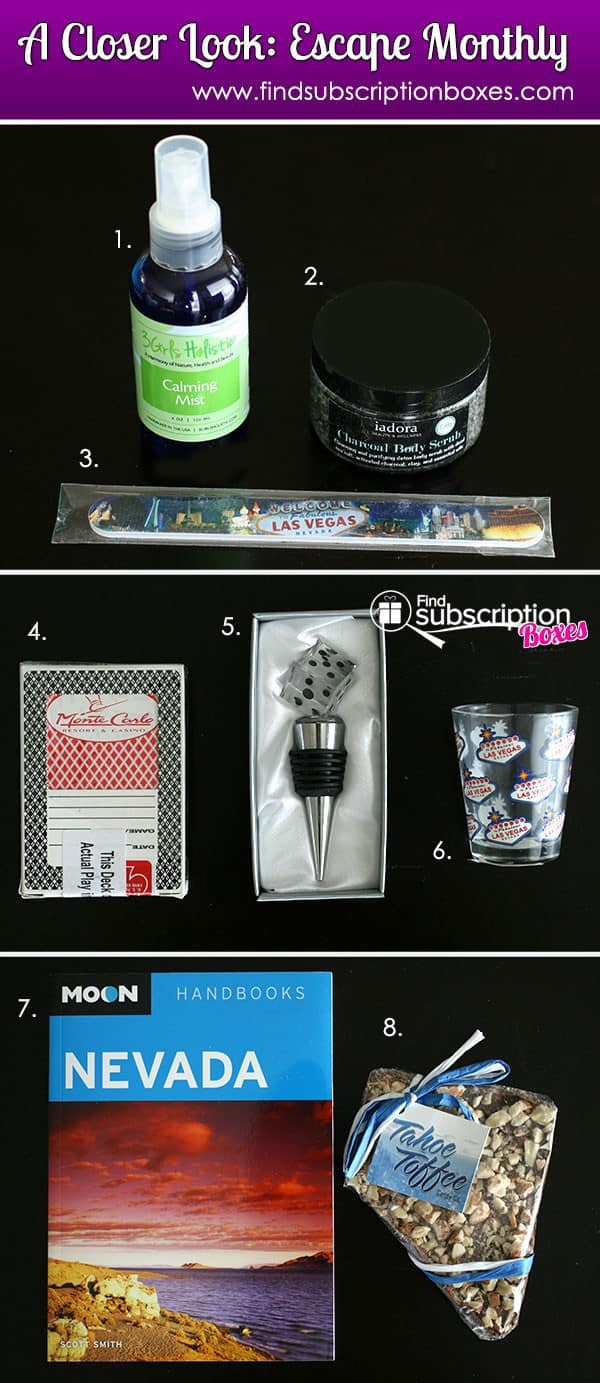 1. 3 Girls Holistic Calming Mist Body Spray, Retail Value: $12
We love this spray. Whether we're relaxing at home or heading out for errands, one spritz and the calming scents of lavender, chamomile, and ylang ylang bring on the stress relief.
2. Iadora Charcoal Salt Body Scrub, Retail Value: $15
Give your  body some TLC with this luxurious detox scrube made with all natural botanicals and activated charcoal.
3. Vegas Nail File (Bonus Item), Retail Value: $1.25
Make those jagged nails go bust with a Vegas-themed nail file.
4. Authentic Clipped Casino Playing  Cards, Retail Value: $4.99
Get your hands on real casino playing cards with this retired & clipped deck that was used at a real casino table!
5. Vegas Wine Stopper, Retail Value: $5.39
Enjoy a nice bottle of wine and keep it classy with this Vegas-inspired wine stopper.
6. Las Vegas Shot Glass, Retail Value: $3.95
Pour yourself a shot of your favorite drink and have fun (safely and responsibly, of course.)
7. Moon Nevada Travel Guide, Retail Value: $19.99
This handy travel guide introduces you to everything there is to do in Nevada beyond the casino tables.
8. Tahoe Nevada Toffee Gift Box, Retail Value: $15
Treat yourself to a sweet treat of handmade toffee from neighboring city Lake Tahoe!
June 2014 Escape Monthly Box Wrap Up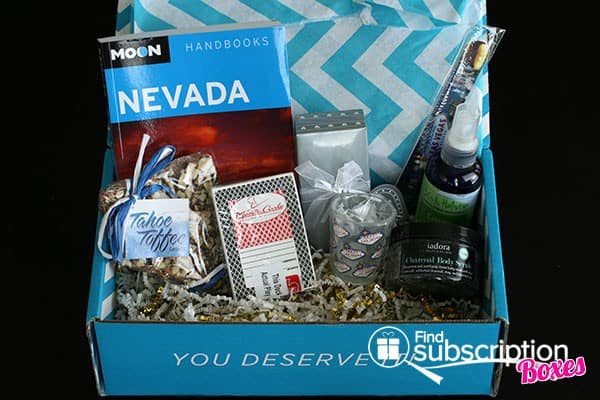 The June Vegas-themed Escape Monthly box did a great job in capturing the spirit of Las Vegas. We loved that they also went beyond the casinos to bring us a sampling of locally-made Nevada products. The body scrub and the body spray are the perfect addition to help you relax after a fun game of cards with friends or family. The total retail value of the June 2014 Escape Monthly box was $77.57.
Not an Escape Monthly subscriber? Use code PARADISE and get 20% OFF your Escape Monthly subscription for life – that's a $10 savings per month!