Arcade Block is a video game subscription box from Nerd Block. Every Arcade Block has 4-6 video game collectibles, including an exclusive gamer t-shirt, with a total $60+ value. Nerd Block recently announced that every Block, starting in June, will have a free $10 credit to ShirtPunch.com! With today's Arcade Block review, we're unboxing the June 2016 Arcade Block.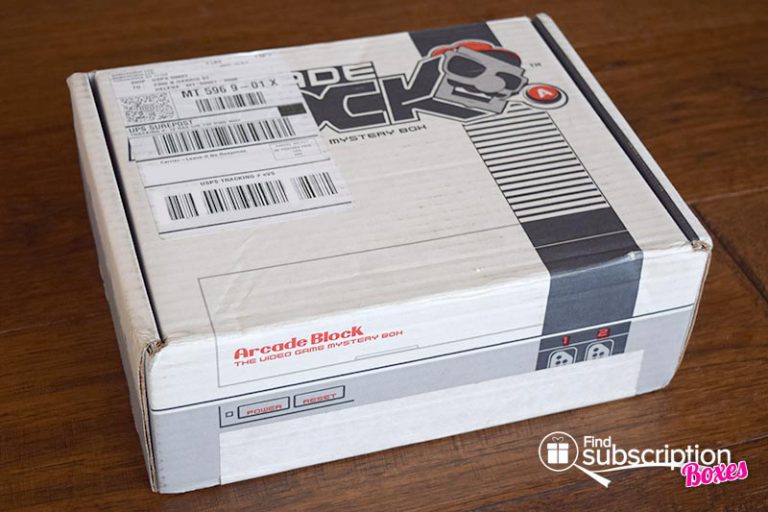 Arcade Block includes a product card that shares information about the gamer collectibles in that month's box. There was also a spoiler for the July Arcade Block. Both the Arcade Block box and the card have a fun video game console and cartridge design.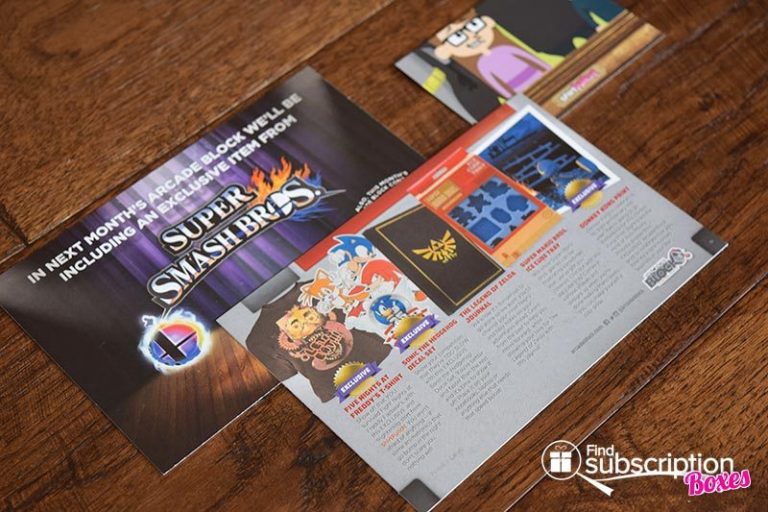 Here's a first look inside our Arcade Block June video game subscription box.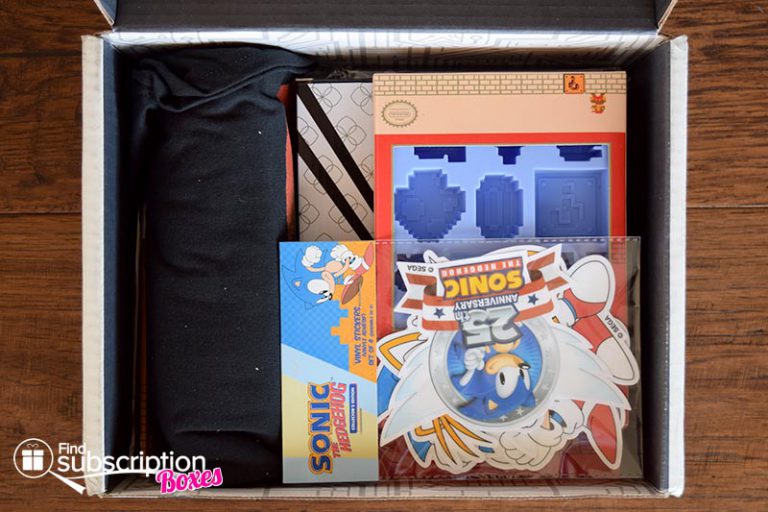 Inside the June 2016 Arcade Block
There were 6 collectibles in our June Arcade Block monthly gamer box.

EXCLUSIVE Five Nights at Freddy's T-Shirt
Wear this exclusive and frightening shirt to show off that you survived Five Nights at Freddy Fazbear's.
EXCLUSIVE Street Fighter Sushi Set
Don't head into your next fight on an empty stomach. Use this exclusive sushi set and chopsticks to chow down and crush your enemies.
Super Mario Bros. Ice Cube Tray
Pour yourself a cold drink with fun Stars, mushroom, and other ice cubes in various Super Mario Bros shapes.
EXCLUSIVE Sonic the Hedgehog Decal Set
Give your laptop or tablet a speed boost with this exclusive Sonic decal set.
The Legend of Zelda Journal
Keep a log of your adventures with this hardcover Legend of Zelda journal.
EXCLUSIVE Donkey Kong Print
Celebrate Donkey Kong's 35th anniversary with this exclusive print by Russ Moore.
June 2016 Arcade Block Review Wrap-Up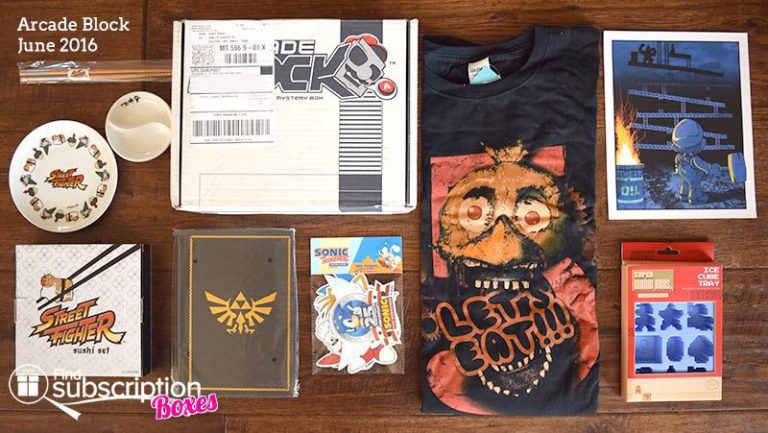 The June Arcade Block had some unique gamer collectibles, including some fun kitchen items for video game fans. The exclusive Street Fighter set is great for sushi lovers. It includes a plate, sauce tray and chopsticks. The plate is decorated with Ryu, Chun-Li, and sushi. The Super Mario ice-cube tray can be used to make fun Mario-themed ice cubes or can be used to mold fun candles, wax, or even Super Mario chocolate!
June's video game box had two items you can use to decorate with gamer style. The exclusive Donkey Kong print features Mario before Donkey Kong's ladder. Donkey Kong is ready to throw is barrels and Mario has his handy hammer ready to smash them. The print is great for framing and decorating your game room or office. For a bit of speedy decor, you can use the Sonic the Hedgehog Decal set. This year is Sonic's 25th year of racing to collect rings. The set also includes decals o Tails and Knuckles.
June's Arcade Block video game t-shirt is inspired by Fight Nights at Freddy's. It's design has a robot head and gears to represent the animatronics animals that are ready to stuff you into a Freddy Fazbear costume.
The last item in the June video game mystery box is the hard-cover Legend of Zelda notebook. It's decorated with a gold Wingcrest logo on the front and a map of Hyrule on the inside back cover. The 100 lined pages have a gray Wingcrest logo at the bottom corner. This notebook is great for college-bound geeks, taking notes at work, or even keeping a log of your gaming victories.
What was your favorite June Arcade Block video game item?
Arcade Block Coupon
Join Arcade Block now and save on your first video game monthly box! Use Arcade Block coupon code FindSubBox16 to save 15% off the first month of new monthly Arcade Block subscriptions. Save more with multi-block and multi-month subscriptions!