Geek Fuel delivers monthly geek subscription boxes filled with over $50 worth of exclusive geek t-shirts, toys, collectibles, and more. Every Geek Fuel box also includes a full downloadable video game from steam. With today's Geek Fuel review, we're unboxing the June 2016 Geek Fuel box.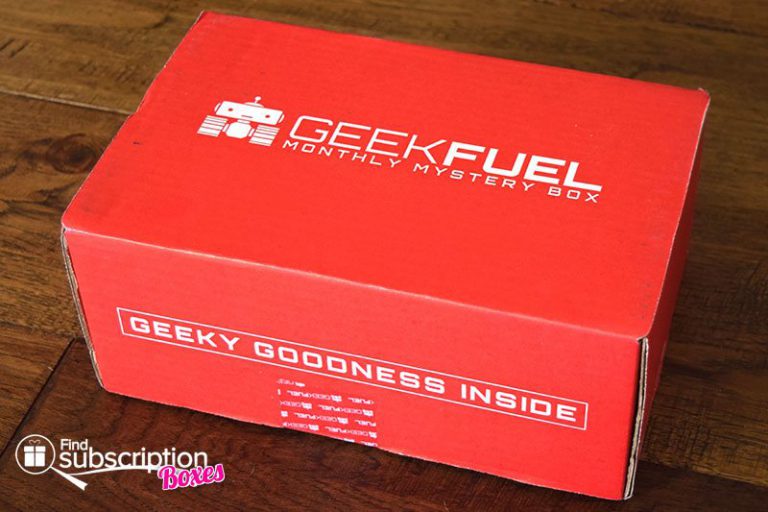 Geek Fuel includes an issue of Geek Fuel Magazine in each mystery Geek Fuel box. June's issue shared some of the best TMNT toys from the 90's, an article celebrating 20 years of Pokemon, and an updated ultimate geek gift guide. Geek Fuel boxes also have a product card that describes each of that month's geek goodies.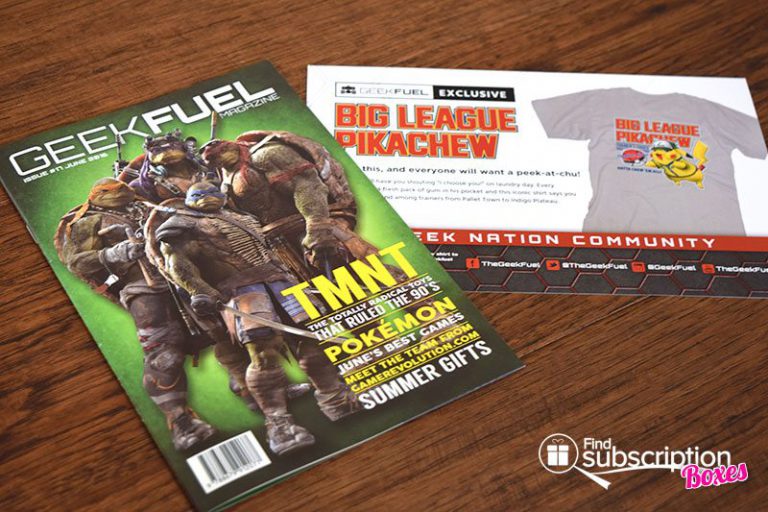 Here's a first look inside our Geek Fuel June 2016 monthly geek box.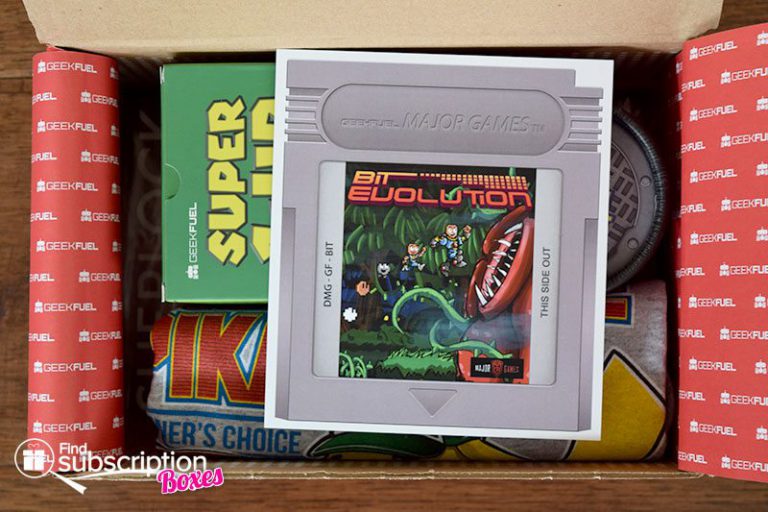 Inside the June 2016 Geek Fuel Box
There were 7 geek goodies in our Geek Fuel June 2016 geek box.

EXCLUSIVE Big League Pikachew T-Shirt
You'll shout "I choose you!" when you see the exclusive geek shirt featuring the #1 brand of chewing gum among trainers.
EXCLUSIVE Super 1-Up Planting Pot
Use this exclusive Super Mario planting pot to grow flowers, mushrooms or piranha plants.
Super Mario Ink Stamp
Leave your mark on important documents with one of 4 Mario Stamps – Luigi, Donkey Kong, Mario, or Yoshi.
BiT Evolution Downloadable Steam Game
Inspired by video games from the 70s, 80s, and 90s, this video game takes you on a journey through video game history with BiT.
EXCLUSIVE Sherlock Manga "A Study in Pink" #1 Issue
The game is on with this exclusive manga featuring BBC's Sherlock. 1000 subscribers received a limited edition Variant Cover.
EXCLUSIVE Turtle Trainer Stress Ball
Receive one of 4 exclusive turtle shell stress ball to help you relax and easy your worries.
Pokemon Temporary Tattoo
Show of your favorite Pokemon with a temporary tattoo.
June 2016 Geek Fuel Review Wrap-Up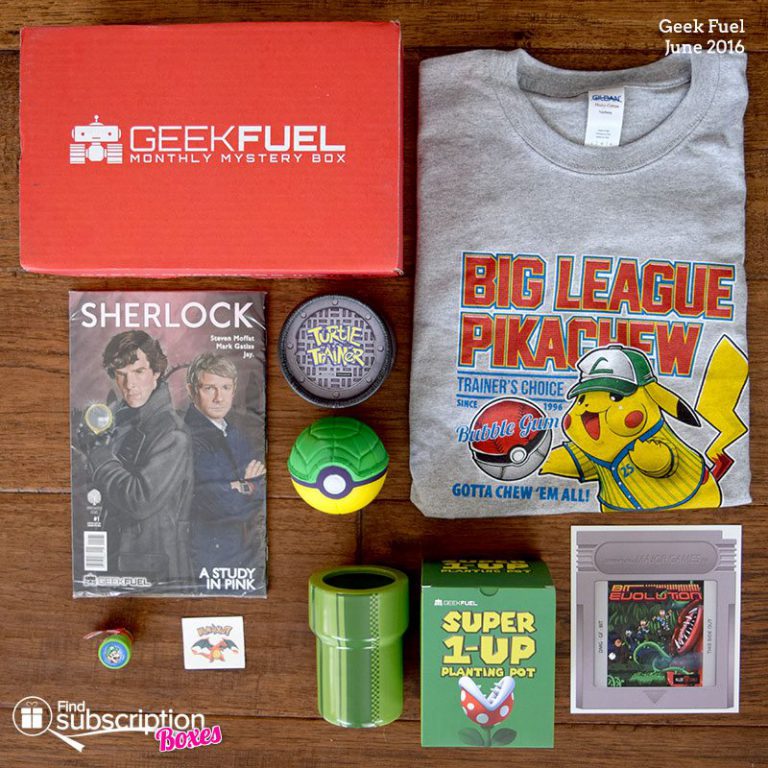 The June 2016 Geek Fuel geek mystery box was packed with exclusives from Pokemon, Teenage Mutant Ninja Turtles and Super Mario Bros. The turtles came out of the shadows and into the June box with the exclusive TMNT stress ball. The shells have different bands for each turtle. BBC's Sherlock fans will love the exclusive #1 issue Sherlock Manga. Each issue is an adaptation of an episodes from the original series. In A Study in Pink, the first episode of the series, Sherlock and Watson meet and solve their first murder mystery.
June's Geek Fuel Box also had some great goodies for video game fans. The Super Mario Planting Pot is a really unique geek item that's perfect for geeks with a green thumb. We might use it to grow some kitchen herbs. Subscribers can also use the coupon in their Geek Fuel magazine to get a free Venus Fly Trap. The Luigi Mario stamp we received is a fun accessory to add a bit of fun to ordinary paperwork. The BiT Evolution downloadable video game looks like a lot of fun. It combines the style of some of our favorite retro games with a unique storyline. The below Bit Evolution Trailer offers a glimpse at the game play.
What was your favorite Geek Fuel June 2016 geek item?
July 2016 Geek Fuel box spoilers have been announced. Get a first look into next month's geek mystery box.
Geek Fuel Free Gift Coupon
For a limited time, new Geek Fuel subscribers can get a free Star Wars item or Star Wars Gift Pack with new 3, 6 and 12 month Geek Fuel subscriptions. Subscribe now to reserve your May Geek Fuel box and claim your free geek gift.