Loot Crate sends monthly mystery subscription boxes for geeks and gamers. Monthly Loot Crate geek crates have different geek themes and have over $45 worth of geek t-shirts, vinyl figures and other geek and gamer collectibles. With today's Loot Crate Review, we're unboxing the June 2016 Loot Crate. The June Loot Crate theme was Dystopia.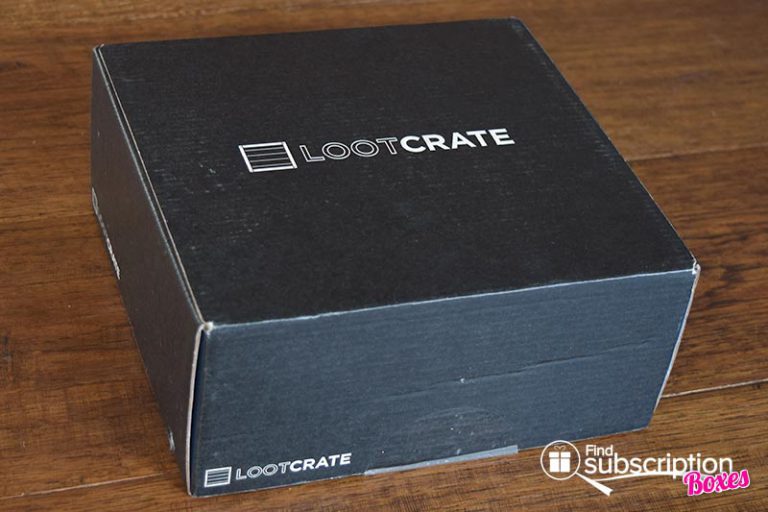 Loot Crate includes a new issue of Loot Crate magazine in each geek box. The June 2016 LC Magazine issue had Dystopia-themed articles that look into the psychology and fashion of Dystopia. The LC Magazine also had the product descriptions and mini-articles for each item.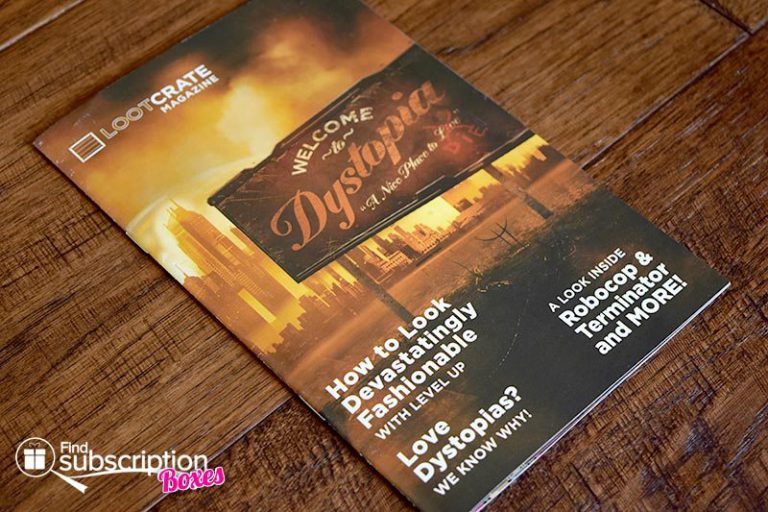 Here's a first look inside our Dystopia Loot Crate geek box.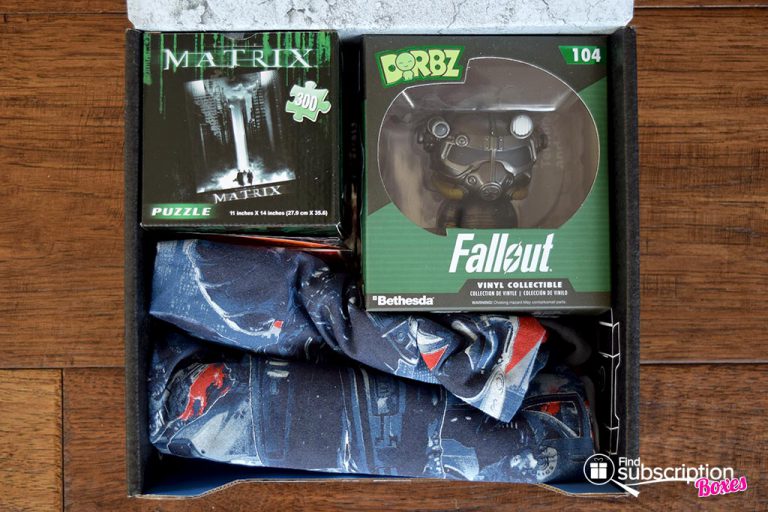 Inside the June 2016 Loot Crate Dystopia Crate
There were 5 geek and gamer collectibles in the June Dystopia Loot Crate.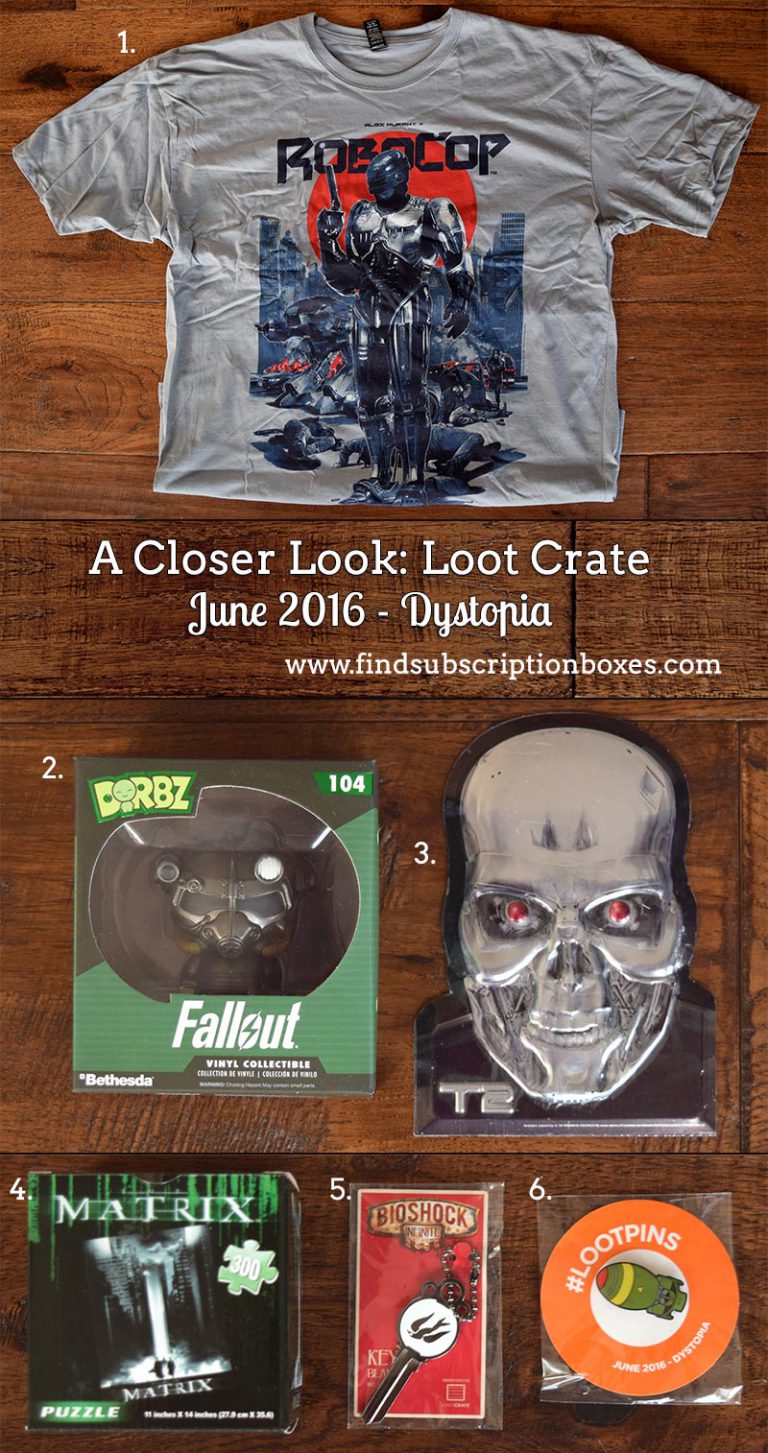 EXCLUSIVE Robocop T-Shirt
Featuring limited-edition artwork that's never been on a t-shirt before, this exclusive Robocop shirt features the newest weapon against crime.
Funko Fallout 4 Power Armor Dorbz
This adorable Fallout 4 Dorbz is highly detailed with armor and weapons to protect it against any harsh landscape.
EXCLUSIVE Terminator 2 Metal Print
Commemorate the 25th anniversary of this classic sci-fi film with this exclusive metal print.
EXCLUSIVE The Matrix Puzzle
This 300-piece Matrix puzzle will put your puzzle-solving skills to the test to reveal net artwork designed just for Looters.
EXCLUSIVE Bioshock Infinite Key Blank
Take your house keys to the next level with these key blanks featuring Bioshock imagery.
EXCLUSIVE June 2016 Loot Pin
The June Loot Pin is inspired by Fallout 4 and unlocks exclusive wallpaper and ringtone.
June 2016 Loot Crate Review Wrap-Up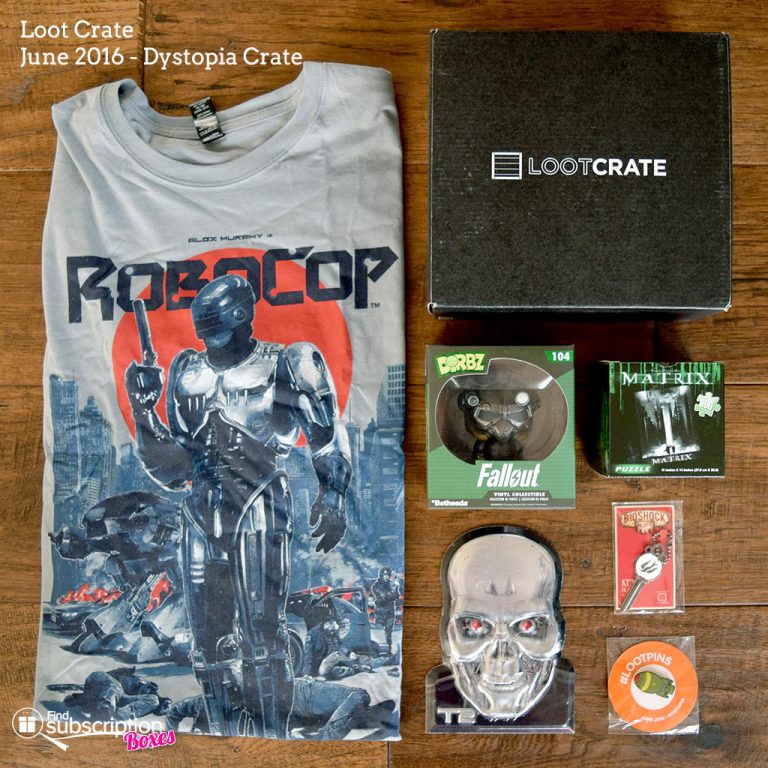 Dystopia is a place that is undesirable or frightening. June's Dystopia Loot Crate features loot featuring the barren wastelands and monsters from Robocop, Terminator, Bioshock and The Matrix. The Robocop t-shirt comes in a cool blue-gray color and features Alex Murphy's Robocop artwork.
Regardless of which pill you choose, The Matrix puzzle is a fun collectible for this favorite sci-fi movie trilogy. After assembling the puzzle, you can get it framed and hang it on your wall. The T2 metal print is another piece of geek art that adds some robotic flare to your home decor.
The Fallout 4 Dorbz is a great addition to the vinyl collection. It's 3 inches tall and is decorated with infantry technology and armor. The Bioshock keychain is a fun geek collectible that will definitely make it easy to tell your keys apart.
What was your favorite June Loot Crate Dystopia crate collectible?
Loot Crate Coupon Code
Don't miss another box! Save $3 off new Loot Crate subscriptions when you use coupon code LOOTR3 or use code FINDBOXES to save 10% off any Loot Crate subscription.