Blue Apron is a meal delivery subscription service which is "building a better food system" by creating a simple path to help you make food from scratch by partnering with chefs and farmers, eliminating the middle man, and you prepare food at home in perfect portions. "Blue Apron's uniquely integrated model means better ingredients, better pricing and a better planet for us all." For you, this means the produce is fresh, the meat has no added hormones, seafood is sustainably-sourced, and all the essentials you need for each meal are included in your Blue Apron meal delivery.
Inside our June 2017 Blue Apron Meal Delivery Box
For this shipment, we unboxed three meals with two servings each: Cod & Tomatillo Salsa, Soy-Marinated Chicken Thighs, and Pork Chops & Honey-Mustard Pan Sauce.  Our shipment arrived by an overnight shipper in refrigerated packaging and on ice. The packaging can be recycled at home or back to Blue Apron—instructions are on the website. This packaging ensures the fresh ingredients of protein, dairy, and produce maintain a proper cool temperature. The recipe cards are colorful, show the exact items needed from the shipment, and have easy to follow, step-by-step instructions for making each dish. And you can go to the Blue Apron website for cooking tips for each recipe. Each recipe includes a wine pairing suggestion.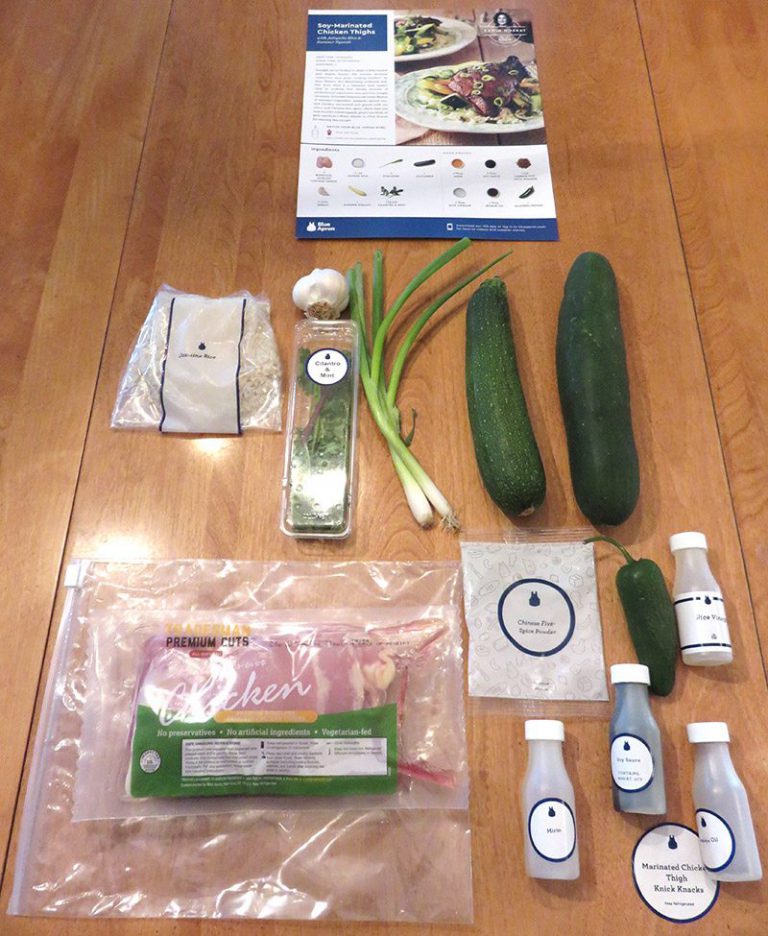 In addition, there was a Nutrition Fact packet for each meal and an Extra Helpings: Sweet Meets Tart card with tips for pairing Strawberry and Rhubarb. The card gives information on the chemistry, compatibility, and timing of combining the ingredients, plus there's a recipe included for inspiration—produce and ingredients are not included for this dessert inspiration.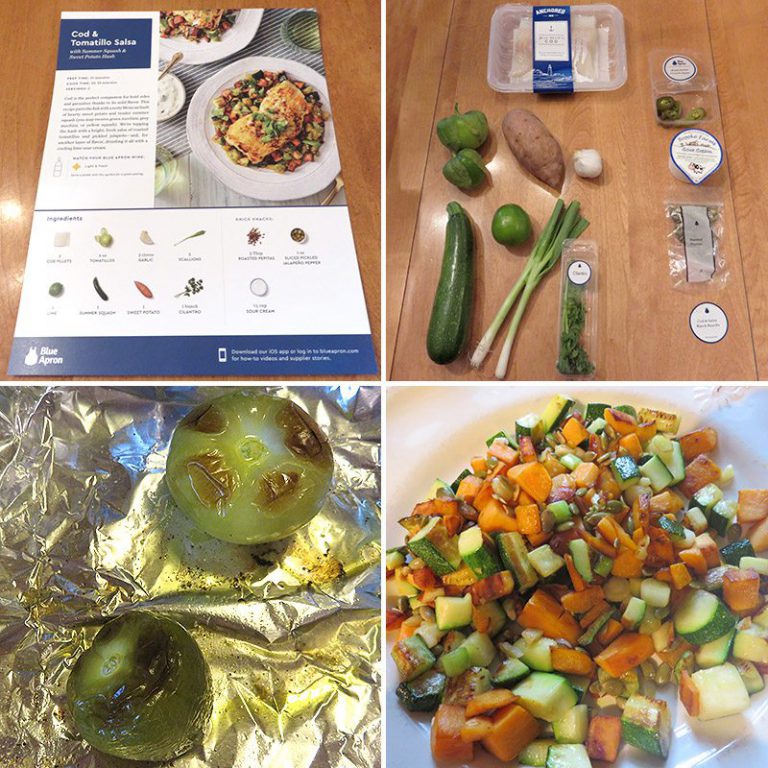 We ate the Cod & Tomatillo Salsa first, including a Summer Squash and Sweet Potato Hash as a side. It was a recipe that was easy to follow and came together quickly. All the ingredients are included except pantry staples such as salt, pepper, and olive oil. No special tools are needed other than a good knife and cutting board for prepping food and bowls for mixing. Tomatillos were new to us and we found them to be quite tasty. It was an easy meal to make after a busy day.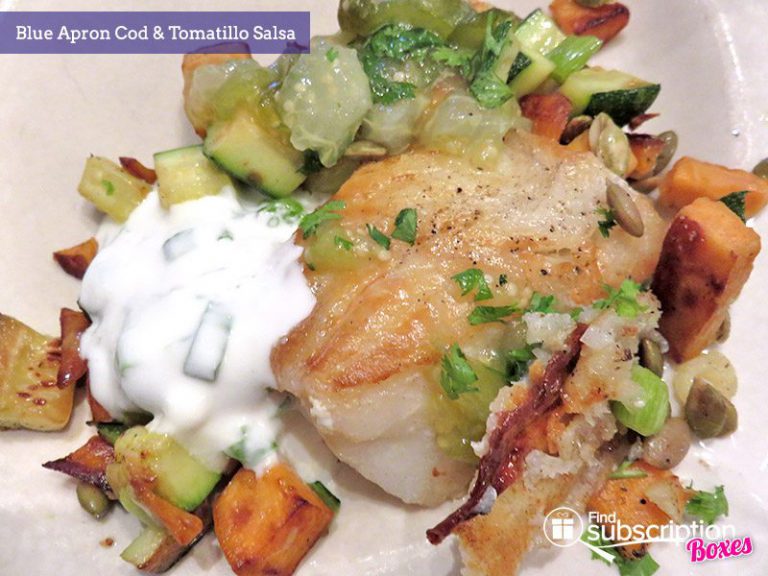 The Soy-Marinated Chicken Thighs accompanied by Jalapeno Rice & Summer Squash was another meal. A few of the provided ingredients were new to me to use, though I had eaten them before in restaurant meals. Only salt, pepper, olive oil, and water was needed to add to the provided ingredients. This was my husband's favorite of the three meals. This recipe was created by Chef Samin Nosrat, known for her bestselling book Salt, Fat, Acid, Heat. This meal is part of Blue Apron's Guest Chef Series.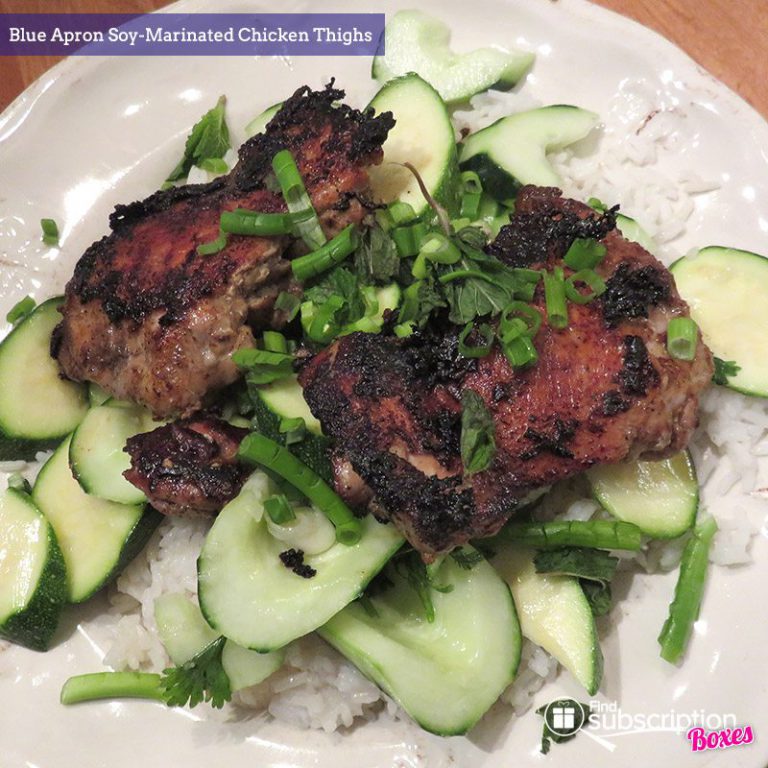 The Pork Chops & Honey-Mustard Pan Sauce combined with a Creamy Barley Salad was my favorite of the three meals. It has so much flavor without being overpowering; the medley of vegetables in the salad was perfect. The only pantry staples needed were salt, pepper, and olive oil.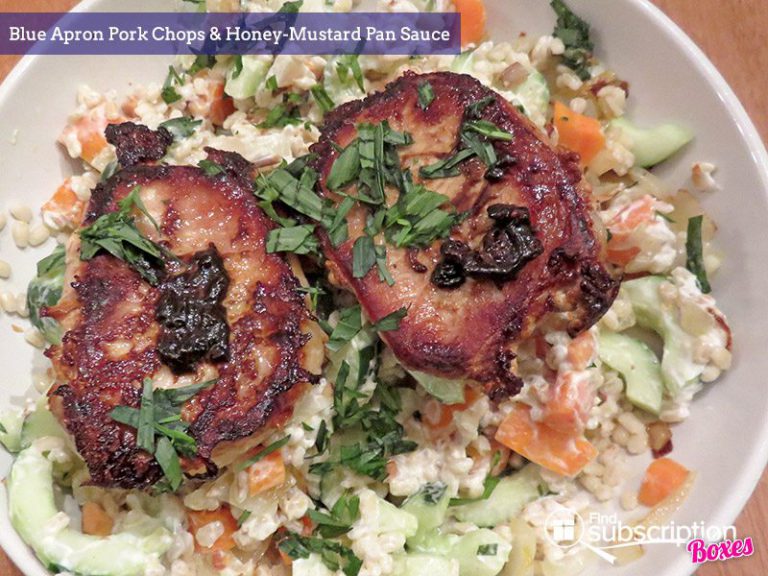 Because produce is seasonal and availability changes, it's noted on the cards that substitutions may be made for the Summer Squash with the possibility of receiving green zucchini, grey zucchini, or yellow squash; we received green zucchini. All of the meals are filling, and we even had a few leftovers of the sides. The provided items of oils, vinegars, sour cream, and Greek yogurt arrive in recyclable containers which is great for the environment. I loved that there is little waste in creating these meals.
For a busy couple, this subscription plan made meals easier, plus it's healthier with fresh ingredients which are sustainably-sourced, and it was quick from start to finish. Everything had wonderful flavor, nothing is complicated to make, so anyone with basic kitchen skills will love the ease of making a gourmet meal at home.
Blue Apron Free Meals Coupon
Get 3 free meals in your first meal delivery box when you join using our Blue Apron coupon link! Click Here to get THREE FREE meals when you join Blue Apron today!