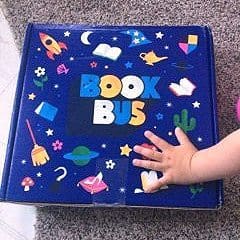 Book Bus is a fun subscription box offering you board books that follow a monthly theme and instill positive lessons to children. Book Bus is passionate about getting your kiddos reading and will therefore include books that interest children and are fun for parents to read too! With today's Book Bus review, I'm unboxing the June 2017 Book Bus Board Books box. Book Bus also offers a Picture Books subscription.
After spotting the June Book Bus box on my porch my two year old immediately took interest in the colorful design on the box. As we stepped in the door we opened the box and found three books neatly wrapped in vibrant tissue paper and wrapped in a red bow. It was the perfect decorative touch to add some additional fun to the awaiting surprise.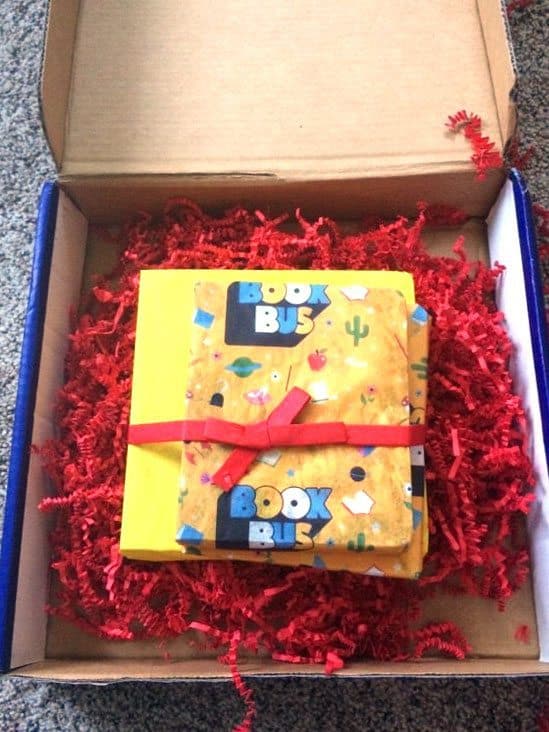 After unwrapping each book in the June 2017 Book Bus we noticed a theme among the titles – BUGS! – a very fitting topic for the summer time. After our initial curiosity and excitement settled we noticed an additional piece of card stock enclosed. It was very helpful as it contained an explanation of each book and the portrayed lesson. This is a great tool to help parents talk their children through the summary of each book as well as help draw out the important lessons from each book. Some lessons readers could gain from this month's books include: humility, courtesy, manners, cause and effect, and proper bug names. These are all concepts that I want my children to understand so I appreciate resources like this that help me teach my children in fun ways!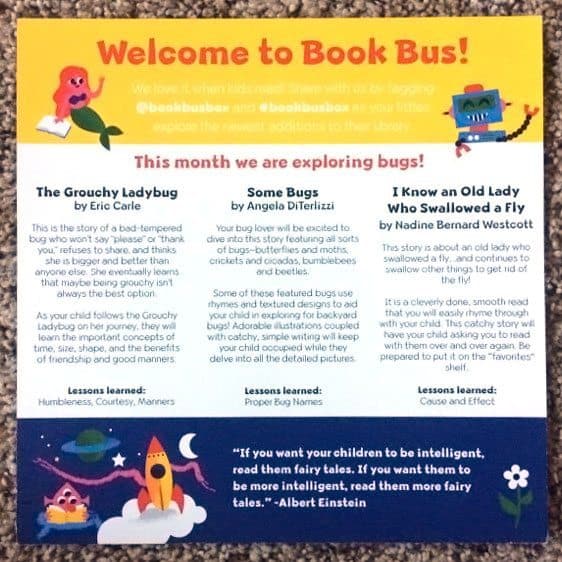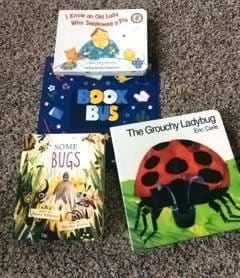 I also need to add that I took a walk down memory lane when reading two of these books to my little one. The Grouchy Ladybug and I Know an Old Lady Who Swallowed a Fly were two books I remember reading as a child! It was also fun to broaden our "book horizon" with a book we had never seen or heard of – Some Bugs.
What did you think about your June 2017 Book Bus book subscription box for kids?