We're sharing our June Loot Crate review! Every month, Loot Crate deliver $45+ worth of epic geek, gamer and pop culture loot and exclusives like t-shirts and vinyl figures. Each Loot Crate subscription box has a new geek theme. With today's Loot Crate review, we're unboxing the June 2017 Loot Crate. The June Loot Crate theme was ALTER EGO.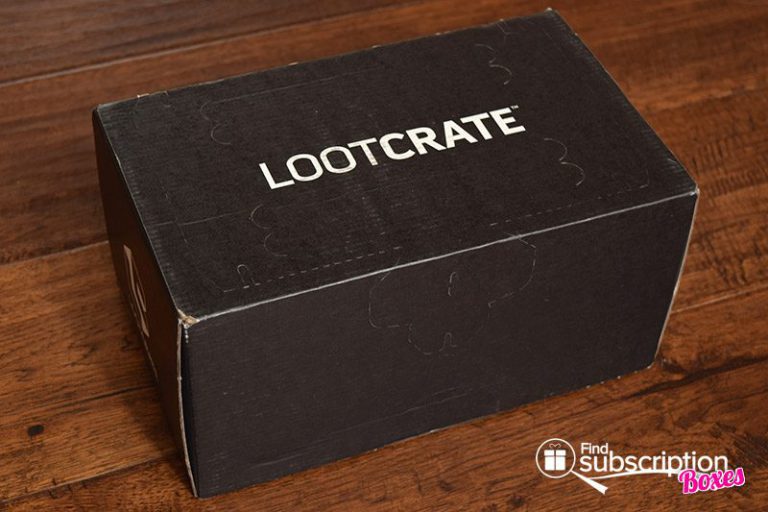 Loot Crate includes a colorful brochure that details that month's themes and collectibles. Loot Crate also provided clues for the monthly Secret Order of Keys challenge. Looters use the clues and that month's loot to solve the puzzles for free bonus loot in their next crate.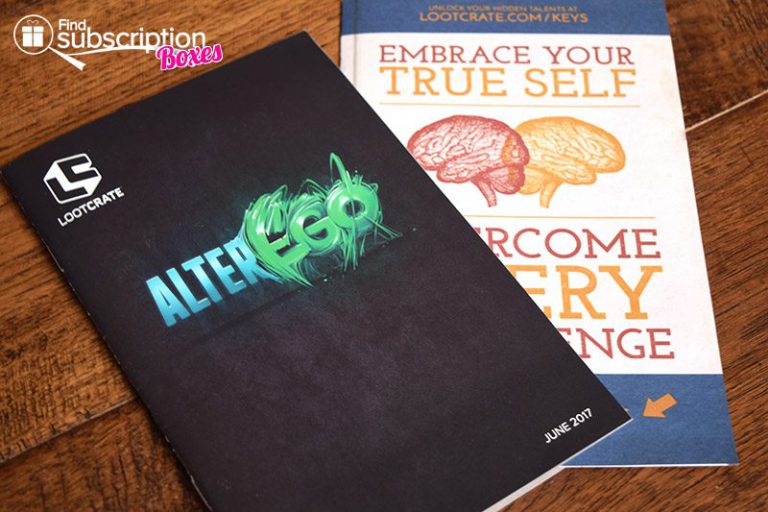 Here's a first look inside our Alter Ego Loot Crate.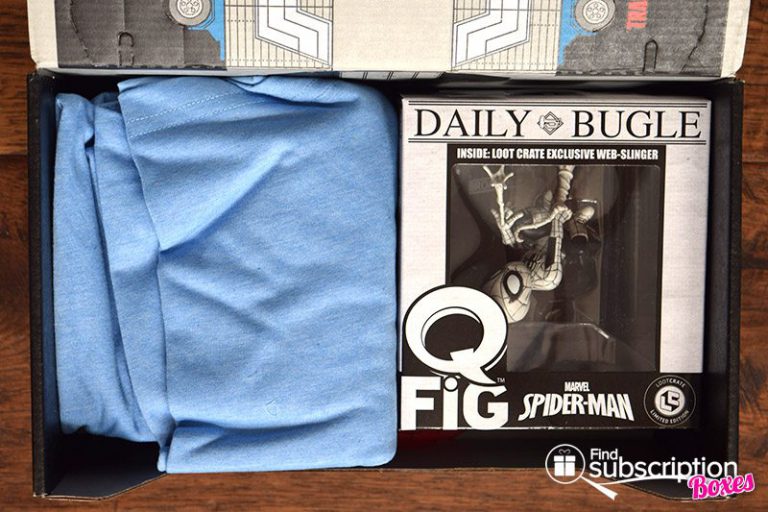 Inside the June 2017 Loot Crate Alter Ego Crate
There were 5 geek and gamer collectibles in the June Alter Ego Loot Crate.

EXCLUSIVE Transformers G1 Optimus Prime T-Shirt – Licensed by Hasbro, Made by Loot Crate
Transform and roll out in this G1 tee designed by Marcelo Matere. It shows Optimus Prime's transition from truck to robot mode.
EXCLUSIVE Spider-Man Webslight Q-Fit Variant – Licensed by Marvel, Made by QmX
Add this special W-Fit to your collection just in time for Spider-Man: Homecoming! This black and white Spidey figure comes in a specially designed The Daily Bugle package.
EXCLUSIVE Hulk Bowl – Licensed by Marvel, Made by Vandor
Keep your inner Hulk at bay with this 6″ bowl designed by Vandor. It's perfect for cereal, popcorn or other snacks.
EXCLUSIVE DC Comics Mini-Poster Book: Loot Crate Edition – Licensed by DC Comics, Made by Insight Editions
Salute the iconic superheroes of DC with this mini-poster book. It includes an exclusive cover, content and posters for Looters!
EXCLUSIVE June 2017 Pin
Inspired by Jekyll and Hyde, this month's Loot Pin shows both faces at the same time.
BONUS: June's Alter Ego Loot Pin DLC is a limited time exclusive Green Ranger v2 from the hit mobile fighting game Saban's Power Rangers: Legacy Wars!
June 2017 Loot Crate Review Wrap-Up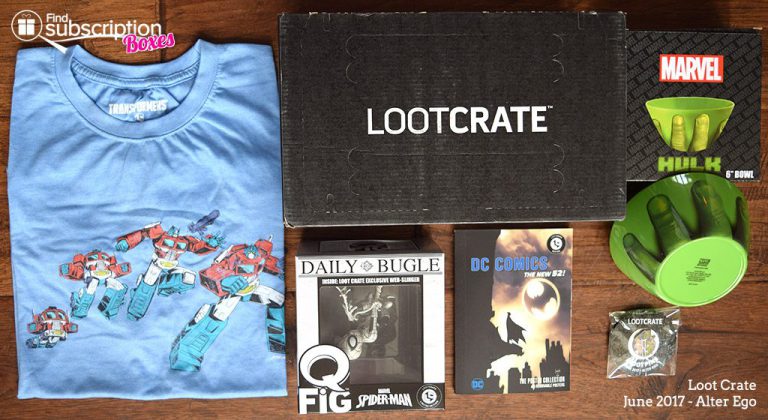 The June 2017 Loot Crate Alter Ego crate was filled with exclusive loot from our favorite heroes with hidden identities! Loot Crate's monthly t-shirts have started to become our favorite geek shirts. We've come to expect epic tee designs, like this month's tee that shows Optimus transforming from a truck to a robot. We also love that the t-shirt fabric is super soft and lightweight. Perfect for the warmer weather!
This month's vinyl figure is another amazing Q-Fig by QMx. This unique Q-Fig has a black and white version of Spider-Man hanging upside-down from a street lamp. He's using webbing to hold on to the the light with one hand and is shooting a web with the other. LOVE IT.
We haven't received a lot of geeky kitchen items before, so we were super excited to get the Hulk bowl. This sizeable bowl is a bold Incredible Hulk green and shows giant Hulk fingers grabbing the sides.
Finally, the DC Comics poster collection is a fun and easy way to add some geek decor to your home or office. Each mini poster measures 5×7″ and has a bold, colorful poster design on each side (for a total of 40 posters.) The posters encapsulate a lot of different heroes from The New 52 – Batman, Harley Quinn, Superman, etc and have unique art styles.
Which was your favorite June Loot Crate Alter Ego crate collectible?
Make sure you check out the Loot Crate July 2017 box spoilers for a sneak peek into this month's geek and gamer box!
Loot Crate Coupon Code
Don't miss another box! Save $3 off new Loot Crate subscriptions when you use coupon code LOOTR3. Code SAVE10 will save 10% off any subscription. Sign-up for 12 months of Loot Crate geek boxes and you'll get a free Loot Crate t-shirt!