LOVE GOODLY sends bi-monthly eco subscription boxes filled with beauty, wellness and lifestyle eco-friendly products. With today's LOVE GOODLY review, we're unboxing the June and July 2016 LOVE GOODLY Summer Box.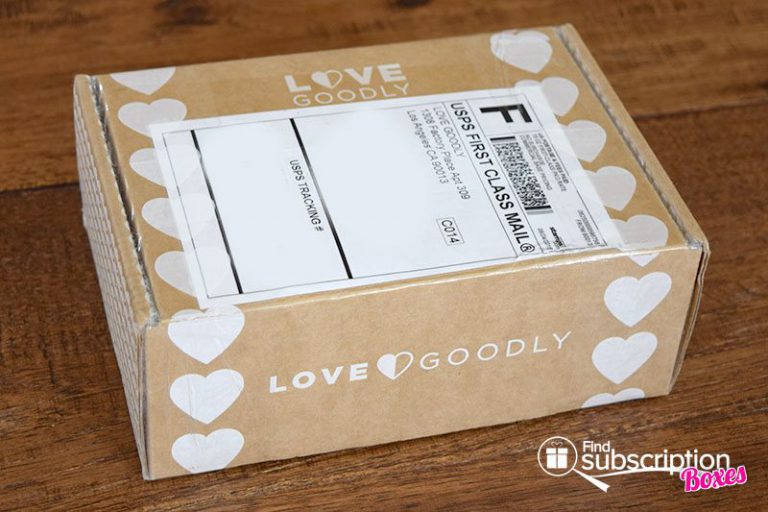 LOVE GOODLY boxes have a card that describes the eco and natural products in each box. This month's card also shared a recipe for Hollywood Brown Rice Bowls by Darshana Thacker of Forks Over Knives.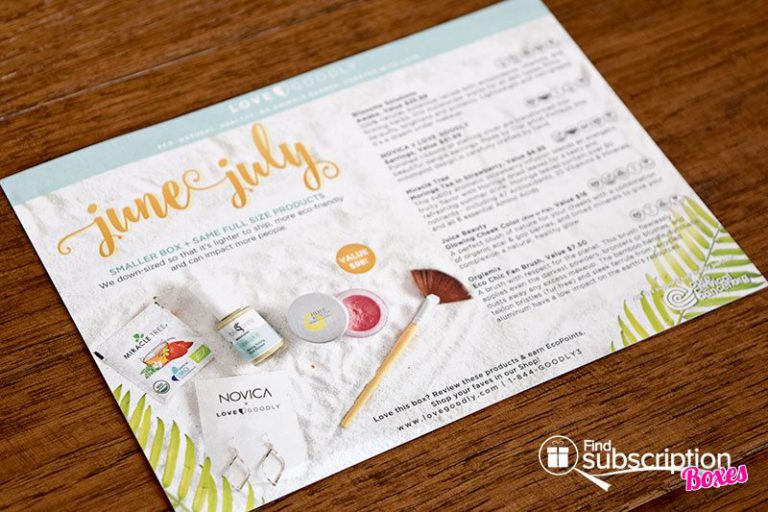 Here's a first look inside our LOVE GOODLY June and July 2016 LOVE GOODLY Summer box.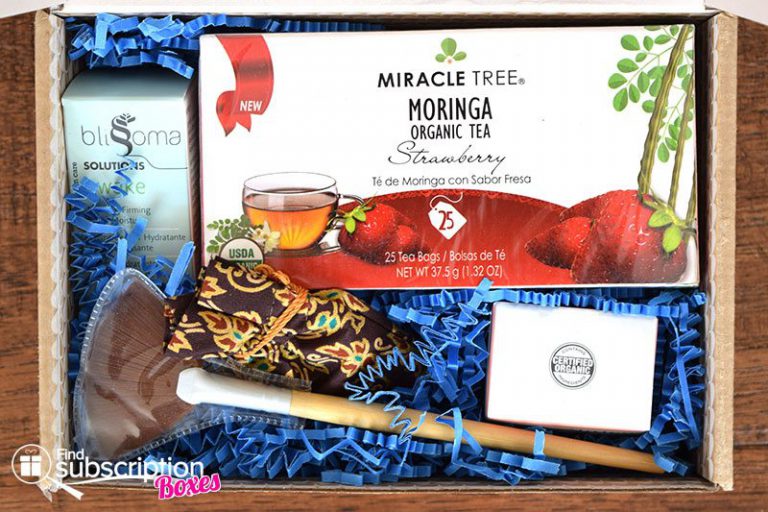 Inside the June-July 2016 LOVE GOODLY Summer Box
There were 5 eco goods in our June and July 2016 LOVE GOODLY box.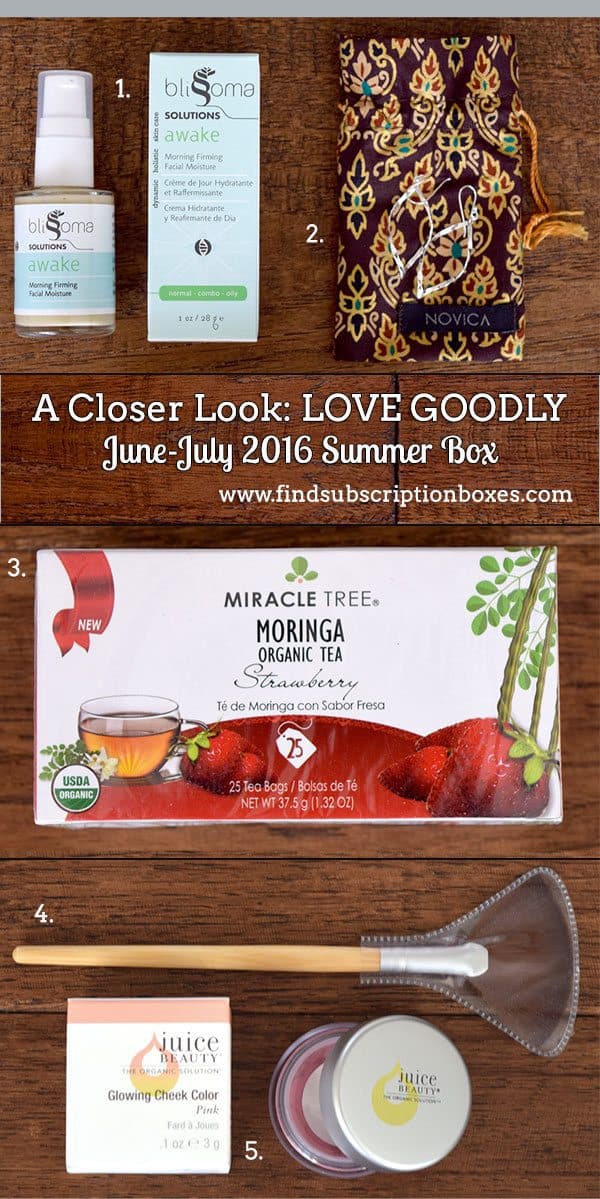 Blissoma Solutions Awake, Retail Value: $25.99
Great for all skin types, this lightweight and non-greasy moisturizer is 100% natural and has a botanical recipe with antioxidants, vitamins and firming herbs.
NOVICA x LOVE GOODLY Earrings, Retail Value: $41.99
Made by Thai artist Pichay, these minimalist earrings have a dangling polished ribbon of sterling silver.
Miracle Tree Moringa Tea in Strawberry, Retail Value: $6.95
With over 90 nutrients, this Moringa tea not only has a subtle strawberry flavor but also packs vitamins, minerals and essential amino acids.
Orglamix Eco Chic Fan Brush, Retail Value: $7.50
Use this eco-conscious brush to apply your new Juice Beauty cheek color or to dust away excess make-up.
Juice Beauty Glowing Cheek Color in Pink, Retail Value: $16
Give your cheeks a natural, healthy glow with this blush made with organic acai and goji berries.
July 2016 LOVE GOODLY Summer Box Review Wrap-Up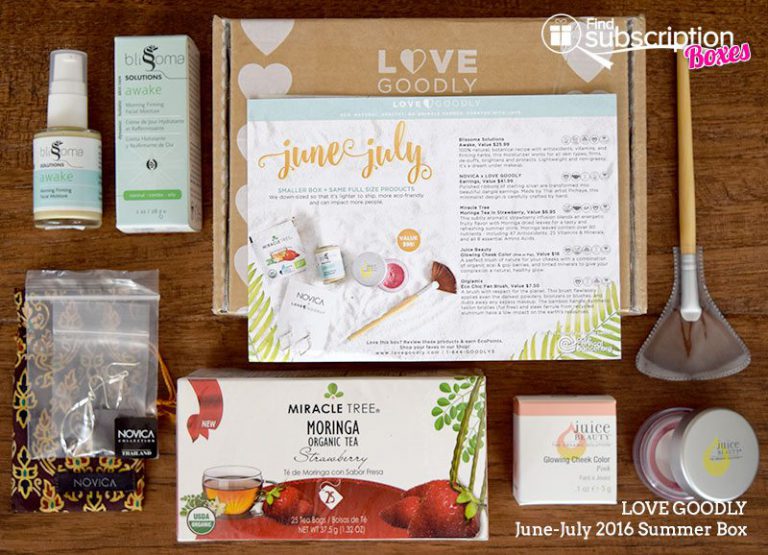 The June-July LOVE GOODLY Summer Box had a variety of vegan and cruelty-free eco-goodies to help us look and feel amazing. Juice Beauty is a leader in natural beauty. Apply their pink blush with the Orglamix's fan brush for lovely, natural glow. To treat our skin this summer, we're looking forward to trying the Blissoma moisturizer to firm and hydrate our skin. It has light weight and non-greasy, which is perfect for the summer.
For a treat you can sip on, Miracle Tree's Strawberry tea is an energizing and refreshing fruity tea blend that has antioxidants, vitamins, minerals and essential amino acids. Finally, the NOVICA earrings are gorgeous. We love the simple yet unique, twisting design and like that they can be dressed up or down. The LOVE GOODLY June-July Summer box had a $98.43 retail value!
What was your favorite product from the LOVE GOODLY June-July 2016 box?
LOVE GOODLY Coupon
Use LOVE GOODLY coupon code SHOPLOVE5 to save $5 off any LOVE GOODLY order.