Today I am reviewing another beautiful bralette from Layered With Lace! If you haven't heard of this awesome company before, Layered With Lace is a monthly subscription package that sends a new bralette to your doorstep once every month!
For the month of June, I was sent a stunning white lace bralette. I was very excited for this one because you can never have too many white bralettes. They match with almost anything! June's style is a v-neck in both the front and back, with flattering scalloped lace edges. I have found that the bralettes run very true to size so you can trust that you will always have a perfect fit! The bralettes that I have received so far are very comfortable and have just the right amount of stretch. There is a comfy, yet snug band and wide enough straps which help you achieve the perfect amount of support!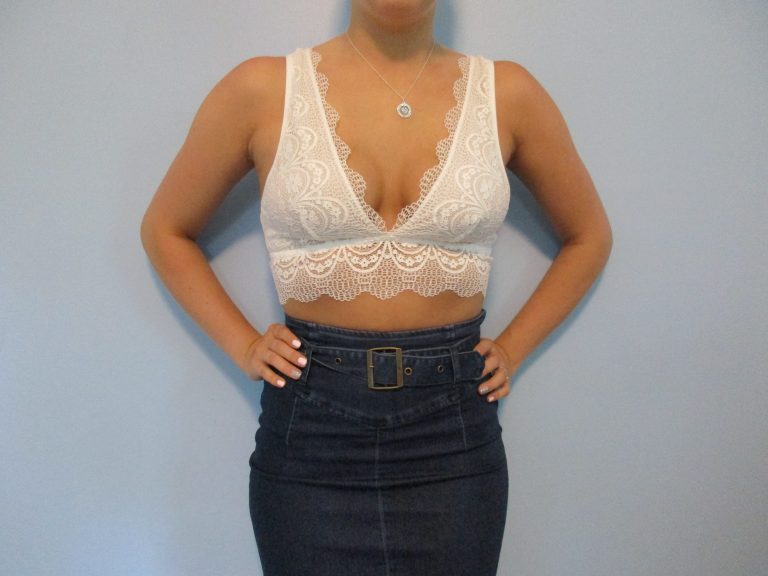 Another reason I love Layered With Lace's bralettes is that they hold up great! Im seriously impressed on how high quality they are! I've worn both of my bralettes numerous times and they still look brand new even after being tossed in the washing machine! A tip that I have to help lengthen the life of your bralettes is to wash them in a mesh bra bag, which will prevent the lace from being snagged and stretched.
A monthly subscription with Layered With Lace costs $16 per month with free shipping within the US ($8 Canada/$10 international).  To get a look at sneak peeks of future bralettes, check out Layered With Lace's Instagram page @layeredwithlace. If you are interested in signing up for this monthly bralette subscription use the promo code "FINDLWL" at checkout to receive your first bralette for just $10! You can't beat that price! This style is only available until June 15, which is when they release the next bralette, so act fast!