Give your child the gift of discovery every month with a Little Passports monthly subscription. Little Passports is a monthly subscription box for kids, delivering online games, activities, and other goodies that will take them on a new adventure with every kit.
The Little Passports World Edition subscription is designed for kids 5 to 10 years old and takes Sam and Sofia on a new country adventure each month. Little Passports Explorer Kits include country specific packages filled with fun souvenirs, letters, stickers, photos, activity sheets and more
The Little Passports USA Edition subscription helps children 7 to 12 years old travel and experience the wonder of all 50 states. Little Passports Discover Kits have an activity-packed travel journal with stickers, postcards, pop-out models and access to online activities.
Excited about Little Passports? Subscribe today to start the adventure for your child. Little Passports subscriptions are as low as $10.95 per month with a 12-month subscription or $11.95 per month with monthly subscriptions.
Find Subscription Boxes Little Passports Sweepstakes
Feeling lucky? Enter the Find Subscription Boxes Little Passports Sweepstakes for your chance to win a 3 month subscription to Little Passports!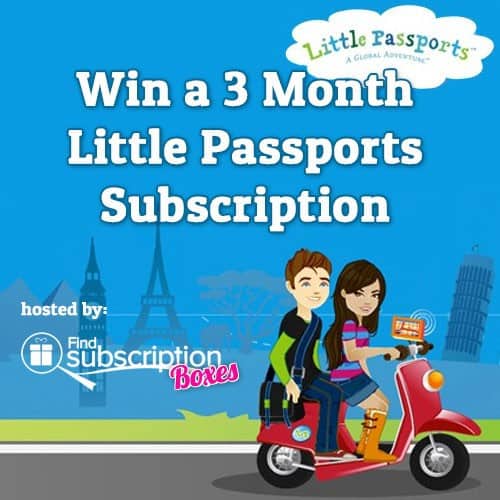 Little Passports Facebook Giveaway
Want another chance to win? Little Passports is hosting their own Facebook giveaway. Enter to win a 1 year Little Passports subscription and a 1 year Nature Box subscription – a prize pack worth $390! This week's Little Passports Facebook giveaway ends on April 18th and there are two more weeks of giveaways still to come!