Loot Crate is a geek and gamer subscription box delivering t-shirts, gear, and another collectables every month. The Loot Crate December 2014 Crate theme was Anniversary. The December Loot Crate was all about celebrating anniversaries – from Tetris's 30th anniversary to celebrating 25 years of The Simpsons.
Loot Crate ships in a black cardboard box with the Loot Crate branding printed in white. Recently, Loot Crate started adding artwork to the inside of the box, which allows you to create "scenes" with your box.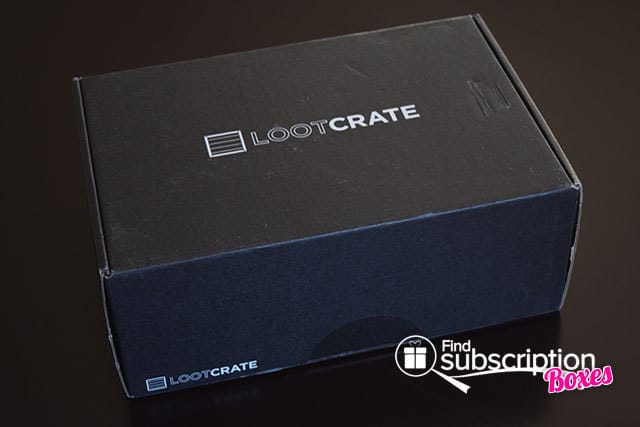 After opening the box, here was our first look at the Loot Crate December 2014 crate.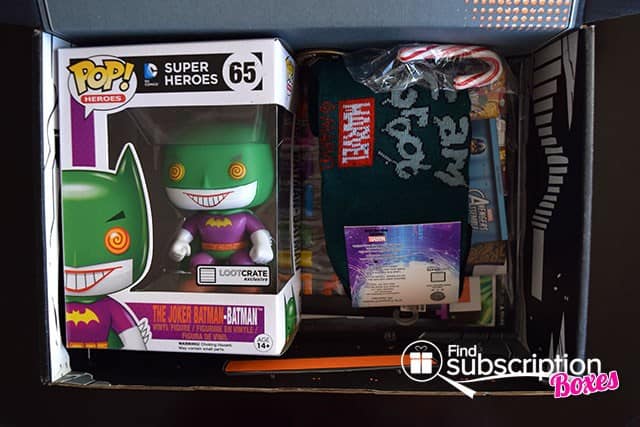 Each month, Loot Crate includes the Loot Crate Magazine which has fun articles and information about the items in that month's crate. This month's edition featured an interview with THE Stan Lee!
Inside the Loot Crate December 2014 Box
The Loot Crate December 2014 ANNIVERSARY Crate had 7 items.

1. The Joker Batman-Batman POP! Vinyl Figure (EXCLUSIVE)
This Loot Crate Exclusive, just released by Funko POP!, has Batman sporting the Joker's signature grin and style.
2. Batman Comic Book Issue 36 (EXCLUSIVE) DC Comics
With exclusive cover art by illustrator Greg Capulla, Issue 36 continue's Batman's monthly series where Batman keeps the villains of Gotham on their toes.
3. Tetris Sticker Set
Create colorful patterns and shapes with these Tetris-themed, colorful puffy stickers.
4. Ghostbusters Door Hanger (EXCLUSIVE)
Use this handy door hanger to keep out unwanted guests. Slime not included.
5. Simpsons "Cast Mighty Wallet"
Celebrate 25 years of Homer and his family with this lightweight, durable wallet featuring the entire cast of Springfield's wackiest residents.
6. Captain American Air Freshener
Celebrate Marvel's 75th anniversary with Captain America and vanilla power.
7. Dancing Groot Crew Socks (EXCLUSIVE)
These comfy and absorbent socks feature Dancing Baby Groot and can only be found in Loot Crate!
Loot Crate December 2014 Box Review Wrap-Up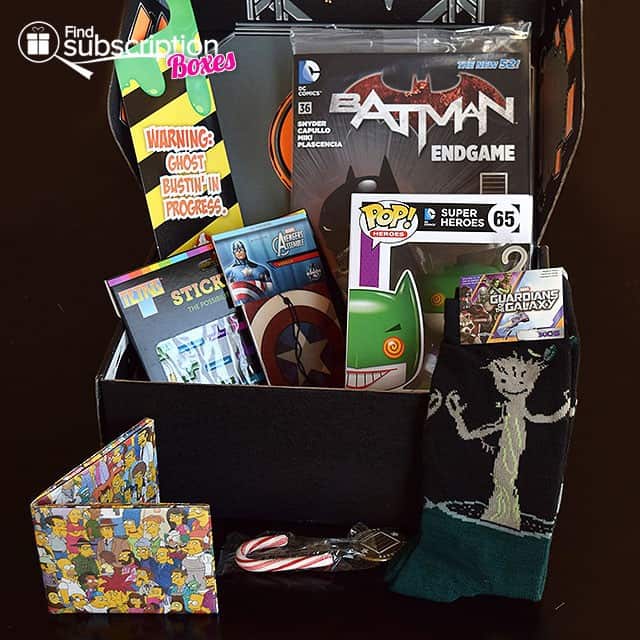 The Loot Crate December 2014 crate definitely had us walking down Geek Memory Lane – from "Doh!" to "Who you gonna call?" The Dancing Groot Crew Socks match perfectly with the exclusive Glow in the Dark Groot we received in a previous crate. We like that this crate blended both comics and movies/tv series items. We loved that the December crate had so many exclusive and highly collectable items.
What was your favorite December 2014 Loot Crate item?