Loot Crate DX is a premium geek subscription box for geeks and pop culture fans.  Each month, Loot Crate DX boxes feature "next level loot" including $100+ worth of pop culture collectibles, lifestyle gear, premium apparel, and more exclusive collectibles. With today's Loot Crate DX review we're unboxing the Loot Crate DX August 2016 crate. The August Loot Crate DX theme was Anti-Hero.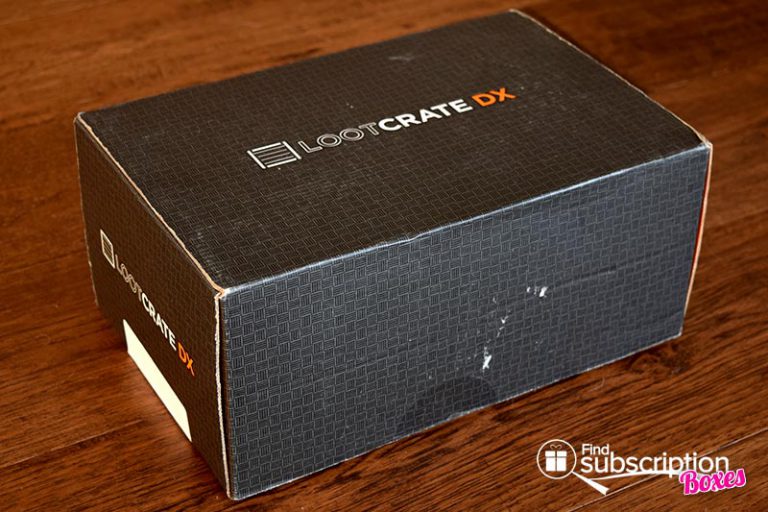 Loot Crate DX includes a nice brochure that has pictures and descriptions for each of the collectibles in that month's box.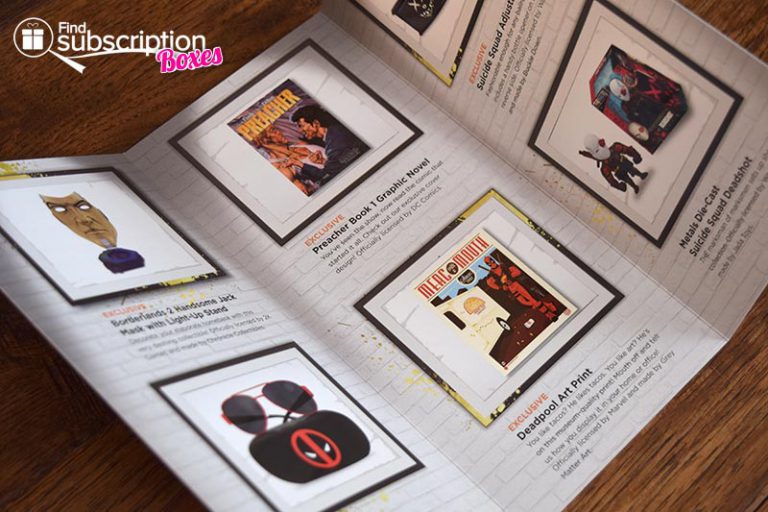 Here's a first look inside our August 2016 Loot Crate DX Anti-Hero crate.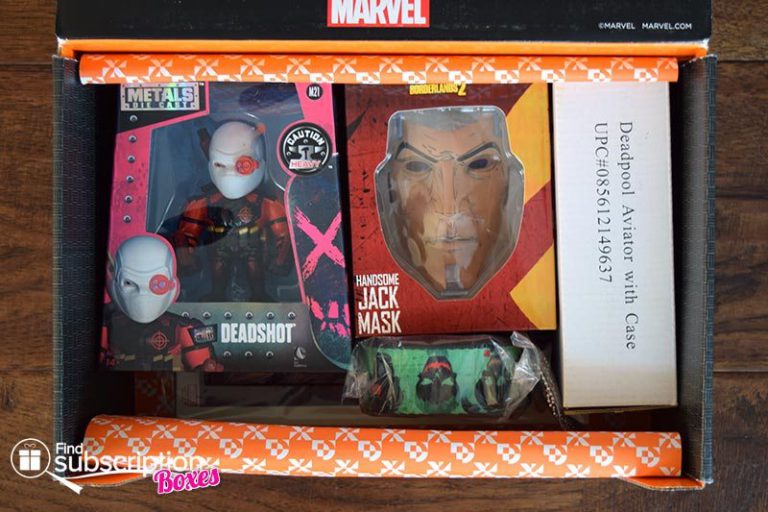 Inside the Loot Crate DX August 2016 Anti-Hero Crate
There were 7 premium collectibles in the August Anti-Hero Loot Crate DX subscription box.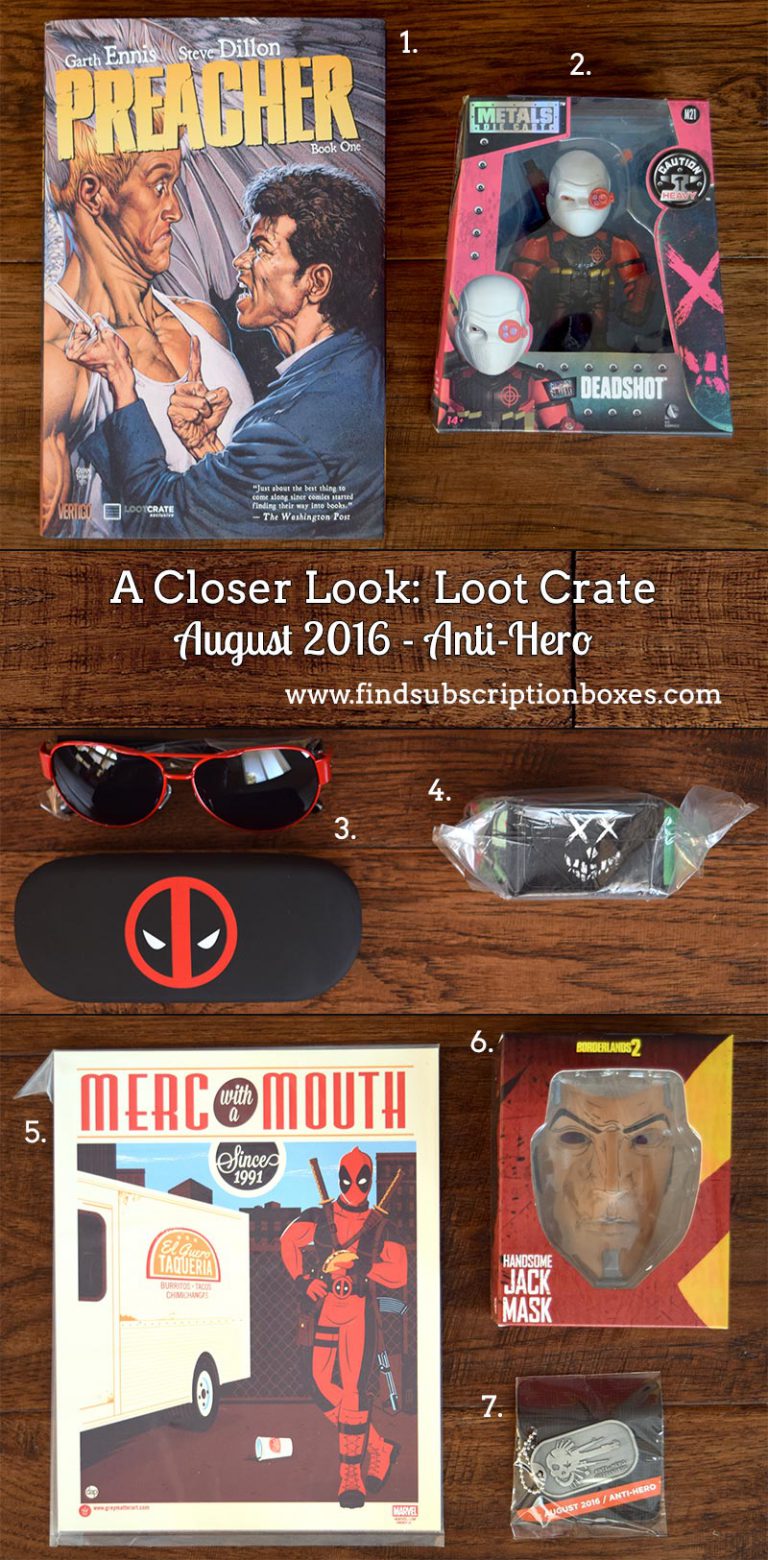 EXCLUSIVE Preacher Book 1 Graphic Novel
Featuring an exclusive cover design, this officially licensed DC Comics book follows Reverend Jesse Custer as they search for God to make him answer for the sufferings on earth.
Metals Die-Cast Suicide Squad Deadshot
Also officially licensed by Warner Bros., this metal figure features the marksman of marksmen from Suicide Squad – Deadshot.
EXCLUSIVE Deadpool Sunglasses with Hard Case
Wear these officially licensed Marvel sunglasses to protect your eyes in Deadpool style.
EXCLUSIVE Suicide Squad Adjustable Belt
Officially licensed by Warner Bros. this adjustable belt also has a handy bottle opener on the back of the buckle.
EXCLUSIVE Deadpool Art Print
An officially licensed Marvel item, this Deadpool print can be displayed in your home or office.
EXCLUSIVE Borderlands 2 Handsome Jack Mask with Light-Up Stand
This officially licensed mask has a base that lights up with a purple/blue glow.
Loot Crate DX Anti-Hero Dog Tag
Instead of a pin, Loot Crate included a metal dog tag necklace with a magnetic clasp.
Loot Crate DX August 2016 Box Review Wrap-Up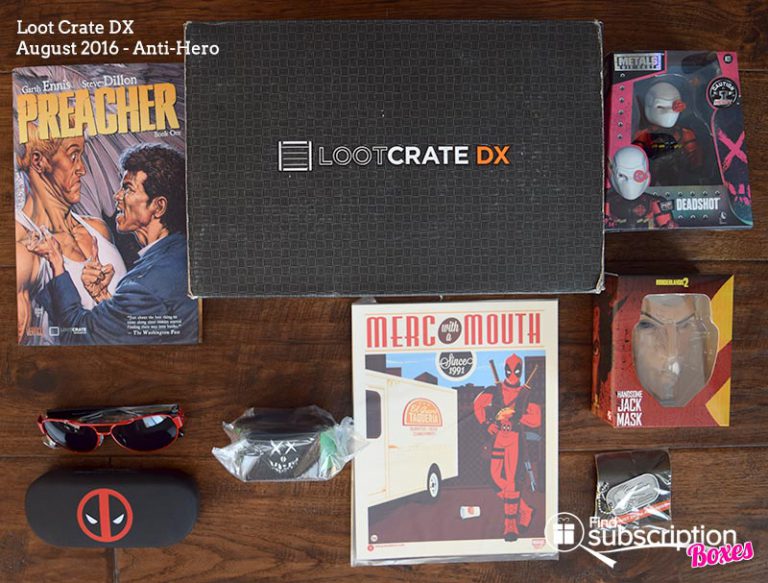 The August Anti-Hero Loot Crate DX box delivered officially licensed loot from popular comic books and video games. Sometimes you need a crook to catch a crook. Two of the Loot Crate DX items were from Suicide Squad. The first collectible, the Metals Die Cast Deadshot figure, stands 4 inches tall and weighs in at half a pound. The Deadshot figure has incredible detailing and is geared up with his cybernetic eyepiece and various weapons. The bright green Suicide Squad belt has the "skulls" of the different Suicide Squad members including The Joker and Katana. The bottle opener on the back is a useful tool when needed.
Deadpool is a popular Anti-Hero and had two items in this box. The Deadpoool Aviator sunglasses are perfect for protecting your eyes and looking cool. Small Deadpool logos decorate the hinges of each arm. The Deadpool print from Grey Matter Art depicts the merc with a mouth outside the El Guero Taqueria food truck, chowing down on a taco.
The Handsome Jack mask replicates the trademark mask that Jack, the main antagonist of Borderlands 2, had grafted into his face. Hence the name "Handsome Jack." It comes with a light-up stand that gives the mask an eerie purple and blue glow.
From DC Comics, Preacher Book 1 includes Preacher Issues #1-12. This exclusive introduces us to Jesse Custer, a small town preacher who gets possessed and begins traveling the country searching for God. This version also has a new introduction by Garth Ennis, one of the Preacher creators, and a 15-page gallery of Preacher pin-ups drawn by great comic artists.
What was your favorite geek collectible from the August Anti-Hero Loot Crate DX crate?
Loot Crate DX Coupon Code
Use Loot Crate DX coupon code SAVE3 for $3 off any new Loot Crate DX subscription. Join today!