The Loot Crate geek and gamer subscription box delivers a themed monthly mystery box of geek + gamer gear and collectibles to your door. Each Loot Crate box has at least a $40 retail value and includes the best geek, gaming, and pop culture gear. With today's Loot Crate box review, we're taking a closer look at the Loot Crate July 2015 crate. The July Loot Crate theme was Heroes 2!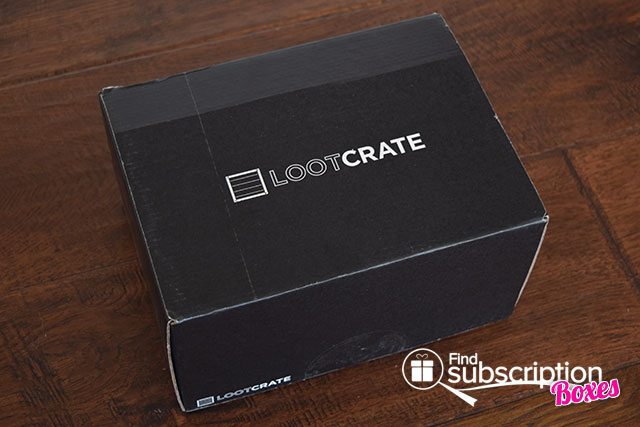 The Loot Crate Mini Magazine included in each Loot Crate provides details about each of the geek items in that month's box, as well as fun articles. This month's issue included a Q&A Session with The Death of "Superman Lives" creator Jon Schnepp.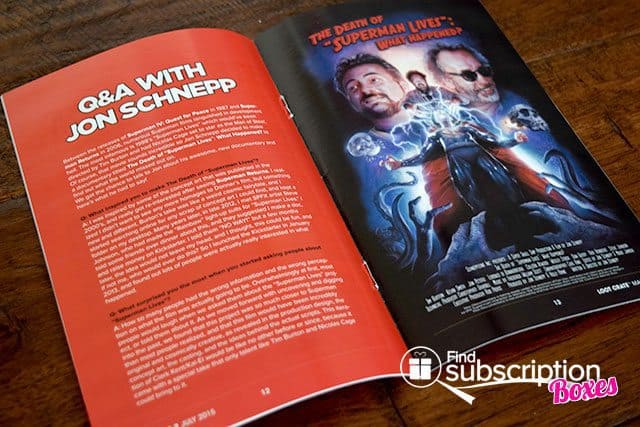 Here's a first look inside our July Loot Crate Heroes 2 box.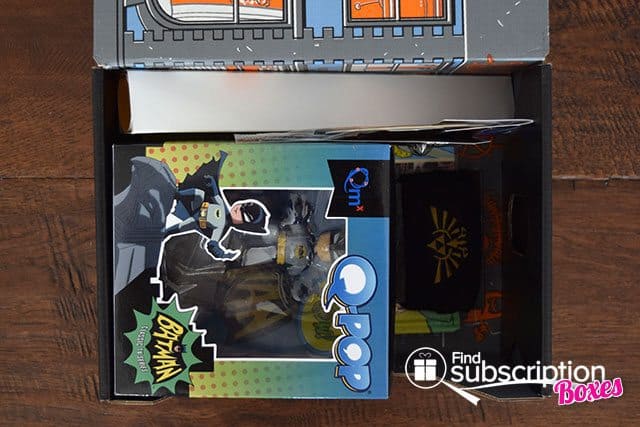 Inside the Loot Crate July 2015 Heroes 2 Crate
There were 8 geek + gamer items in our July Heroes 2 Loot Crate.

1. EXCLUSIVE TV  Series Batman Q-Pop Figure, Quantum Mechanix
This exclusive, throwback, vinyl Batman was inspired by the classic 60's TV show and is ready for the next bat signal.
2. Batman Multi-Tool Keychain
You'll never leave your Batcave without this handy keychain. It is also a Phillips and flathead screwdriver AND a bottle opener.
3. She Can Do It! Wonder Woman Poster, DC Collectibles
This World War II "Bomber" art-style poster depicts Wonder Woman as the one who can get the job done.
4. EXCLUSIVE The League of Regrettable Superheroes
A Loot Crate exclusive, this special edition book features 50 of the strangest superheroes you've never met!
5. Legend of Zelda Sweatband
Keep the sweat out of your eyes as you gear up for your next adventure with this terry cloth wristband embroidered with the Triforce emblem.
6. EXCLUSIVE Brawlhalla Download Cars
Access exclusive skins, weapons, and characters on the free-to-play Brawlhalla brawler game. Available for download on Steam.
7. Star Trek Auto Air Freshener
Combat the smells of space travel with the fresh scent of vanilla using this Trekkie air freshener.
8. Loot Crate Heroes 2 Collectible Pin
Loot Crate July 2015 Heroes 2 Crate Box Review Wrap-up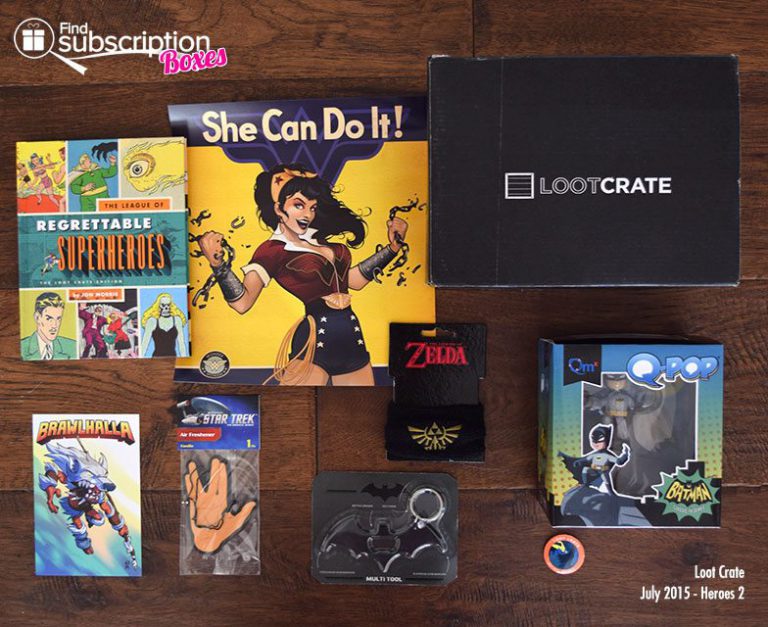 The July Heroes 2 Loot Crate was packed with unique geek items inspired by our favorite heroes. The Batman keychain is definitely a handy item for "geek preparedness". The exclusive book offered fun histories and stories about very strange comic book characters superheroes. We're always up for a new game and can't wait to check out Brawlhalla.
What was your favorite Loot Crate Heroes 2 crate item?
August Loot Crate subscriptions close 9PM August 19, 2015! This month's theme: VILLAINS 2.