Every month, Loot Crate delivers themed geek subscription boxes featuring epic geek and gamer gear, collectibles and loot. With today's Loot Crate box review, we're unboxing the October Loot Crate geek box. Loot Crate's October theme was Time!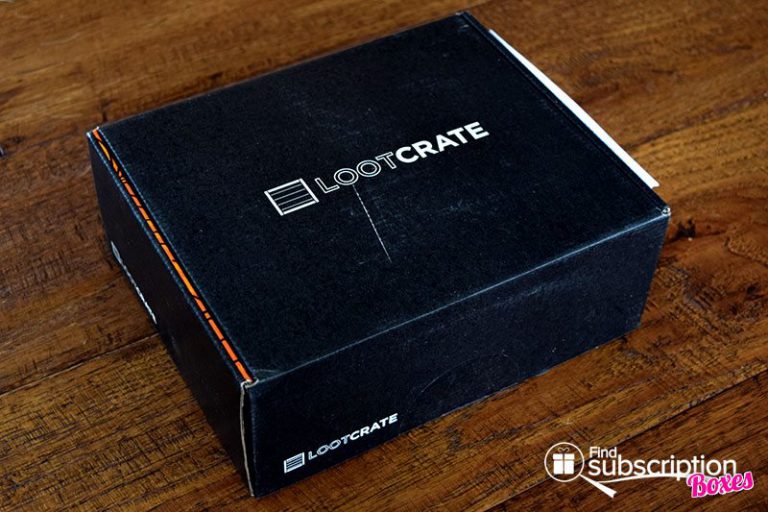 The Loot Crate Mini Magazine include in each Loot Crate provides fun articles that match that month's theme, as well as product information about that month's geek collectibles.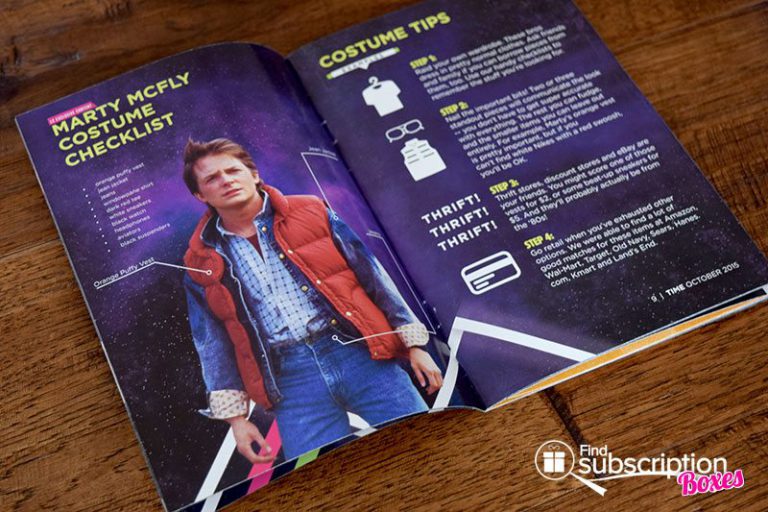 Here's a first look inside our October Loot Crate Time Crate.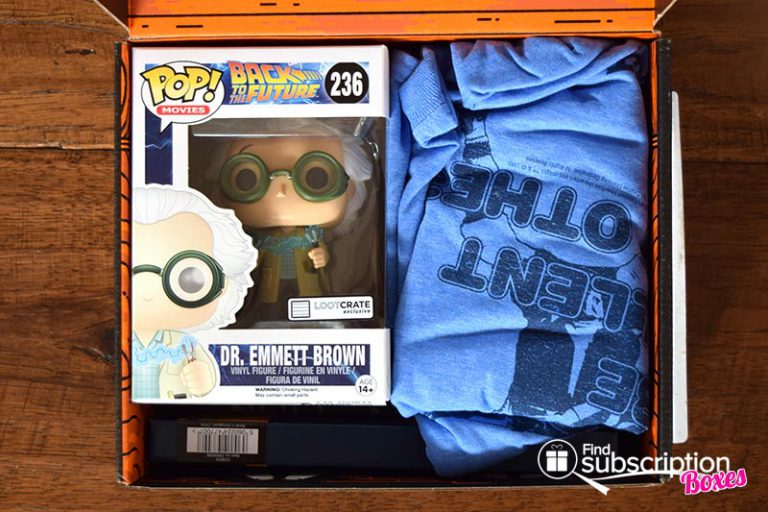 Inside the Time Loot Crate October 2015 Box
There were 4 geek collectibles in our October Time Loot Crate. All of the items in this month's crate are EXCLUSIVE to Loot Crate!

EXCLUSIVE Bill & Ted's Excellent Adventure T-Shirt
Excellent time-travelers will experience a blast from the 80's past with this retro-style Bill & Ted geek t-shirt.
EXCLUSIVE Doctor Who Spork Utensil
Enjoy your snacks while on the road has never been more multi-functional with this exclusive Sonic Screwdriver spork!
EXCLUSIVE Back to the Future Dr. Emmett Brown Funko Pop! Vinyl Figure
Only available to Loot Craters, this exclusive Doc Brown Funko POP! Vinyl was inspired by the clock tower scene from Back to the Future!
EXCLUSIVE Back to the Future Part II Hoverboard Replica
This exclusive replica celebrates Marty's favorite mode of personal transportation from his visit to the future – or our past…
Bonus Item – October 2015 Time Loot Crate Collectible Pin
Loot Crate October 2015 Time Crate Review Wrap-Up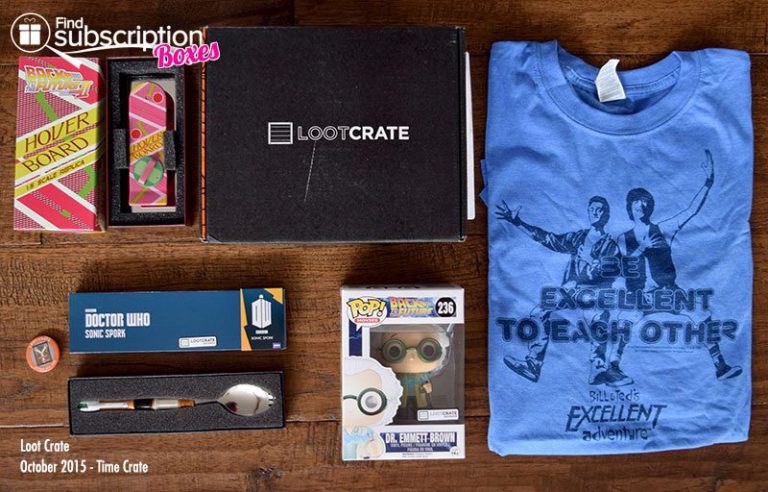 The Time Loot Crate October 2015 box had most excellent geek items from some of our favorite geek time-travellers. The Doc Brown Funko POP! Vinyl and the collectible, Back to the Future hoverboard were perfectly timed items, especially since we received our Loot Crate on Back to the Future Day, October 21, 2015! The Bill & Ted Excellent Adventure t-shirt is a great throwback shirt for fans of this comedic duo's antics.
What was your favorite October Loot Crate Time crate collectible?
Loot Crate Coupon Code
Put a monthly geek box on auto-pilot with a Loot Crate subscription! Save $3 off your first Loot Crate box when you use Loot Crate coupon code NEWS3 or use code FINDBOXES to save 10% off any Loot Crate subscription. For a limited time, new subscribers also get a FREE Loot Crate t-shirt with 12 month subscriptions!