The Love With Food Gluten-Free Snack Box delivers all natural or organic, gluten-free snacks for you to enjoy every month. For March, Love With Food teamed up with Healthy Grocery Girl and plant-based Registered Dietitian, Megan Roosevelt, to curate March's gluten-free snacks.
Love With Food includes a product flyer with each box. In addition to describing each product, Love With Food also designates whether the snacks are Gluten-Free, Vegan, Organic, or Non-GMO.
Here's a first look inside our March 2015 Love With Food Gluten-Free Box.
Inside the Love With Food March 2015 Healthy Grocery Girl Gluten-Free Box
There were 12 different products and 15 total snacks in our March Love With Food Gluten-Free Box.

1. Moringa Organic Tea by Miracle Tree
Brew this nutritious tea for a warm, quick pick-me-up.
2. Zesty Nacho Kale Chips by Rhythm Superfoods
For a savory snack with a kick, these zesty kale chips hare packed with flavor and nutrients.
3. Original Ancient Grain Granola by Purely Elizabeth
Made with Non-GMO ingredients, this granola is made with low-glycemic coconut sugar and nourishing coconut oil
4. Lightly Salted Plantain Chips by Turbana
A little sweet. A little salty. A ton of deliciousness.
5. Hemp Hearts by Manitoba Harvest
Add some crunch to your salad, wrap or sandwich with these plant-based protein-packed hemp hearts.
6. Roasted Chickpeas with Sea Salt by The Good Bean
These crunchy chickpeas are not only a great salty snack, they also have tons of protein and fiber.
7. Sea Salt Bops by Good Boy Organics
These baked potato snacks are organic, gluten-free and Non-GMO Project Verified.
8. Almond Butter Cacao Truffle by Two Moms in the Raw
Made with organic almonds and cacao, these raw, gluten-free truffles are a sweet, indulgent treat.
9. Gluten-Free Pie Crust Mix by Bob's Red Mill
Get ready to bake those Spring fruit pies with this convenient gluten-free pie crust mix.
10. Strawberry Macaroons by Hail Merry
These vegan macaroons are made with pure ingredients like pure Madagascar vanilla and organic shredded coconut.
11. 24 Carrot Orange Fruit Snack by Fruigees
This fruit snack is packed with nutrients, vitamins, and anti-oxidants and comes in a fun and portable squeeze pouch.
12. Organic Mexican Seasoning by The Spice Hunger
From tacos to grilled veggies, this organic seasoning will add some Mexican flavor to your next fiesta.
BONUS ITEM: The March 2015 Love With Food Gluten-Free Box also include a $10 promotion code to Urban Remedy.
Love With Food March 2015 Healthy Grocery Girl Gluten-Free Box Review Wrap-Up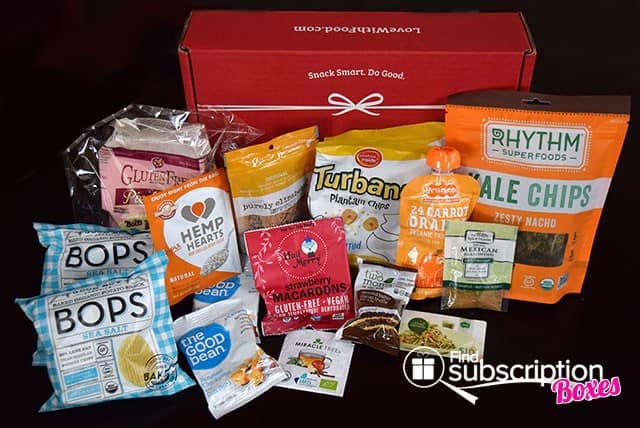 The Healthy Grocery Girl selected a great variety of junk-free, gluten-free snacks in the March 2015 Love With Food Gluten-Free box. We were introduced to a variety of new snacks and are now roasted chickpeas converts and plantain chip fans. We loved that there was a mix of sweet and savory snacks, as well as gluten-free items for cooking and baking.
Love With Food Gluten-Free Box Coupon
Are you ready to get delicious, gluten-free snacks delivered to your door every month? Subscribe to the Love With Food Gluten-Free Box today and save 50% off your 1st box!
What was your favorite snack in the Love With Food March 2015 Gluten-Free Box? While all the snacks were delish, our fave from this box was the carrot and orange Fruigees snack!