Mantry is a bi-monthly subscription box that sends six full-sized food products from artisan makers. Some products are created by small upstarts, and others are made by award-winning restaurant chefs. Mantry's mission is to deliver exciting, high-quality items that you won't be able to find in your grocery store. The box is called "Mantry" and their tag is "The Modern Man's Pantry", but anybody will love what's inside!
A Mantry subscription is currently $49 per box, or $294 for six boxes. If you pay for six boxes up front, you receive a free jerky kit.
I received this Mantry crate in March, but I am not sure what month subscribers received it. I have reason to believe it is an older box, but I can't find a month for it anywhere online. It is not listed on Mantry's website as a Past Box.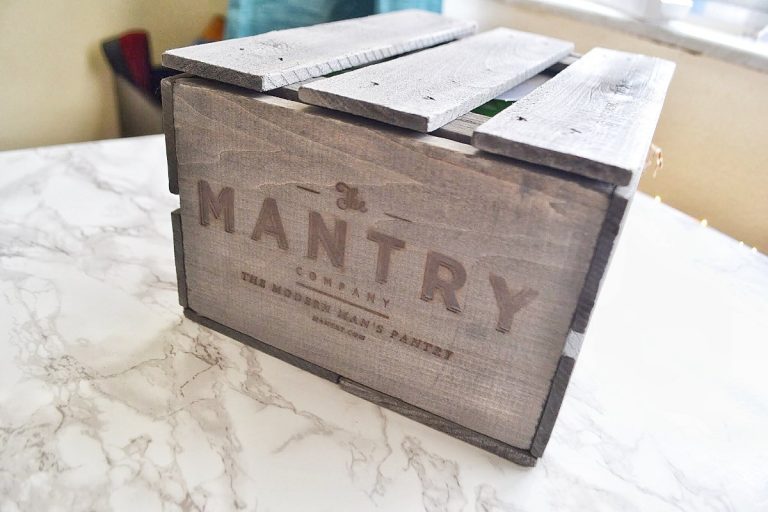 My Mantry came in a rustic looking crate, which I am currently repurposing in my office. This is the most unique subscription box packaging I've come across, and I love it!
Inside the crate was a letter from the curator, Reggie Miller. It explained a little about the boxes' theme: comfort food.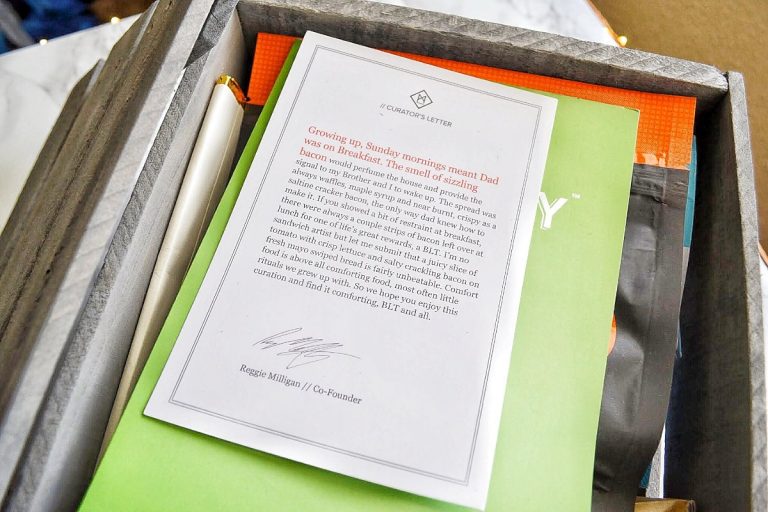 Here's a quick peek at what was inside my Mantry: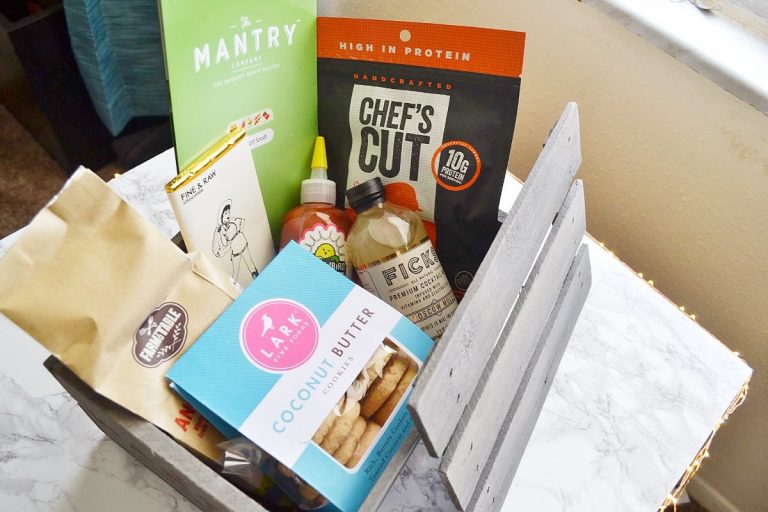 I also received a pamphlet that gave information and suggested recipes for each product. I loved the photography in the pamphlet; it made me want to use each of the food items right away!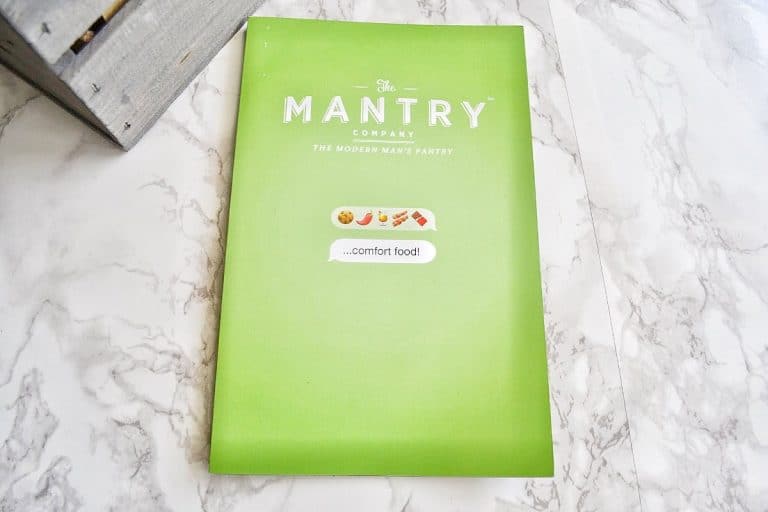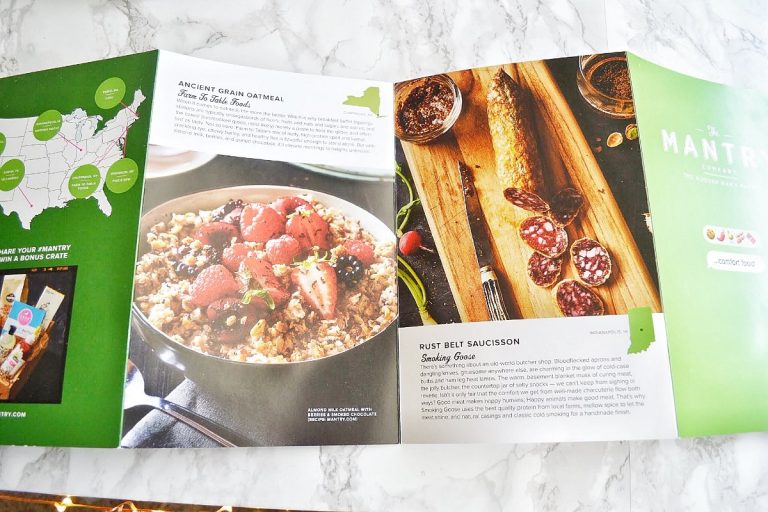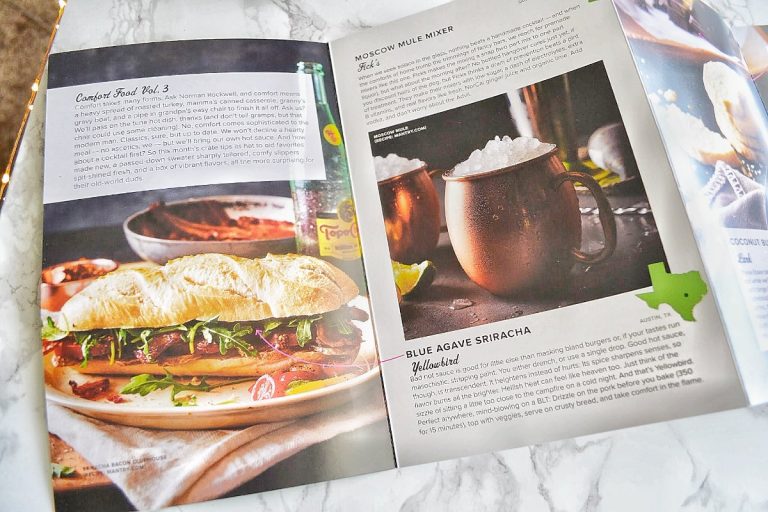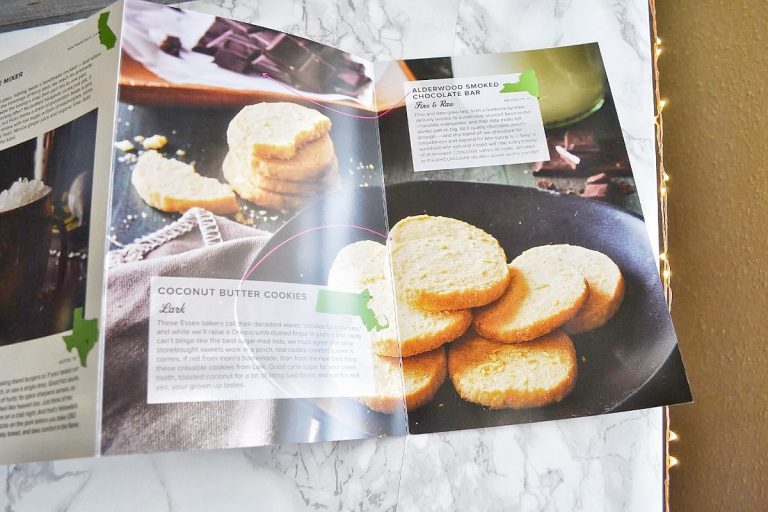 Now, let's take a look at each item I received in this Mantry. The first item that caught my attention was this Blue Agave Sriracha from YellowBird Foods. I received a 9 oz bottle, which is worth $5.  I love sriracha, and I actually had put a bottle on my grocery list. So, I was very excited to see this in my box! I had never head of YellowBird foods before, but they are a really cool company that sells several different flavors of hot sauce in varying quantities. If you really love hot sauce (or run a restaurant), you can buy a gallon of your favorite flavor!
Blue Agave Sriracha is the sweetest flavor they carry, and they recommend using it as an alternative to sugar-packed barbecue sauces. I think it is much too hot to be used that liberally, but I have been enjoying cooking with it. Last week I made sheet pan fajitas, and I squirted some of the sriracha all over everything before sticking it in the oven. It gave it an amazing kick! My boyfriend and I both love this sauce so much, and I definitely want to try YellowBird's other flavors.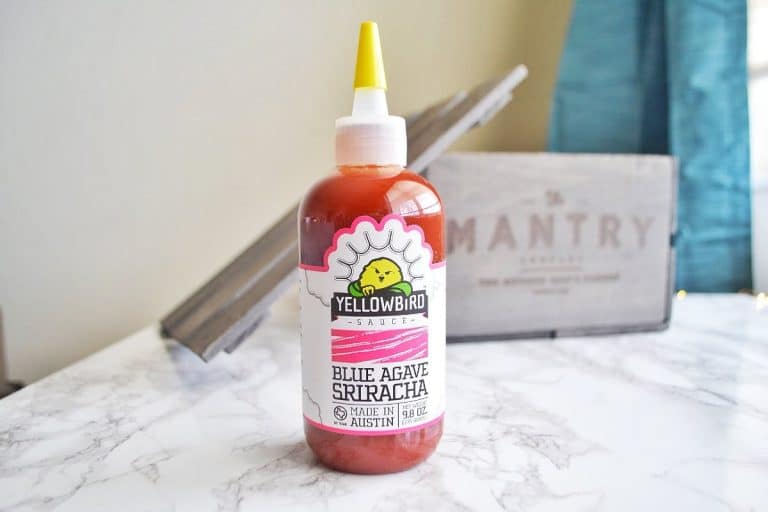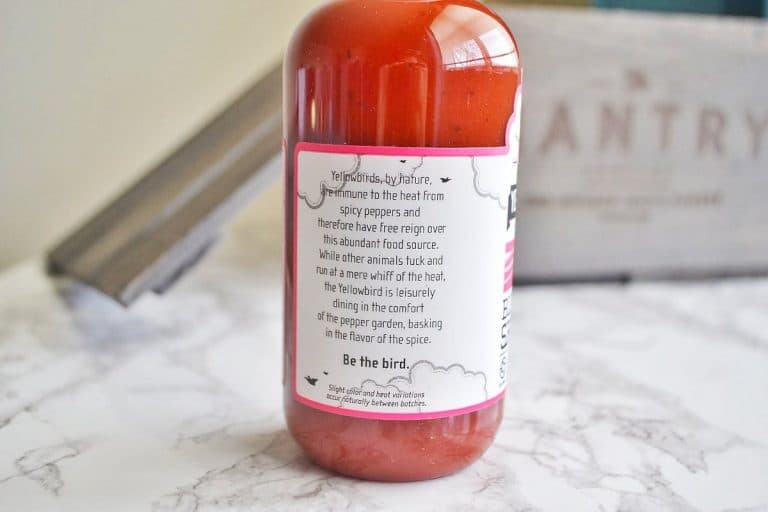 The next item I received was Chipotle Cracked Pepper Smoked Beef from Real Jerky Co. I have received jerky from this company in a different subscription box, and I love it! Normally jerky reminds me of dog food, but Real Jerky Co. creates such amazing flavors. The more you chew the jerky, the spicier it is on your tongue. But it's a slow-burning, easy to manage spice. Their Mango Habanero flavor is still my favorite, but this Chipotle Cracked Pepper is a close second. I received a 2.5 oz bag, which is worth $6.48.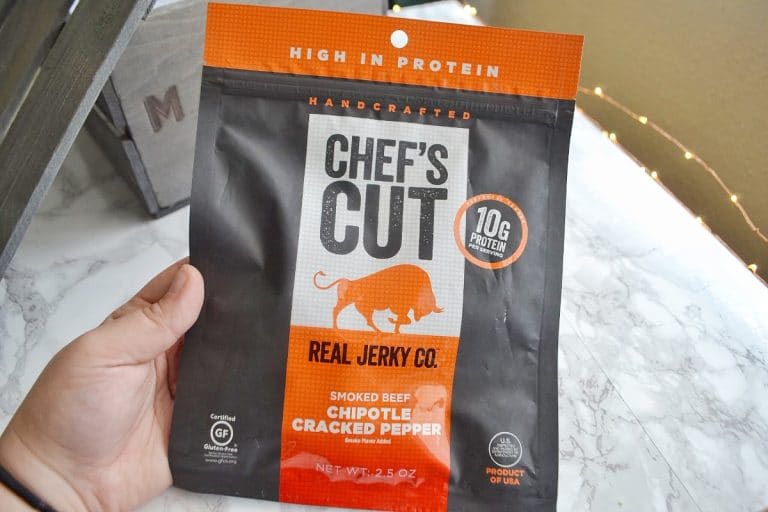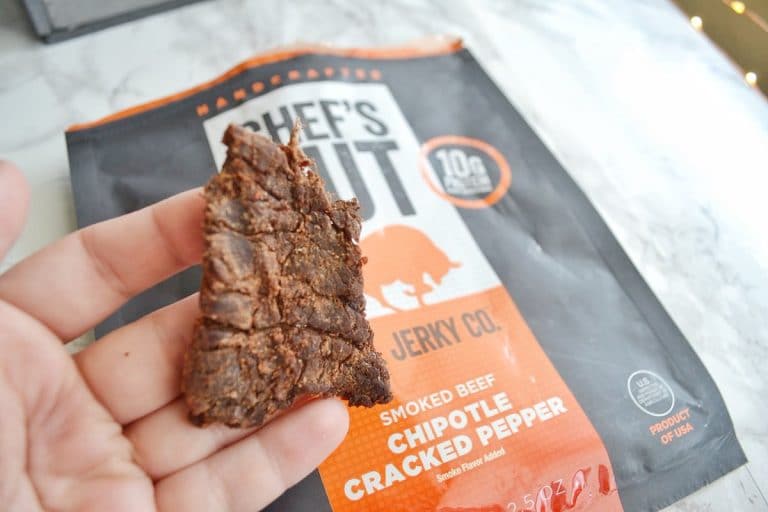 I also received an Alderwood Smoked Salt chocolate bar from Fine & Raw Chcolate. This was a 2 oz bar, which is worth $8.50. I wasn't expecting to like the bar, because I typically don't enjoy bitter chocolate. However, it's smokiness was strangely addictive!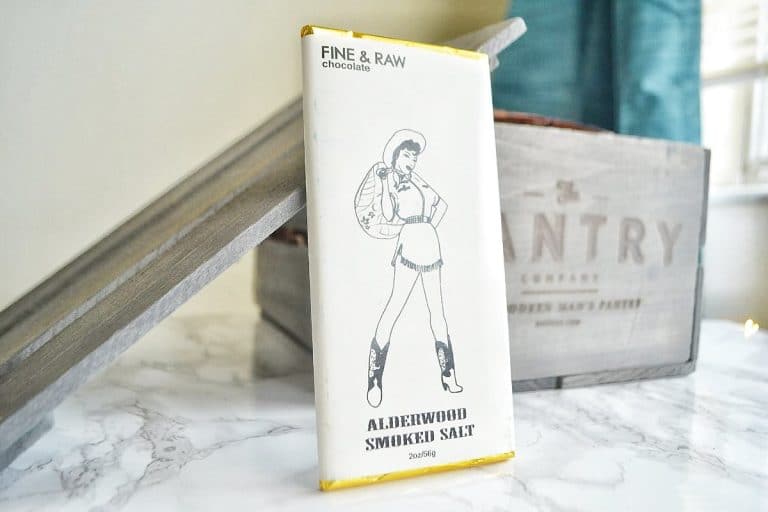 The next item I received was a Ficks Moscow Mule Cocktail Mix. I love Moscow Mules, so I put this to good use. I received an 8 fl oz bottle, which costs about $6.50. All you have to do is combine 4 oz of the mix with 2 oz of vodka. The 8 oz bottle has enough cocktail mix for two Moscow Mules.
The resulting cocktail was incredibly gingery and fresh – more so than other Moscow Mules I've had. It turns out that Ficks uses locally sourced organic ginger juice, made from fresh raw organic ginger rhizomes. Most Moscow Mules simply use ginger beer, which explains why this tasted so much more real. It was peppery, a little fiery, and it cleared out my sinuses in about 2 seconds.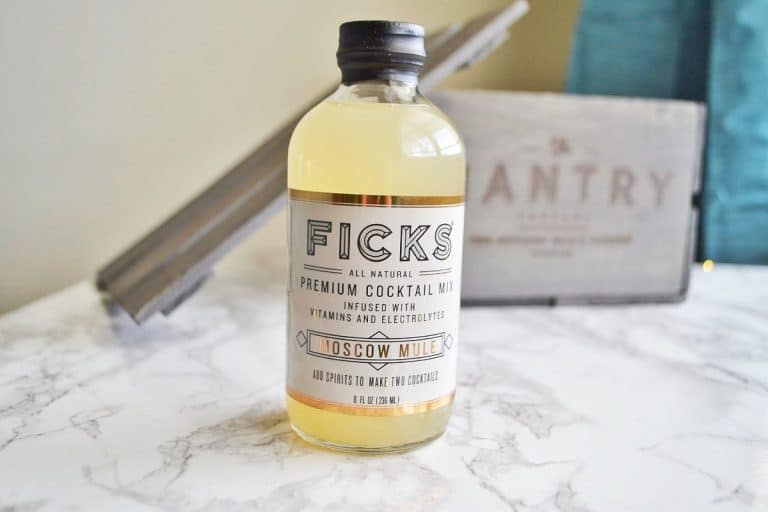 The tastiest item I received in my Mantry was this box of Coconut Butter Cookies from Lark Fine Foods! They sent a 6.7 oz package, which is worth $6.00. Oh my goodness, these were so good! The cookies were loaded with coconut and rum, and were such a buttery and indulgent treat. I had to show a lot of self control to not eat the whole package in one sitting.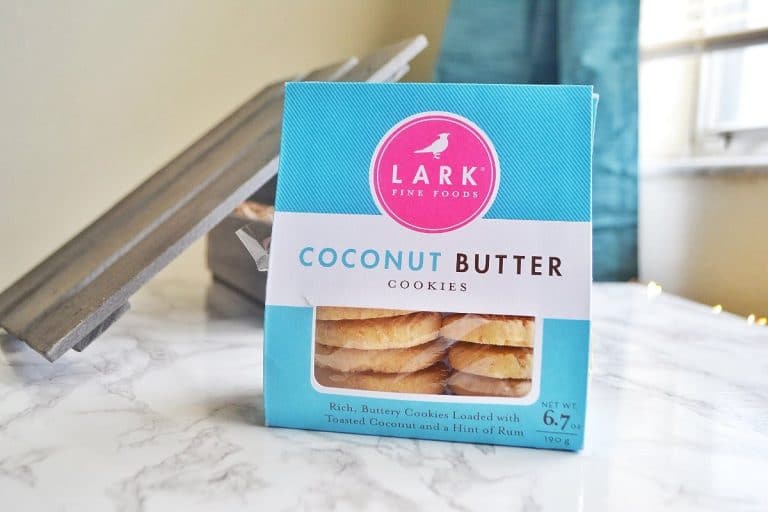 The last item I received was Farm & Table Organic Ancient Grain Oatmeal. I received a 16 oz bag, which is worth $8 – certainly the most expensive oatmeal I've ever tried. This is a nutty tasting mix of oats, Kamut, spelt, rye, and barley. I grew up eating instant oatmeal, so I was amazed by the complexity of this blend. I don't think I can ever go back to Quaker Oats.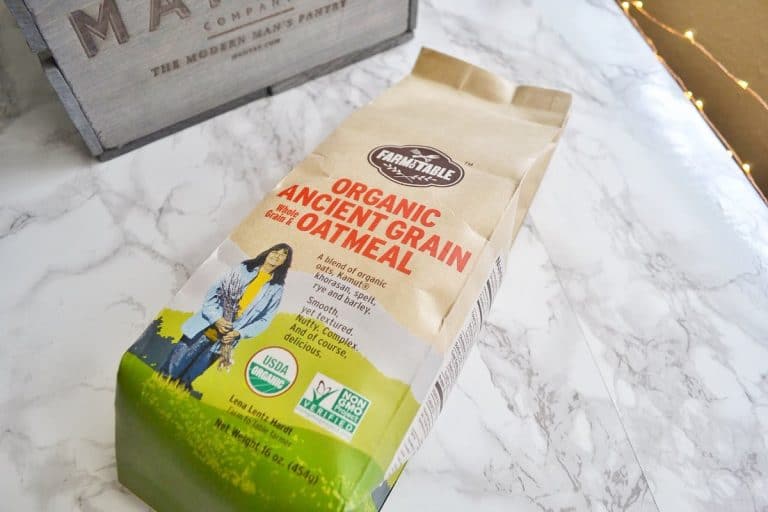 I am blown away by the quality of goods in my Mantry! Each food item was artfully crafted, and I found several new favorite snacks. The total value of this box was $40.50, which is less than what you pay for a subscription. However, shipping is free, so the cost evens out. This is not a subscription box that will help you save money, but instead it is a wonderful way to discover new foods that you wouldn't be able to find in your grocery store.