Geek Fuel delivers monthly subscription boxes of all things geeky. Each month, subscribers receive $50+ worth of exclusive t-shirts, toys, collectibles, and more. With today's Geek Fuel review, we're unboxing the March 2016 Geek Fuel box.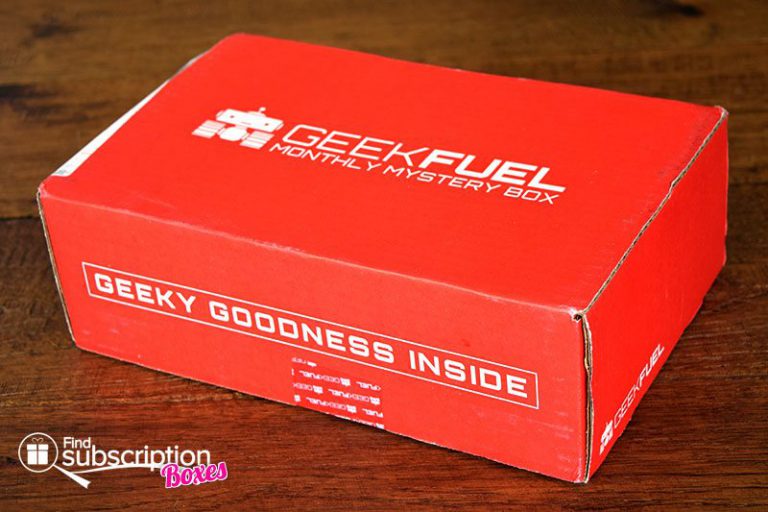 Each Geek Fuel mystery geek box includes an Issue of Geek Fuel Magazine. This month's Issue #14 included a history of Batman and Superman and a preview of upcoming video games. Geek Fuel provides product cards describing each of that month's geek goodies.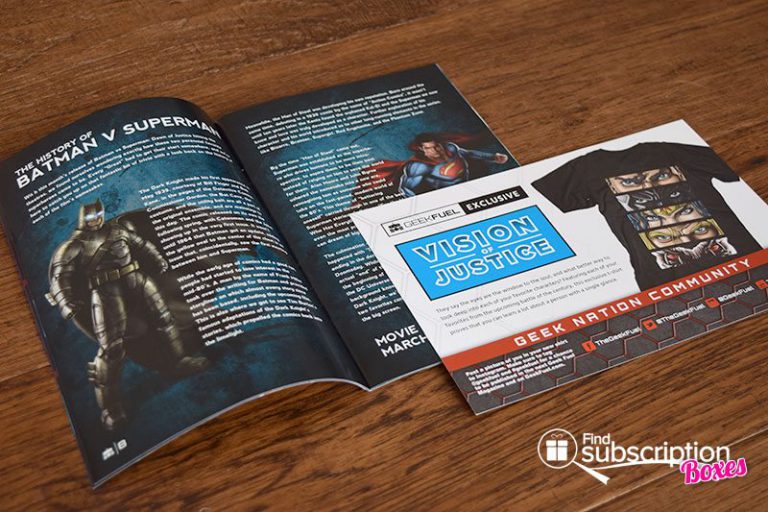 Inside the March 2016 Geek Fuel Box
There were 5 geek goodies in our Geek Fuel March 2016 geek box.

EXCLUSIVE "The Legend" Art Print by Juan Muniz
The Legend of Zelda continues with this exclusive art print. Some subscribers received a limited-edition variant!
EXCLUSIVE Vision of Justice T-Shirt
This exclusive t-shirt lets you look into the eyes of your favorite Justice League characters. Can you name them all?
Amazing Fantastic Incredible: A Marvelous Memoir Stan Lee
Get an inside look into The Generalissimo's life and times with this fun, classic graphic novel autobio.
Batman V Superman Mystery Mini Vinyl
Traveling from the big screen to your desk, use these mini vinyl figures to stage your own heroic battles.
DINOCIDE Downloadable Game & Game Map
Journey through this maze land of dinos in this NES-inspired game.
March 2016 Geek Fuel Review Wrap-Up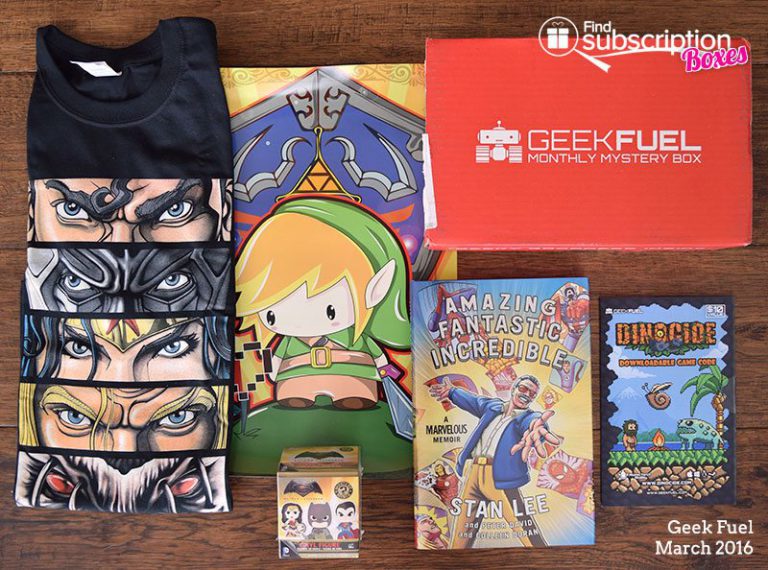 The March Geek Fuel mystery geek box delivered a collection of goodies featuring favorite comic franchises and popular video games. Comic book fans will love getting this new perspective on Stan Lee's life. The EXCLUSIVE Justice League t-shirt pays home to favorite comic book heroes and is the perfect fashion accessory for the anticipated feature film.
What was your favorite Geek Fuel March 2016 geek item?
Get a sneak peek into this month's mystery box with these Geek Fuel April 2016 box spoilers!
Geek Fuel Coupon
For a limited time, new Geek Fuel subscribers can get a free Star Wars item or Star Wars Gift Pack with new 3, 6 and 12 month Geek Fuel subscriptions. Subscribe now to claim your free geek gift.