The Hatchery Tasting Box is a gourmet food subscription box to help you find your new favorite ingredient. Hatchery subscribers receive a monthly food box of condiments, sauces, spreads, spices and more. With today's Hatchery Tasting Box review, we're unboxing the March 2016 Hatchery Tasting Box.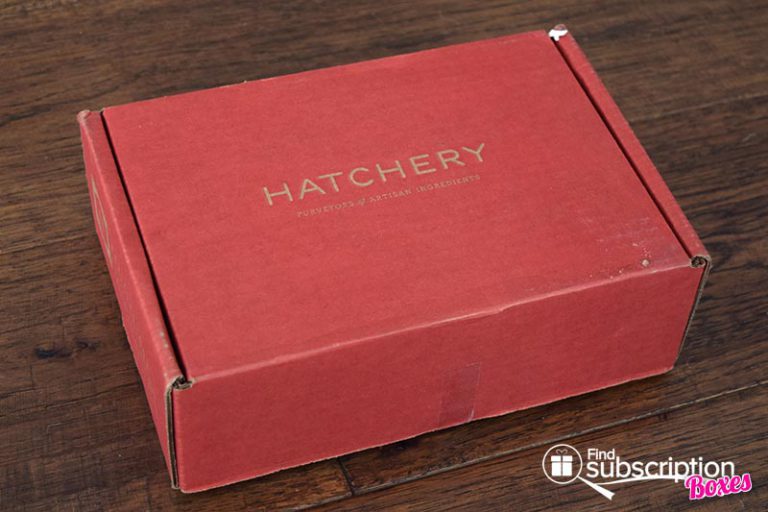 Each Hatchery Tasting Box has a colorful product brochure that describes that month's ingredients and artisans. We love learning a little more about the makers of each item.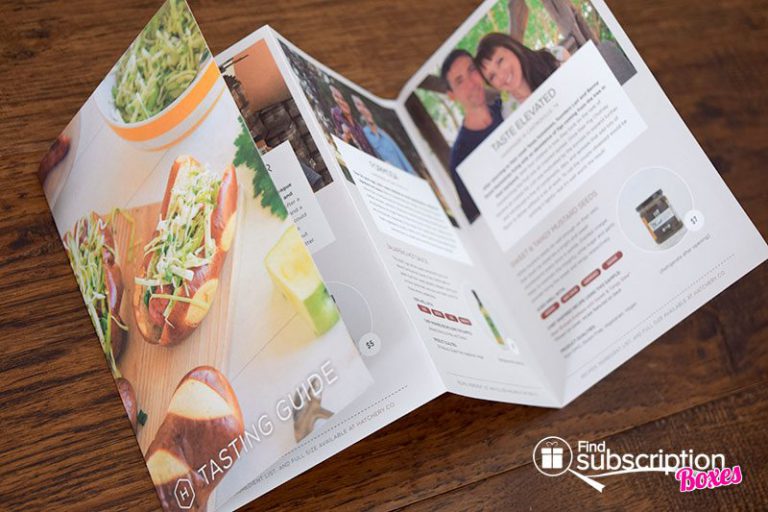 Here's a first look inside our March 2016 Hatchery Tasting Box.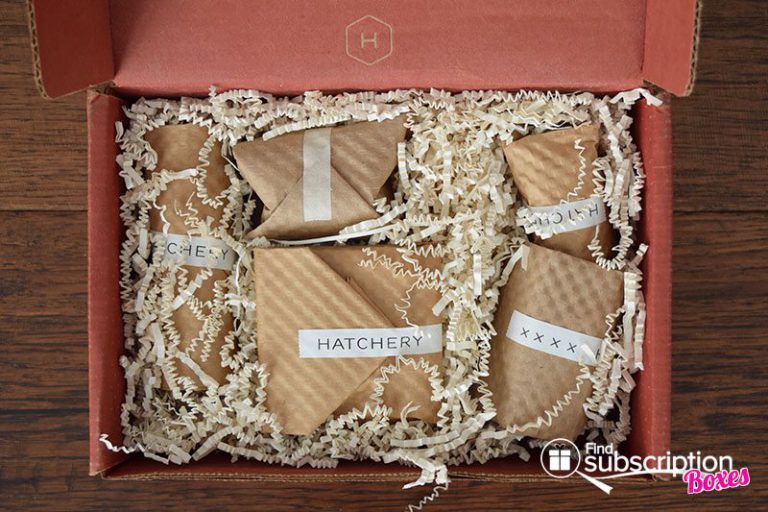 Inside the March 2016 Hatchery Tasting Box
There were 5 gourmet ingredients in our March 2016 Hatchery Tasting Box.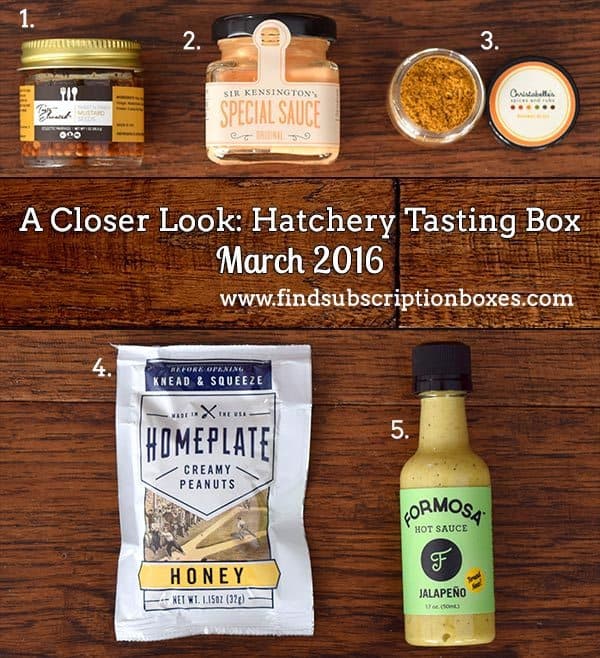 Taste Elevated Sweet & Tangy Mustard Seeds
Elevate your traditional mustard with these sweet and tangy mustard seeds.
Sir Kensington's Special Sauce
The secret is in the sauce and now you have a bottle of your own. Top your next burger with this tangy, relish spread.
Christabelle's Spices Bombay Bliss
This handmade spice blend adds smoky, sweet, and savory flavors without any salt!
Homeplate Peanut Butter Honey Peanut utter
Made with wholesome, sustainable ingredients, this creamy peanut butter has a touch of pure honey for sweetness.
Formosa Jalapeno Hot Sauce
When you want to add a kick to your dish, this spicy condiment adds a subtle smoky heat to your tacos, eggs, and sandwiches.
March 2016 Hatchery Tasting Box Review Wrap-Up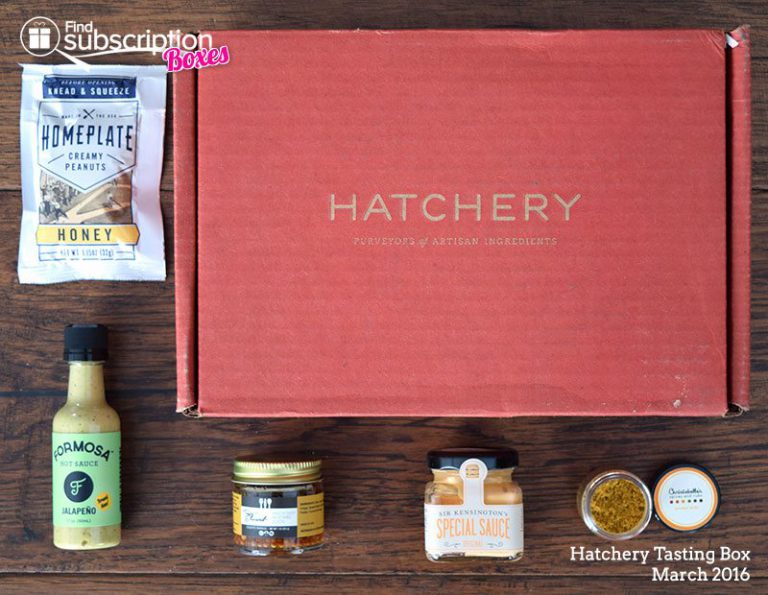 The March Hatchery Tasting Box introduced us to familiar ingredients that have a fun flavor twist. For sweet and salty fans, the addition of honey will add a subtle sweetness to the peanut butter that you'll love. Sir Kensington's Special Sauce can be used with or without ketchup to amp up your burgers and sandwiches. It adds a bit of tang and crunch from the relish. With one sniff of the Bombay Bliss spice blend, we were instantly transported to India with distinct aroma of curry. We can't wait to cook up the chef-created coconut chicken curry with this fresh blend.
What was your favorite March Hatchery Tasting Box ingredient?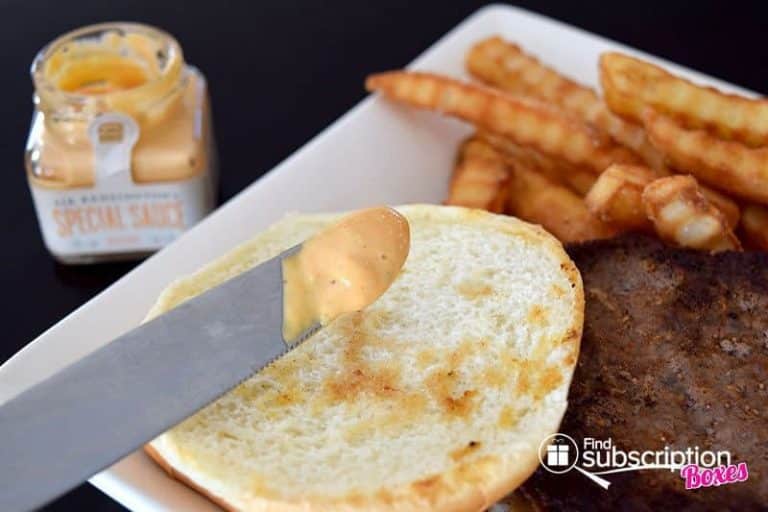 Hatchery Box Coupon Code
Try your first Hatchery Box for just $10 when you use Hatchery coupon code FSB10 at checkout – a 50% savings plus FREE shipping!
Hatchery Tasting Box Giveaway – Win a Box!
Enter for your chance to win 3 months of the Hatchery Tasting Box!