Loot Crate delivers monthly mystery subscription boxes filled with geek and gamer gear and collectibles from your favorite pop culture franchises. Loot Crate subscriptions start at under $20 per month. With today's Loot Crate Review, we're unboxing the March 2016 Loot Crate. The March Loot Crate theme was Versus.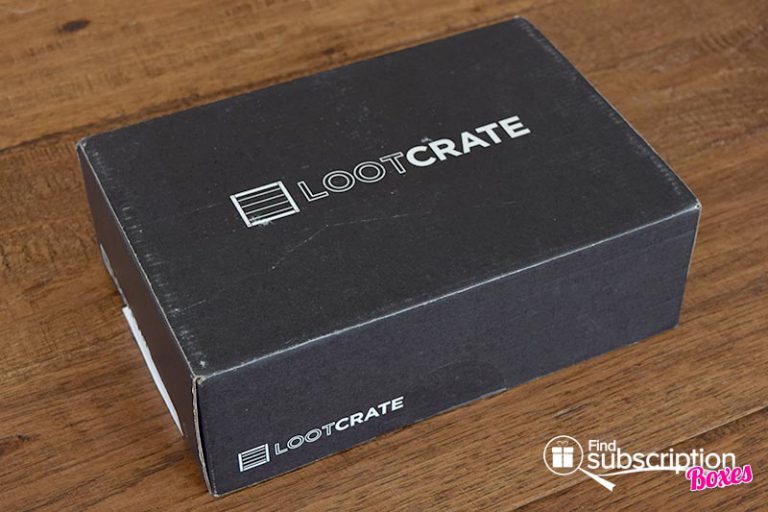 Loot Crate includes a monthly LC Magazine in each geek box. The magazine provides descriptions for each of that month's geek items and fun articles related to that month's theme. March's LC Magazine also had a Spot The Spock puzzle (similar to Where's Waldo, but with Spock.) :)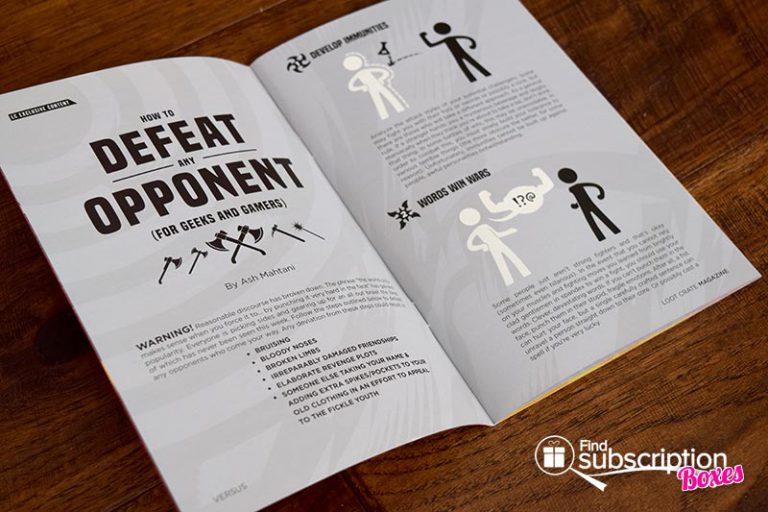 Here's a first look inside our Loot Crate March 2016 Versus Crate.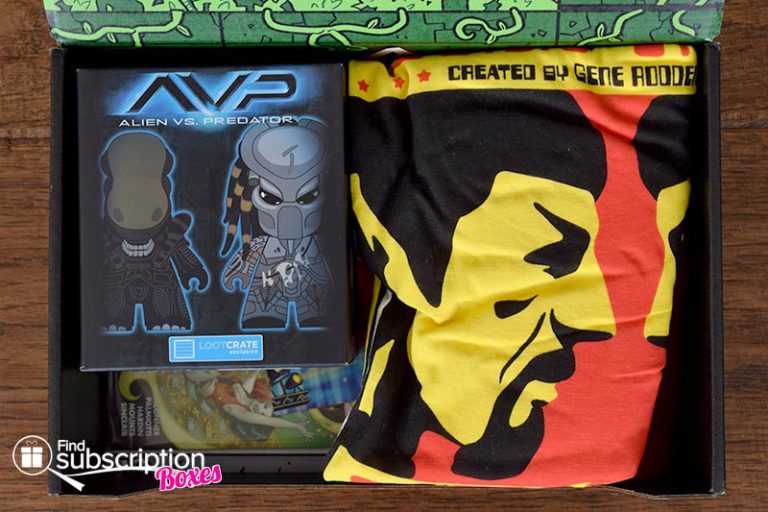 Inside the March 2016 Loot Crate Versus Crate
There were 5 geek and gamer collectibles in the March VS Loot Crate.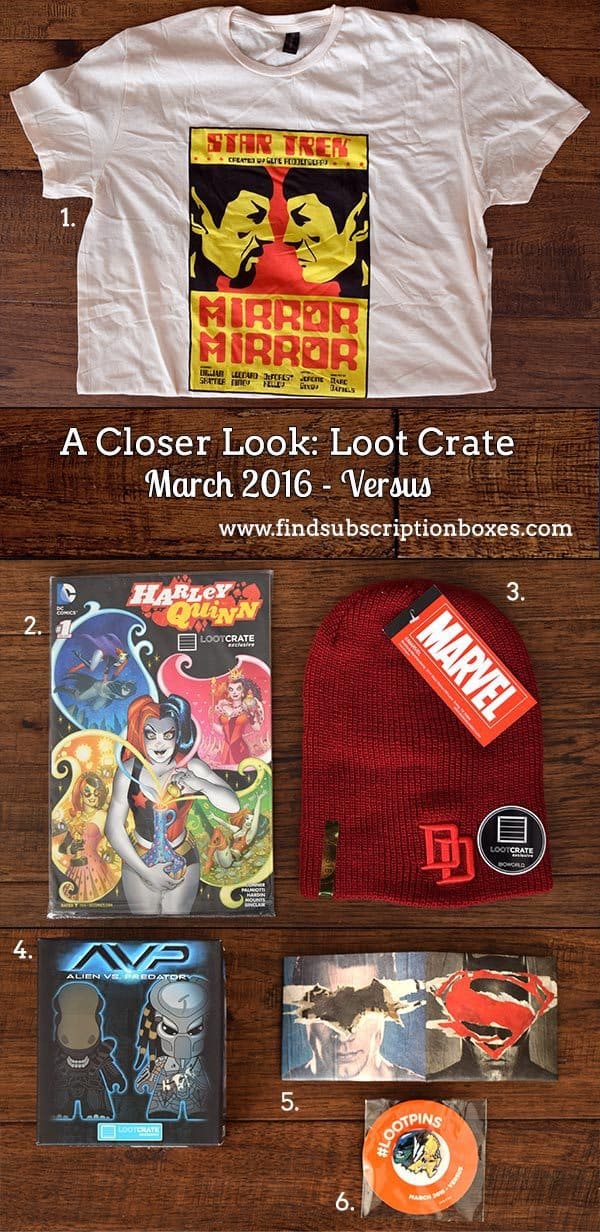 Mirror, Mirror T-Shirt
Spock meets his look-alike foe face-to-face with this fashionable Star Trek t-shirt.
EXCLUSIVE Harley Quinn Comic Book
Join Harely Quinn in this exclusive adventure. It all begins when she finds a genie bottle…
EXCLUSIVE Daredevil/Punisher Reversible Beanie
Choose your side and keep your head warm and in-style with this reversible beanie. It features DD for Daredevil on the red side while Punisher's skull is on the gray side.
EXCLUSIVE Alien vs. Predator 4.5 Inch Vinyl Figure
Get one of two exclusive vinyl figures for your vinyl collection – an Alien xenomorph which has glow-in-the-dark decorations or its enemy, the Predator.
EXCLUSIVE Batman V Superman: Dawn of Justice Mighty Wallet
Protect your money with this Mighty Wallet made of Tyvek. It features images of Batman and Superman and has pockets for money, credit cards and business cards.
EXCLUSIVE March 2016 Loot Pin
The March Loot Pin unlocks complimentary Aliens or Predator movie rentals (domestic) or a code to download Dark Horse Comics' Aliens vs. Predator: Three World War #1.
March 2016 Loot Crate Review Wrap-Up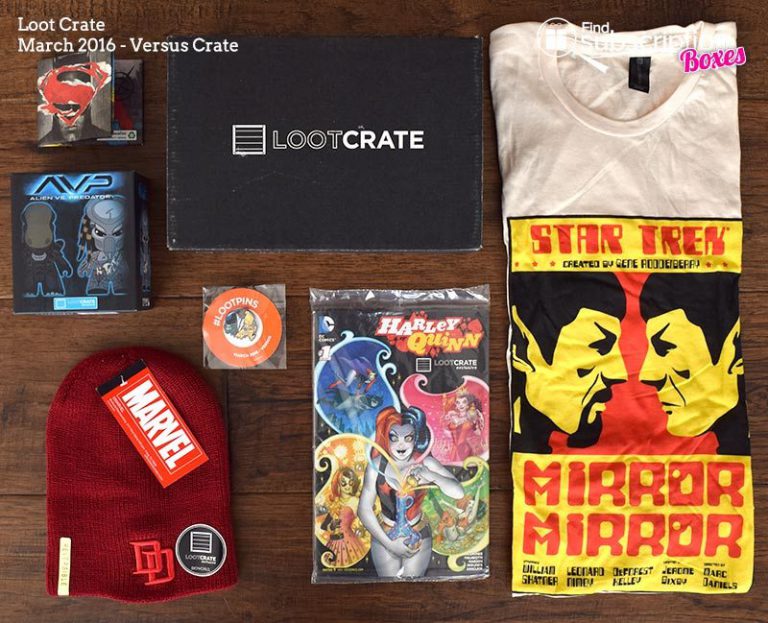 The March Versus Loot Crate brought us great rivalry gear from a variety of geek franchises. The Batman V Superman wallet is the perfect accessory for superhero fans. It's made of super durable material to withstand all your adventures.
Whether you're a fan of Daredevil or Punisher, this comfy beanie will let you show who support. The Star Trek Mirror, Mirror t-shirt is a great addition to any geek shirt collection. We really like that the shirt is a lighter color as well. We can't wait to read the exclusive Harley Quinn comic to see what antics she's up to next.
What was your favorite March Loot Crate Versus crate item?
Loot Crate Coupon Code
Don't miss another box! Save $3 off new Loot Crate subscriptions when you use coupon code LOOTR3or use code FINDBOXES to save 10% off any Loot Crate subscription.