GLOSSYBOX beauty subscription boxes deliver luxury makeup and skin care products every month. Each GLOSSYBOX beauty box features five deluxe and full-size beauty products from popular and emerging luxury and niche beauty brands. With today's GLOSSYBOX review, we're unboxing the March 2017 GLOSSYBOX.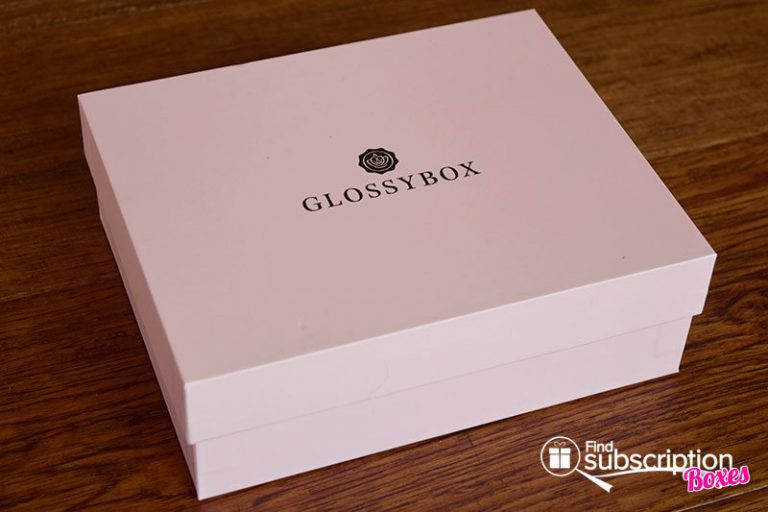 The March GLOSSYBOX brochure was a fold out flyer with pictures and descriptions for each of the beauty products in this monthly beauty subscription box. There are also useful tips and tidbits of information for using the luxury beauty treats. GLOSSYBOX also shared that April's beauty box will have 7 beauty products!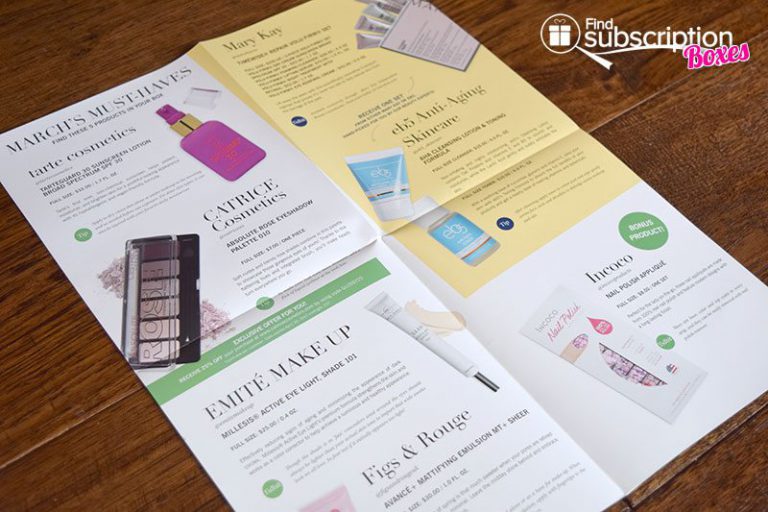 Here's a first look inside our March GLOSSYBOX.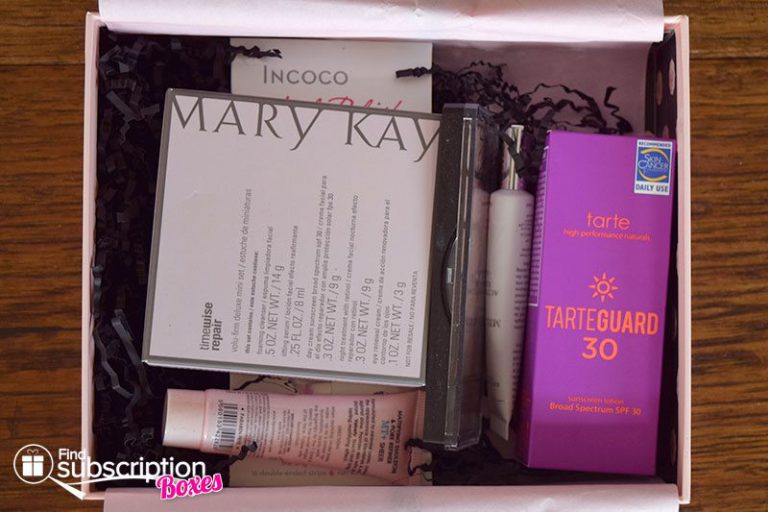 Inside the March 2017 GLOSSYBOX
Our March 2017 GLOSSYBOX had 5 makeup and beauty products and a bonus item.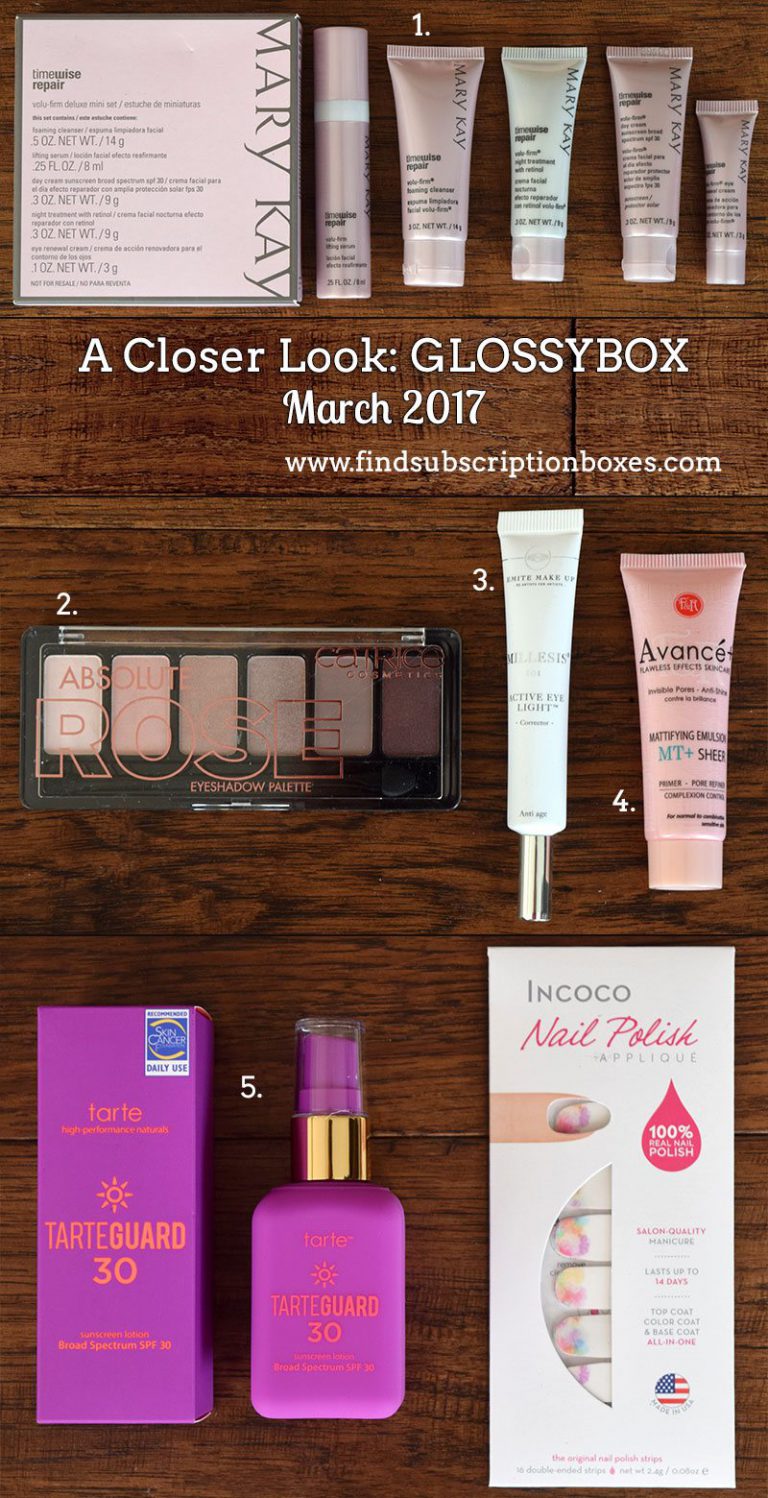 Mary Kay Timewise Repair Volu-Firm Set
This 5-product regimen is proven to help rescue skin from the damage of the past.
CATRICE Cosmetics Absolute Rose Eyeshadow Palette 010
Showcase your gorgeous eyes with the flattering hues of soft nudes and trendy rose shades.
Emité Make Up Millesis Active Eye Light – Shade 101
Reduce signs of aging and minimeze the appearance of dark circles with this color correcting formula.
Figs & Rouge Avancé+ Mattifying Emulsion MT+ Sheer
Refine pores and reduce breakouts with this sheer, matifying primer.
tarte cosmetics tarteguard 30 Sunscreen Lotion Broad Spectrum SPF30
Protect, moistruize and brighter your skin for a youthful-lookng appearance with tarte's first ever non-chemical sunscreen.
Bonus Item: Incoco Nail Polish Applique – Brilliant Blossom – These nail appliques are made from 100% real nail polish and are perfect for the lady on-the-go.
March 2017 GLOSSYBOX Review Wrap-Up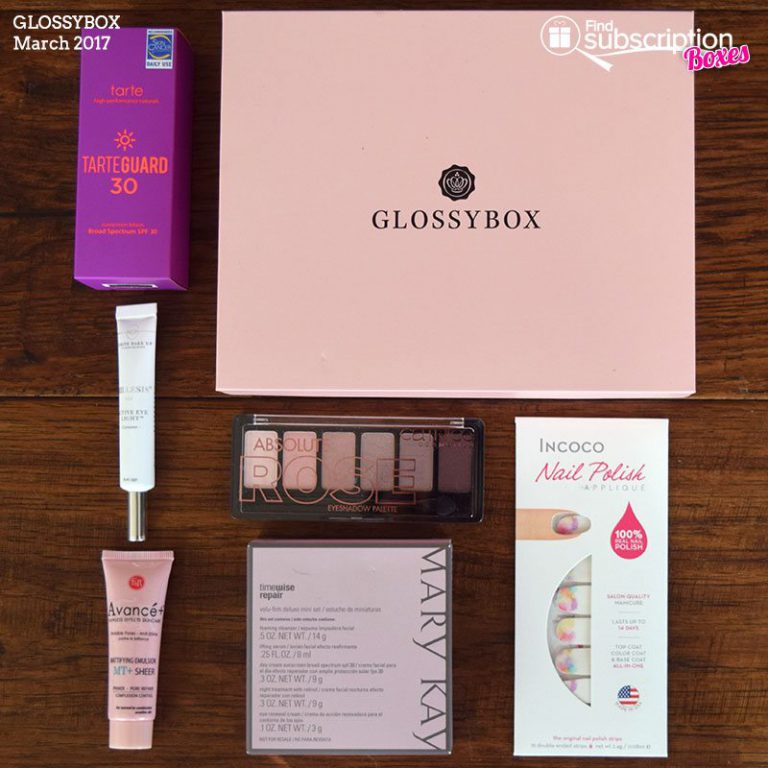 The March GLOSSYBOX was filled with skincare and beauty products to help us look fresh and vibrant for spring. Protecting your skin from harmful UV rays is one of the best ways to keep your skin healthy. The tarteguard sunscreen from tarte cosmetics has a lightweight formula that smells amazing. It's the perfect way to protect your skin before heading out in the sun.
With combination skin, you sometimes get an oily t-zone. The Figs & Rouge mattifying primer is the solution to keep your complexion looking fresh and not greasy. It does a great job controlling the shine and lasts all day.
Next, you can take care of any dark under-eye circles with the Emité Make Up Active Eye Light creme. This premium corrector blends easily into your skin and does a great job keeping your eyes looking fresh.
For serious anti-aging treatment, you'll love the Mary Kay Timewise Repair set. This advanced anti-aging set has 5 products that work together to make your skin look fuller and more youthful.
We love the eyeshadows in the CATRICE Cosmetics Absolute Rose Eyeshadow palette. These 6 eyeshadows range from a very delicate nude-pink to a darker plum color. You can use the palette to create a variety of evening and daytime looks.
Finally, this month's bonus item is a great way to get a gorgeous manicure in minutes. Our nail polish design had lovely pastel flowers with a white base.
What was your favorite March GLOSSYBOX luxury beauty product?
GLOSSYBOX March 2017 Free Gift Offer
Join GLOSSYBOX today and use coupon code EVESBRUSH to get a FREE Eve's Makeup Brush in your first GLOSSYBOX – a $27 free gift value!
*Offer valid through March 31st, 2017, 11:59 pm ET. Valid only on the purchase of any new recurring subscription (Monthly, 3-Month, 6-Month or 12-Month). New plans will begin the date they are created and cannot be combined with an existing subscription/order. Apply code in the Enter Promotion Code section at checkout. If code does not apply successfully before checkout, it cannot be added at a later time. One code per customer. Available while supplies last.