Loot Crate DX delivers monthly geek subscription boxes filled with premium geek collectibles.  Each month, Loot Crate DX subscription boxes feature "next level loot" including $100+ worth of pop culture collectibles, lifestyle gear, premium apparel, and more exclusive items for geeks and pop culture fans. With today's Loot Crate DX review we're unboxing the March 2017 Loot Crate DX crate. The March Loot Crate DX theme was PRIMAL.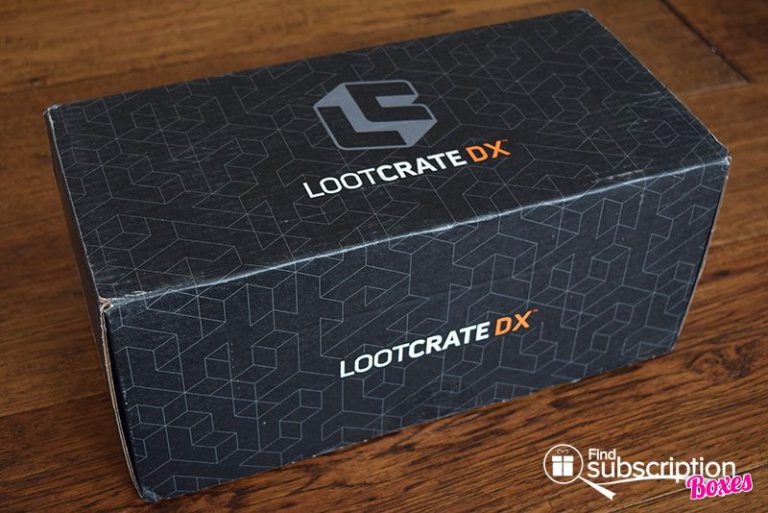 Loot Crate DX includes a colorful fold-out that shows pictures and lists a description for each of the premium geek collectibles in the box.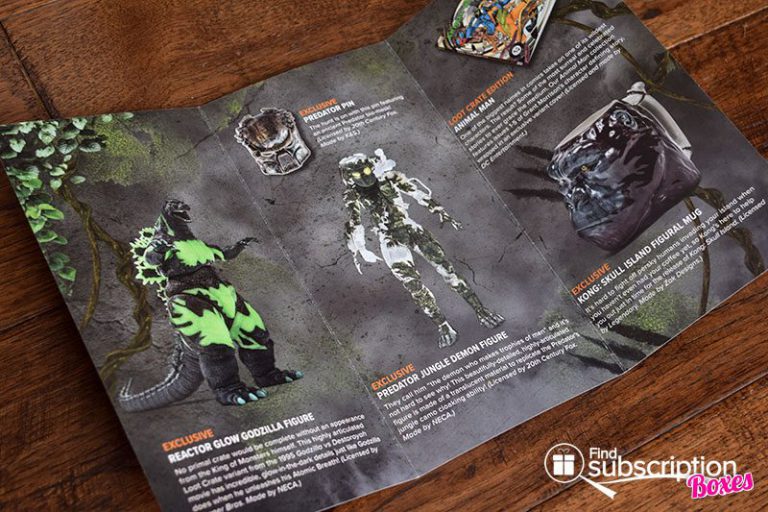 Here's a first look inside our March 2017 Loot Crate DX Primal crate.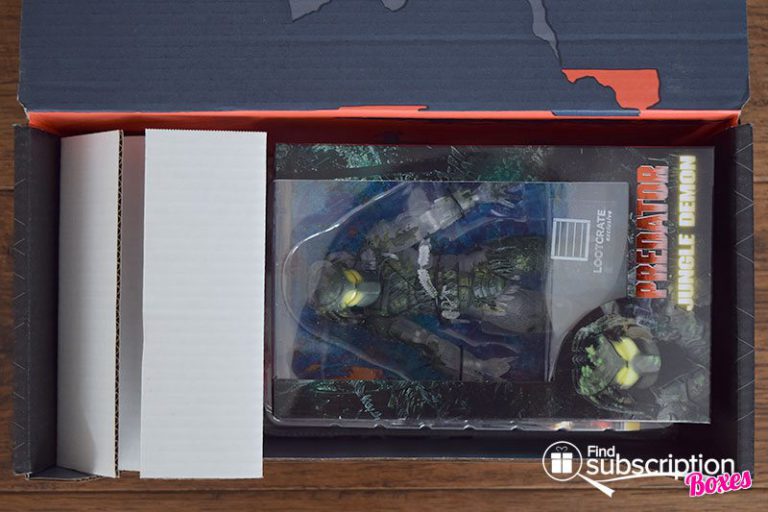 Inside the March 2017 Loot Crate DX Primal Crate
There were 5 premium collectibles in the March Primal Loot Crate DX subscription box.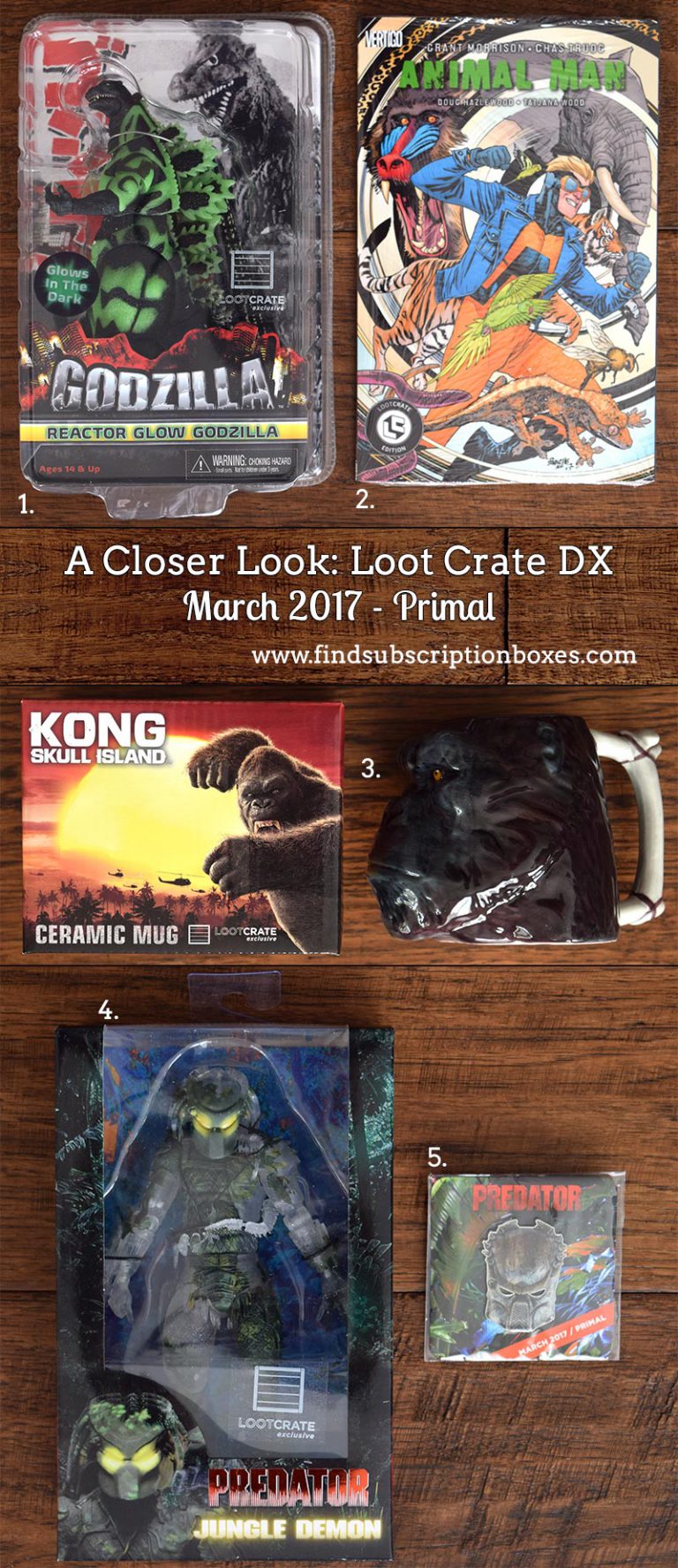 EXCLUSIVE Reactor Glow Godzilla Figure
From the 1995 Godzilla vs Destoroyah, this Loot Crate variant Godzilla figure is highly articulated and has glow-in-the-dark details.
Loot Crate Edition Animal Man
This Animal Man collection has issues 1-5 of Grant Morrison's character-defining story and an exclusive variant cover.
EXCLUSIVE Kong: Skull Island Figural Mug
Start your day with a morning coffee in this fearsome Kong mug.
EXCLUSIVE Predator Jungle Demon Figure
This beautifully detailed figure is highly articulated and is made of a translucent material to mimic the Predator's jungle camo cloaking ability.
EXCLUSIVE Loot Crate DX Pin
March's Loot Crate DX pin is an ancient Predator bio-mask.
March 2017 Loot Crate DX Box Review Wrap-Up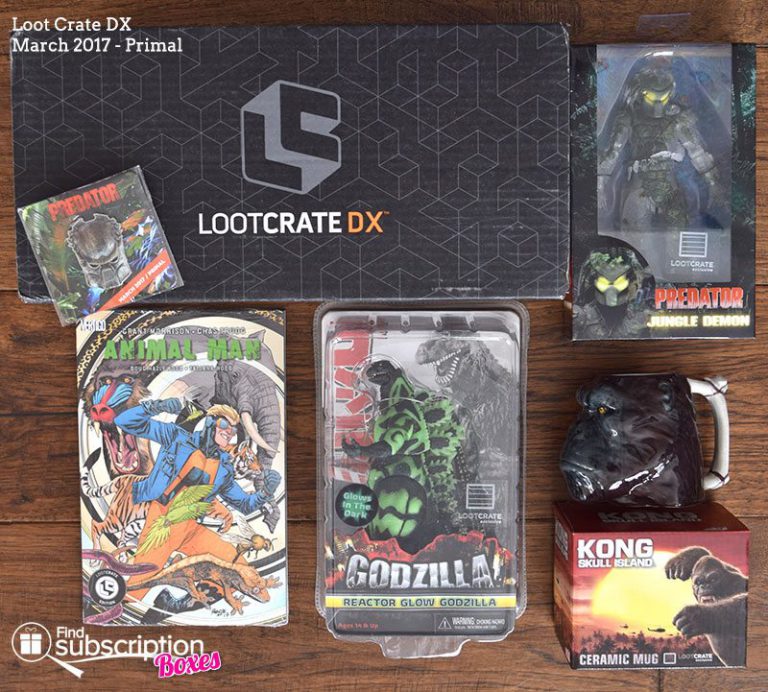 With two vinyl figures and lots of exclusives, the March Primal Loot Crate DX was another epic collection. The glowing Godzilla figure is awesome. Just "charge" him up and cut-off the lights to watch Godzilla glow. The glowing pattern mimics Godzilla unleashing his Atomic Breath. His arms, legs, head, and waist all move.
Next is the exclusive Predator figure. This is another customized vinyl figure that is really unique. The Predator has a jungle camo cloaking ability that makes him invisible. Parts of this figure are translucent plastic so it looks like he's transitioning into (or out of) cloaking. The figure also is also articulating and highly detailed with his plasma caster, wrist blades and ammo belt.
We just saw Kong: Skull Island so the mug was a perfect item for our morning coffee. This figure mug is molded into the shape of Kong's head.
We haven't read the Animal Man comic before and are excited to read Grant Morrison's origin story for this animal and eco-friendly superhero.
What was your favorite geek collectible from the March Primal Loot Crate DX crate?
Loot Crate DX Coupon Code
Use Loot Crate DX coupon code SAVE3 for $3 off any new Loot Crate DX subscription. Join today!