Loot Crate is a monthly geek and gamer subscription box that delivers $45 worth of geek t-shirts, vinyl figures and other collectibles every month. Each month, Loot Crate selects a new geek theme for their monthly mystery subscription boxes for geeks and gamers. With today's Loot Crate review, we're unboxing the March 2017 Loot Crate. The March Loot Crate theme was PRIMAL.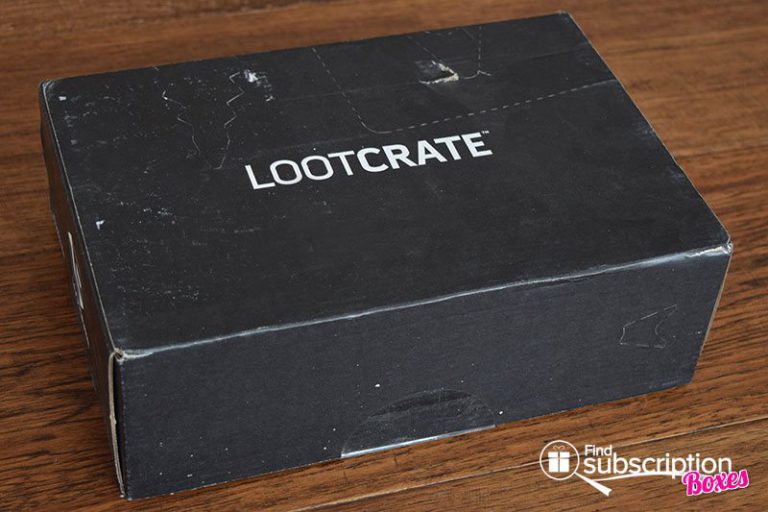 Loot Crate included a colorful, multi-page brochure with pictures and descriptions of this month's collectibles and the brands they represent.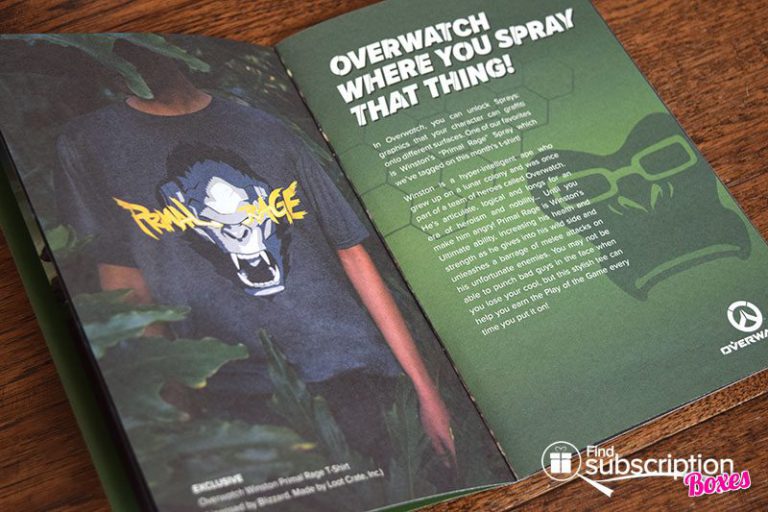 Here's a first look inside our Primal Loot Crate geek box.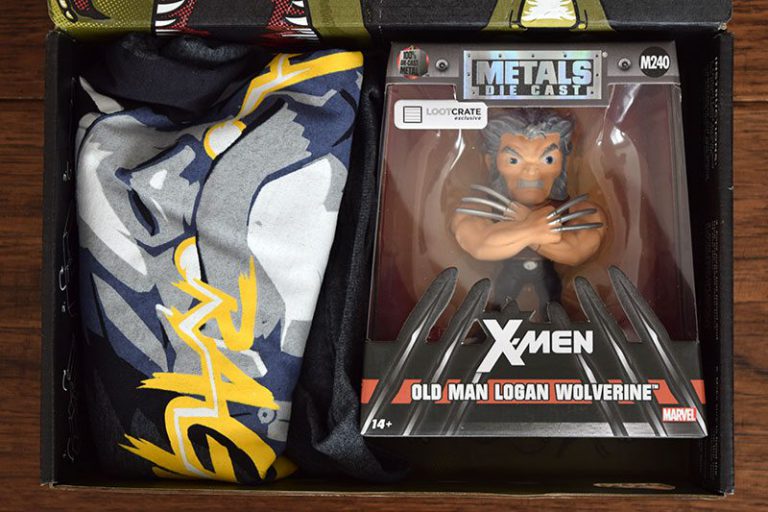 Inside the March 2017 Loot Crate Primal Crate
There were 5 geek and gamer collectibles in the March Primal Loot Crate.

EXCLUSIVE Overwatch Winston Primal Rage T-Shirt
Don't make Winston angry or he'll unleash his Primal Rage. Earn the Play of the Game with this stylish tee.
EXCLUSIVE 100% Die Cast Metal X-Men Logan Wolverine Figure – 1 of 3 Variants
Add an exclusive Wolverine figure to your collection with either Logan, Old Man Logan or Raw Adamantium Logan Die Cast Metal figures.
EXCLUSIVE Predator Bottle Opener – 1 of 2 Variants
Rip the caps right off your bottles with one of 2 Predator bottle openers – the Jungle Hunter from the original Predator or Gort from Predator 2.
Loot Crate Edition Jurassic World Warning Sign
Mount this replica sign from Jurassic World to let others know to keep out.
EXCLUSIVE March 2017 Loot Pin
March Loot Pin unlocks a Party on Your Forehead Exclusive Primal Pack.
BONUS: Loot Crate has partnered with Comixology to give subscribers a FREE digital comic every month. This month, Looters can get digital copies of Savage #1 and #2 for free!
Loot Crate recently launched the Secret Order of Keys which gives Looters a series of fun challenges to use your loot in new ways, unlock digital keys, and become the ultimate Looter.
March 2017 Loot Crate Review Wrap-Up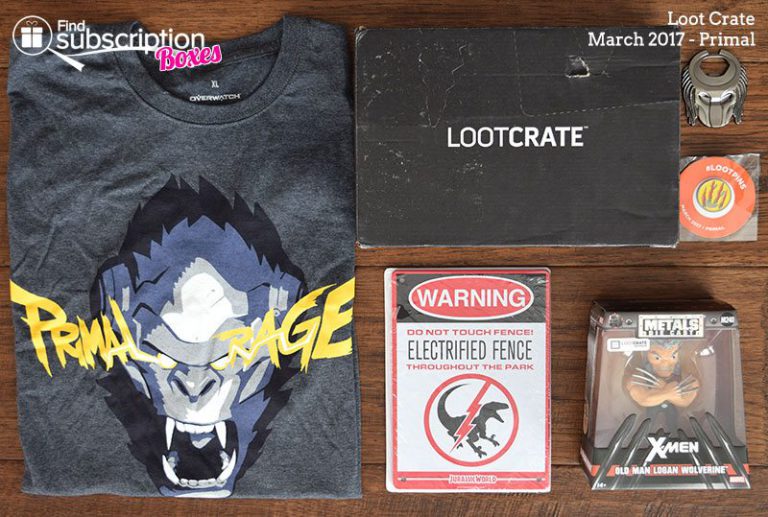 Loot Crate kicked off the March Primal crate with an epic Overwatch t-shirt. The design is Winston's "Primal Rage" Spray, one of the graphics that your Overwatch character can unlock to graffiti onto different surfaces.
Next is the exclusive Logan Metals Die Cast figure. We receive Old Man Logan Wolverine with his claws out and ready to attack. These Metals Die Cast figures are 4″ tall and are made of 100% die-cast metal.
The Jurassic World metal sign is a fun accessory to decorate your home or outdoor space. It has a small hole in each corner so you can mount the sign using the included zip ties.
The Predator bottle openers are made of metal and sturdy. We received the Jungle Hunter version. It's a great compact size for throwing into a pocket, purse or glove compartment.
Which was your favorite March Loot Crate Primal crate collectible?
Loot Crate Coupon Code
Don't miss another box! Save $3 off new Loot Crate subscriptions when you use coupon code LOOTR3. Sign-up for 12 months of Loot Crate geek boxes and you'll get a free Loot Crate t-shirt!