Nerd Block Jr. is a monthly subscription box of toys for the Nerd. It's curated by guests and celebrities, sometimes includes autographed items, has exclusive and collectible merchandise, and all are from your favorite name brands. You select the theme which best fits your personality. From there, their experts cull from all over to fill your Nerd Block Jr. subscription box with surprise items to fit your choice of theme. A ShirtPunch! T-shirt is included with each shipment. With today's Nerd Block Jr. review, we're unboxing the March 2017 Nerd Block Jr. for Boys box.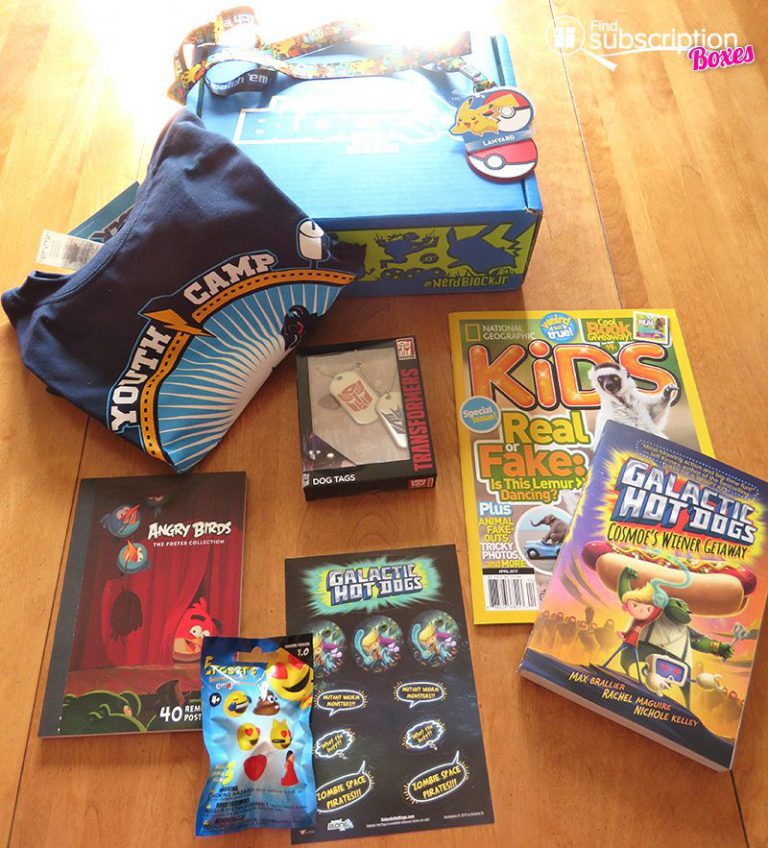 Inside the March 2017 Nerd Block Jr. for Boys Box
The March 2017 Nerd Block Jr. for Boys subscription box contained six items, plus the ShirtPunch! T-shirt, from multiple pop culture favorites. As always, collector's items are sealed and/or tagged, giving the subscriber the option to open and play with the items or saving them for a collection.
Angry Birds: The Poster Collection book by Rovio Books. The book contains 40 postcard size posters which are removable from the book. Colorful and on heavy card stock.
Transformers Generations Dog Tags in a two-pack of red and blue. Genuine licensed product.
Galactic Hot Dogs: Cosmoe's Wiener Getaway graphic book from Simon & Schuster, plus a sticker page with the same theme.
Pokemon Lanyard from FAB-NY in one of two characters featured. The catch features a safety release and the fabric is satiny to feel soft against the skin. Perfect for keys, other character charms, or to put on the backpack.
National Geographic KIDS Magazine in a full, current issue. A fun-filled magazine with facts and information which makes learning fun.
Emoji erasers with three assorted erasers of six possible emoji characters inside.
ShirtPunch! T-shirt in a Power Rangers graphic with an Angel Grove Youth Camp theme. High quality t-shirt in a Nerd Block Jr. exclusive graphic.
March 2017 Nerd Block Jr. for Boys Box Review Wrap-Up
Our collector's favorite items are the emoji erasers and the National Geographic KIDS Magazine. Everything is high quality and well made. This is a fun mix of items perfect for the collector or enthusiast of Geek and Nerd pop culture for playing with or saving for the future or perhaps trading with a friend—with permission from a parent.
There are six different themes to choose from on the Nerd Block subscription boxes website: Classic, Arcade, Sci Fi, Horror, Comic, T-shirt, and Jr (great for kids), and you can switch themes at any time. The Jr. box allows you to pick for boys or for girls ages 6-11, contains 4-6 toys per Block, and has a $40 retail value. A new feature on the website is a shop to buy selected extra items featured in the boxes. They offer some special promotions, and all of their boxes are "Geek test, Nerd Approved." Their boxes appeal to many ages and their website invites fans to post Nerd Block unpacking videos on YouTube for all to enjoy.
Nerd Block Jr. for Boys Coupon Code
Exclusively for Find Subscription Boxes readers! Join Nerd Block Jr. for Boys today and save 15% off your 1st month with code FINDBOXES. Subscribe today!