Amazon has recently launched new Amazon Sample Box services. Available exclusively for Amazon Prime Members, Amazon Sample Boxes are one time box purchases that allow customers to try a variety of new products in beauty, grooming, nutrition, snacks, and more. The May 2016 Amazon Snack Foods Sample Box is now available! On sale for $4.99, the May Amazon Snack Foods Sample Box includes 5 or more snack and food samples from the brands below. Samples and Flavors may vary by box.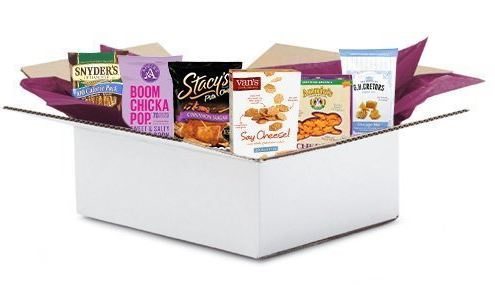 Annie's Homegrown Organic Cheddar Bunnies
Van's Say Cheese! Crackers, 5 Ounce Boxes
Snyder's of Hanover 100Calorie Pretzel Stick Multipack
Stacy's Pita Chips
Angie's Boomchickapop Sweet & Salty Kettle Corn, 1 Ounce
G.H. Cretors Popcorn Chicago Mix
For a limited time, buy this box for $4.99 and receive a credit of $4.99 towards your next purchase of select snack foods shipped and sold from Amazon.com.
Order your May 2016 Amazon Snack and Foods Sample Box before it sells out! Shop Now.
Not an Amazon Prime member? Click here to get a FREE 30 day trial of Amazon Prime!