Arcade Block is a video game subscription box from Nerd Block. Every Arcade Block has 4-6 video game collectibles, including an exclusive gamer t-shirt, with a total $60+ value. Nerd Block recently announced that every Block, starting in June, will have a free $10 credit to ShirtPunch.com! With today's Arcade Block review, we're unboxing the May 2016 Arcade Block.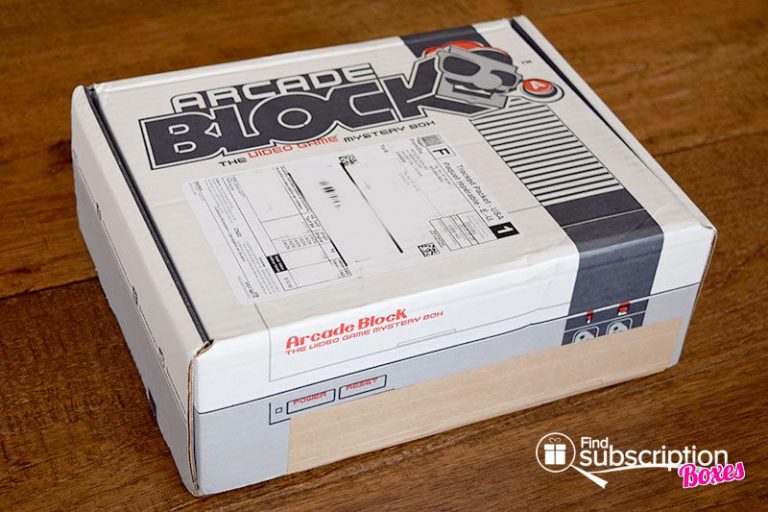 Arcade Block includes a product card that shares information about the gamer collectibles in that month's box. There was also a spoiler for the June Arcade Block. We love the video game console design of the box and the matching cartridge design of the card.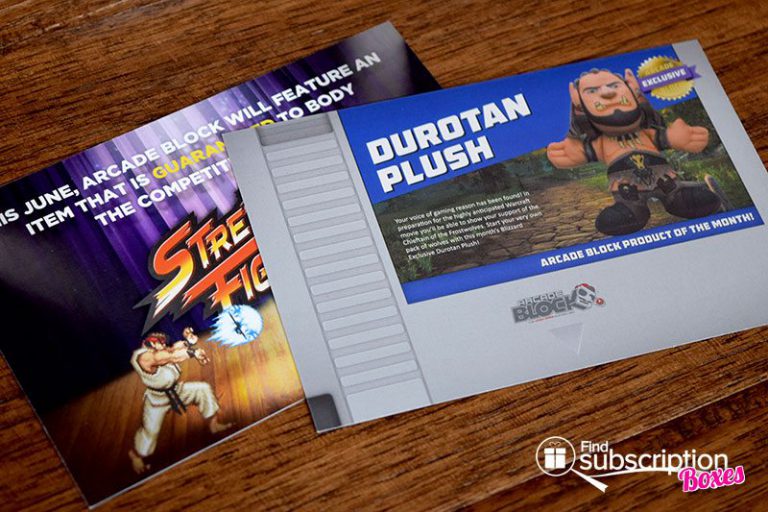 Here's a first look inside our Arcade Block May video game subscription box.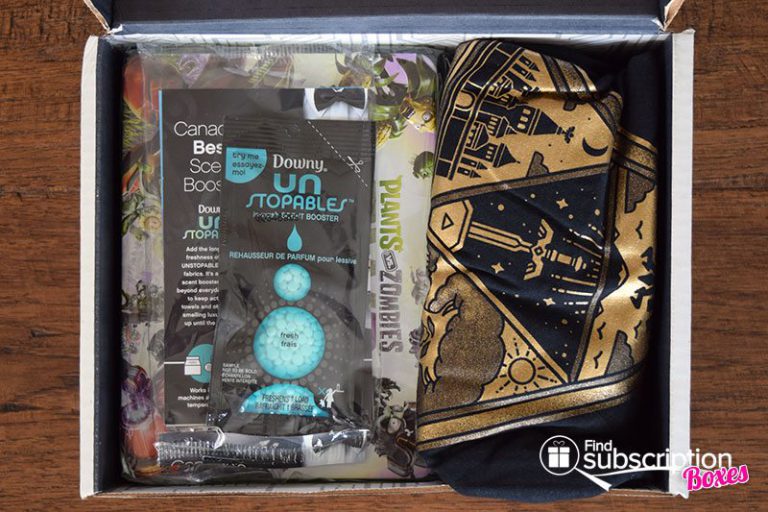 Inside the May 2016 Arcade Block
There were 6 collectibles in our May Arcade Block monthly gamer box.

EXCLUSIVE Durotan Plush
Prepare for the Warcraft movie and show your support of the Chieftain of the Frostwolves with this exclusive plush.
Super Mario Bros. Build a Level Magnet
Take fridges everywhere to the next level by building your own Super Mario Bros. custom level with magnets.
EXCLUSIVE NES Controller Pin
Show off your classic gaming pride with this exclusive pin.
EXCLUSIVE Plant Vs. Zombies Garden Warfare Tin
It's grow time! Protect your lunch or other goodies from the enemy with this exclusive tin.
EXCLUSIVE Zelda Life Hearts Bumper Sticker
Show off your HP levels with this Zelda bumper sticker featuring Zelda life hearts.
EXCLUSIVE Legend of Zelda Triforce T-Shirt
The tri-force of Wisdom, Courage and Power is ready to help you battle and be victorious in your daily adventures.
May 2016 Arcade Block Review Wrap-Up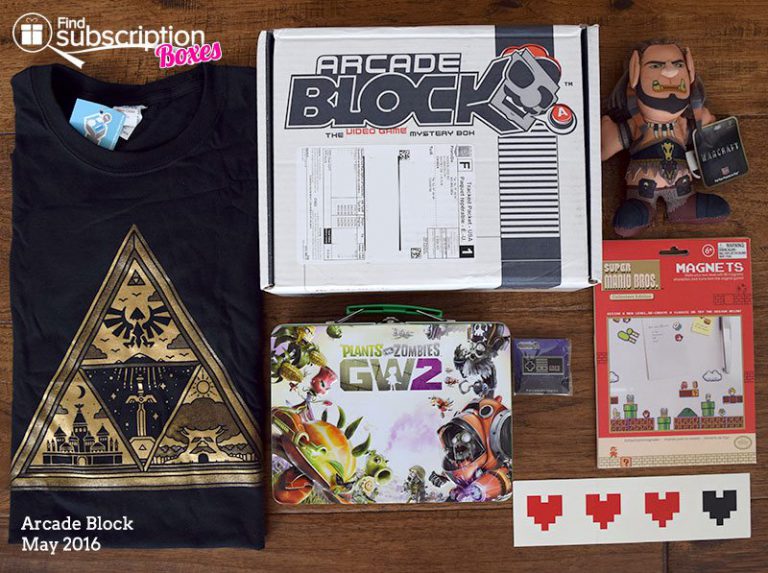 May's Arcade Block was packed with EXCLUSIVE from some of our favorite video games. The Warcraft movie is epic and the Durotan Plush is a fun collectible that honors the young chieftain. Classic Nintendo fans will love the two Nintendo items in last month's box. The Mario magnet set is a lot of fun – you can really create some fun levels to decorate your fridge. The exclusive pin is perfect for some throwback decor on your shirt or bag.
The Plants Vs. Zombies tin is a colorful lunchbox that you won't want to send to school. It features the plants and zombies battling it out and can open on either side. The Legend of Zelda Triforce shirt is a statement gamer shirt that features iconic Zelda symbols and game scenes. The Zelda hearts bumper sticker is perfect for leveling up your car, laptop or any surface.
What was your favorite May Arcade Block video game item?
Arcade Block Coupon
Join Arcade Block now and save on your first video game monthly box! Use Arcade Block coupon code FindSubBox16 to save 15% off the first month of new monthly Arcade Block subscriptions. Save up to 25% with multi-block and multi-month subscriptions!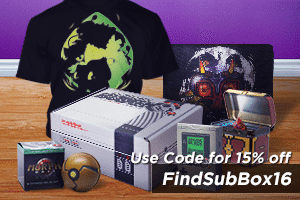 Arcade Block Giveaway!
Enter below for your chance to win a free Arcade Block!