Geek Fuel delivers monthly geek subscription boxes filled with over $50 worth of exclusive geek t-shirts, toys, collectibles, and more. Every Geek Fuel box also includes a full downloadable video game from steam. With today's Geek Fuel review, we're unboxing the May 2016 Geek Fuel box.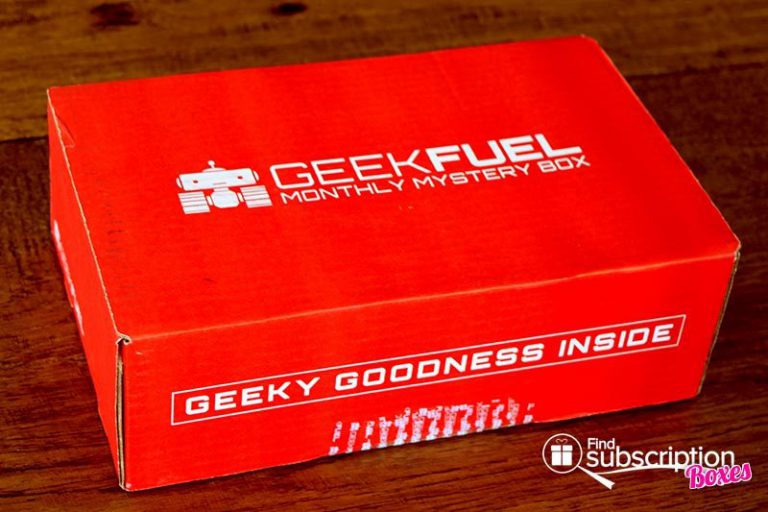 Geek Fuel includes an issue of Geek Fuel Magazine in each mystery Geek Fuel box. May's Issue #17 had a look at the latest Marvel movie, X-Men: Apocalypse and a featured article about Uncharted 4: A Thief's End. Geek Fuel boxes also have a product card that describes each of that month's geek goodies.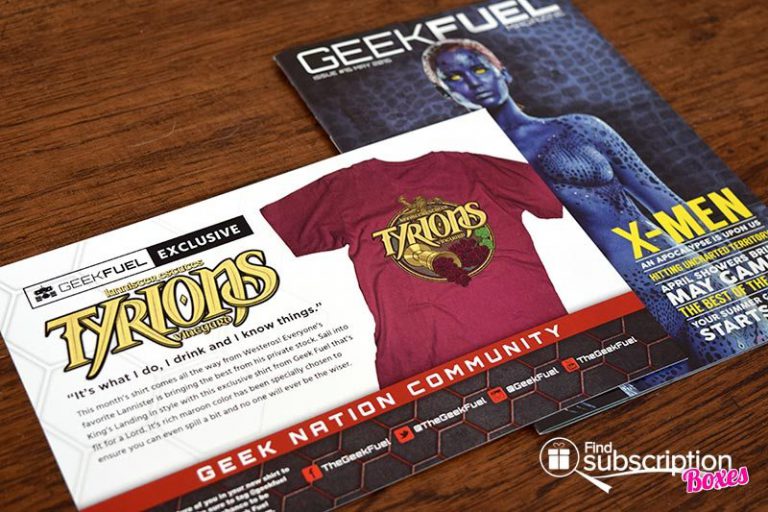 Here's a first look inside our Geek Fuel May 2016 monthly geek box.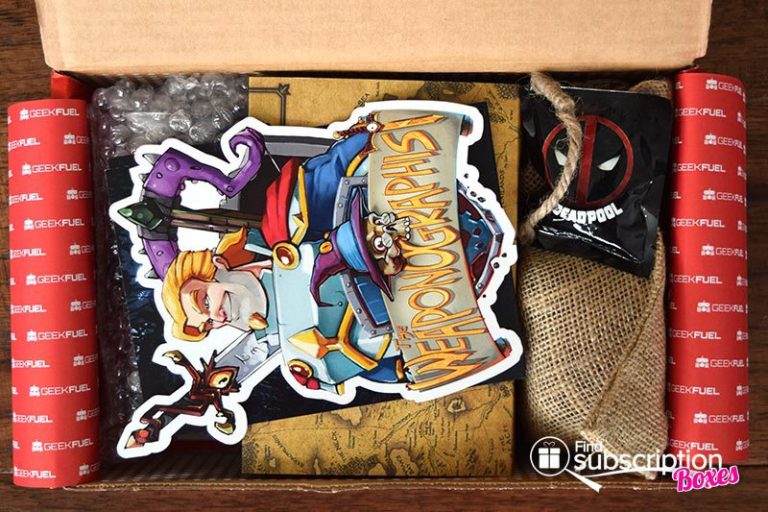 Inside the May 2016 Geek Fuel Box
There were 7 geek goodies in our Geek Fuel May 2016 geek box.

EXCLUSIVE Game of Thrones Tyrion's Vineyard Lannister Estates T-Shirt
Coming to you from Westeros, this exclusive Game of Thrones t-shirt is the perfect color to hide a bit of spilt wine.
EXCLUSIVE Uncharted 4 Double Sided Mini Posters
These two mini posters feature an Uncharted 4 poster and one side and gorgeous concept art on the back.
EXCLUSIVE Refueling Pint
Stay hydrated with this perfect pint glass featuring the Geek Fuel robot.
EXCLUSIVE Deadpool "Ouchie!" Sketch
This exclusive Deadpool sketch
EXCLUSIVE Sir Francis Drake's Lost Ring
Go on a treasure hunt with this custom ring that comes in a decorative wooden box.
EXCLUSIVE Deadpool Monitor Mate
The Merc with a Mouth can hang out at your desk with this mini figure that sits comfortable on your monitor.
The Weaponographist Downloadable Steam Game
A high-speed, dungeon arena game, The Weaponographist follows Doug McGrave as he fights demons and clears the dungeon to survive, all before time runs out.
Random Geek Fuel subscribers also received a Deadpool Blu-Ray!
May 2016 Geek Fuel Review Wrap-Up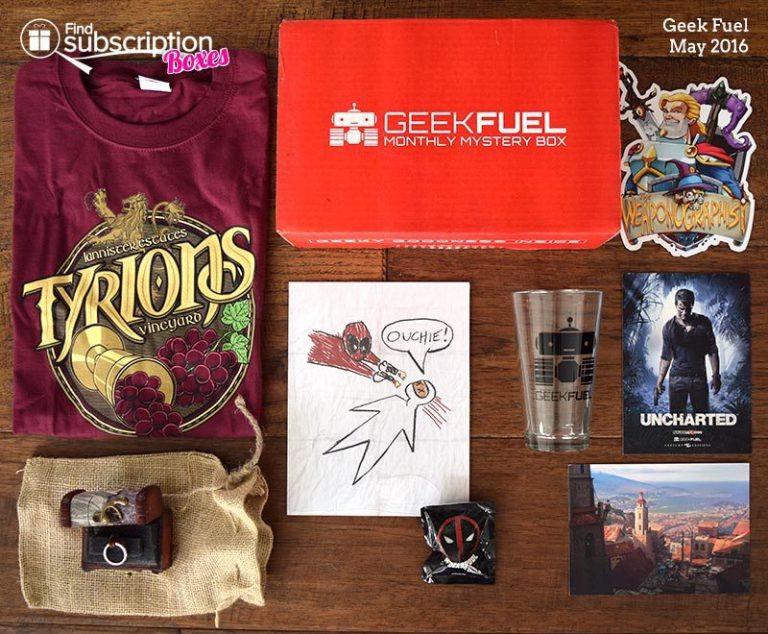 The May Geek Fuel box was filled with exclusive geek goodies from Deadpool, Uncharted and Game of Thrones. The maroon GoT shirt is a bold color and captures Tyrion Lannister's enjoyment of a good glass of wine. The Deadpool sketch is the perfect decoration for refrigerators or walls and the mini Deadpool figure can add a little crazy to your day at work.
The Sir Francis Drake Uncharted ring has "sic parvis magna" inscribed and comes with leather necklace strap so you can wear it as a ring or around your neck. We loved the packaging for the ring too. You can pull out the foam and re-use the box as a keepsake box. We're always up for a video game challenge and this month's Geek Fuel video game sounds like it will test our demon-slaying skills.
What was your favorite Geek Fuel May 2016 geek item?
Geek Fuel Free Gift Coupon
For a limited time, new Geek Fuel subscribers can get a free Star Wars item or Star Wars Gift Pack with new 3, 6 and 12 month Geek Fuel subscriptions. Subscribe now to reserve your May Geek Fuel box and claim your free geek gift.