LOVE GOODLY sends bi-monthly eco subscription boxes filled with beauty, wellness and lifestyle eco-friendly products. With today's LOVE GOODLY review, we're unboxing the April and May 2016 LOVE GOODLY Earth Day Box.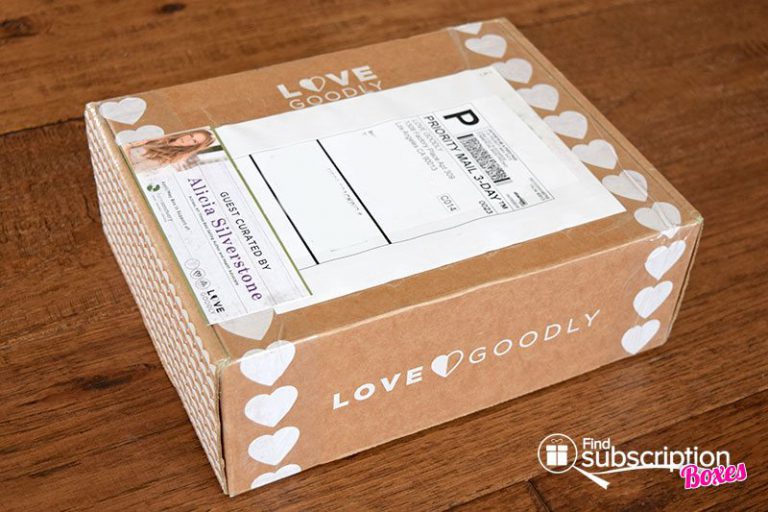 LOVE GOODLY boxes have a card that describes the eco and natural products in each box. The LOVE GOODLY Earth Day Box was curated by Alicia Silverstone and supports Farm Santuary.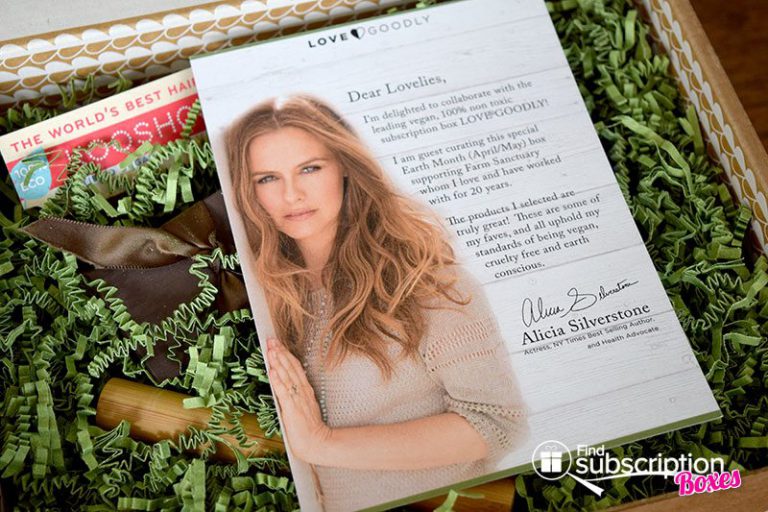 Here's a first look inside our LOVE GOODLY April-May 2016 LOVE GOODLY Earth Day box.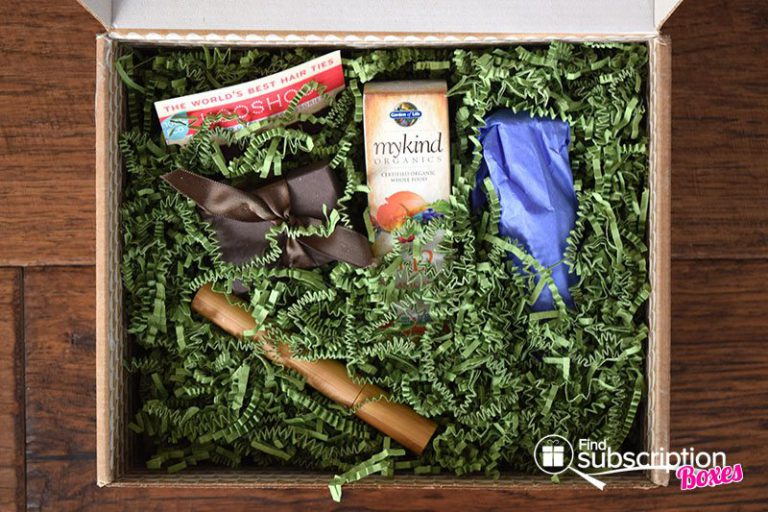 Inside the April-May 2016 LOVE GOODLY Earth Day Box
There were 5 eco goods in our April and May 2016 LOVE GOODLY box.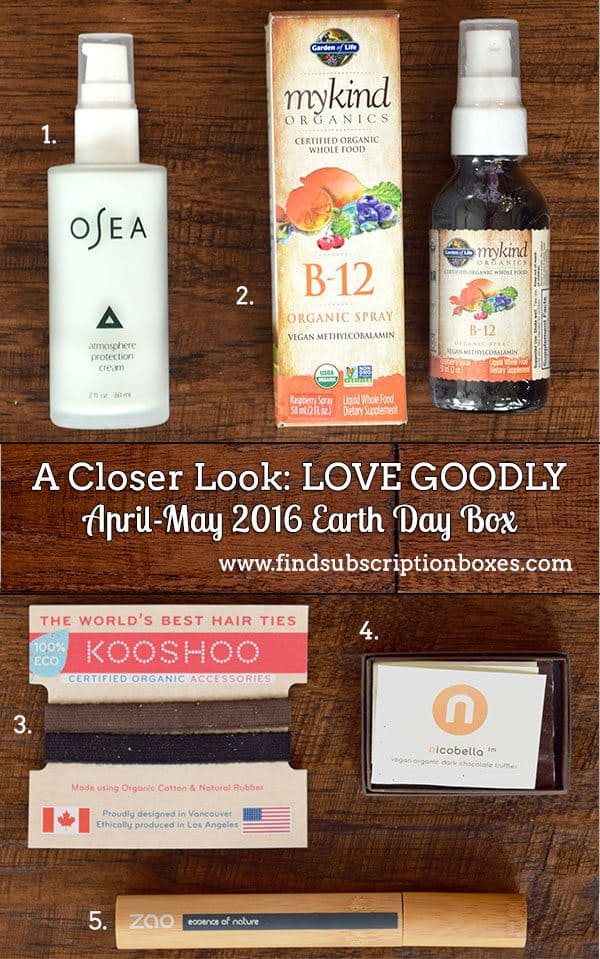 OSEA Atmosphere Protection Cream, Retail Value: $48
Protect your skin from environmental damage with his certified USDA organic moisturizer. It's made with hand-harvested Marine algae (seaweed) from Patagonia.
mykind Organics B-12 Spray, Retail Value: $16.95
This raspberry vitamin mouth spray was created by Alicia Silverstone and Garden of Life. It promotes concentration, energy, and the formation of healthy blood cells.
KOSHOO Organic Hair Ties, Retail Value: $6
Use these organic cotton LILA hair ties to keep your hair eco chic and support a great cause.
Nicobella Organic Dark Truffles – Walnut Flaxseed, Retail Value: $5.95
Made with antioxidant rich 70% organic dark chocolate, these truffles have half the sugar of regular truffles but pack the punch of "super" foods ike walnuts and flaxseed.
ZAO Organic Makeup Organic Volume Mascara, Retail Value: $35
Reduce waste while giving your lashes a volume boost. This vegan, cruetly-free organic mascara has all natural ingredients and comes in a sustainable bamboo case.
May 2016 LOVE GOODLY Earth Day Box Review Wrap-Up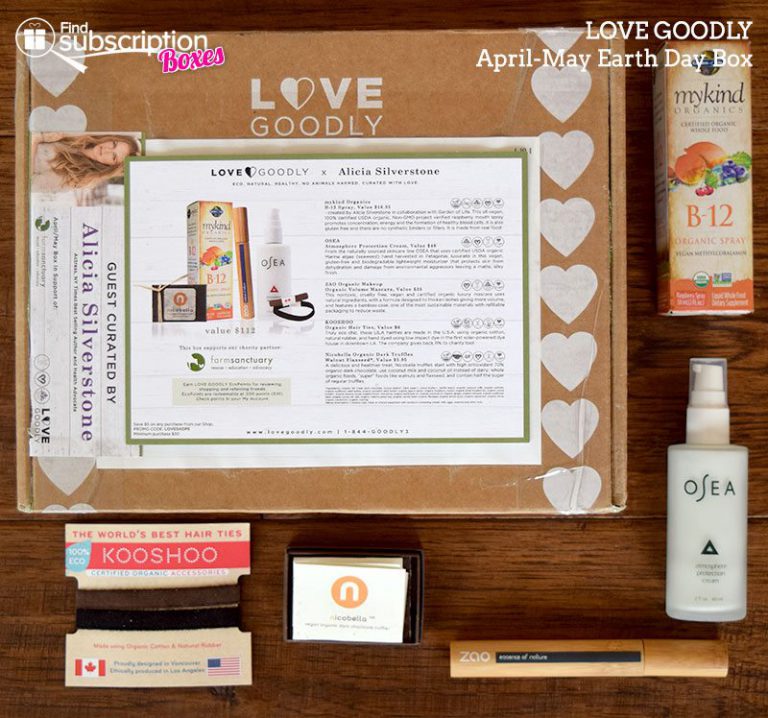 The April-May 2016 LOVE GOODLY Earth Day box had 5 amazing eco-friendly products that were luxurious treats. The OSEA vegan moisturizer goes on light, absorbs quickly and left our face feeling fresh. You can use it alone or as a base for sunscreen or makeup. The Jojoba, lavender and grapefruit oils add to a refreshing, subtle scent. ZAO's mascara was a luxury beauty treat that provides extra volume to your lashes in a nontoxic formula. The bamboo packaging can be refilled to help you reduce waste.
The Kooshoo hair tie is 100% eco-friendly, made with organic cotton, natural rubber, and hand-dyed in a solar-powered dye house! These hair ties are wider than traditional hair ties and they provide a snug hold for pony-tails, buns, or other up-dos. We've been getting our vitamin B-12 boost thanks to the mykind Organics Vitamin spray. It is a really easy way to boost energy and concentration. We keep it in the fridge and just take a spritz! The LOVE GOODLY Earth Day box had a $112 retail value!
What was your favorite product from the LOVE GOODLY Earth Day box?
LOVE GOODLY Coupon
Use LOVE GOODLY coupon code SHOPLOVE5 to save $5 off any LOVE GOODLY order.