Cate & Chloe VIP box delivers monthly jewelry subscription boxes of on-trendy and stylish jewelry right to your door. Subscribers can choose from subscriptions that deliver 1-3 jewelry items in their box. The jewelry you'll receive in your monthly Cate & Chloe VIP box includes bracelets, necklaces, earrings, rings, and other new jewelry trends from Cate & Chloe. With today's Cate & Chloe VIP Box review, we're unboxing the May 2017 Cate & Chloe VIP Box jewelry subscription box. The May Cate & Chloe VIP Box theme was Unconditional Love.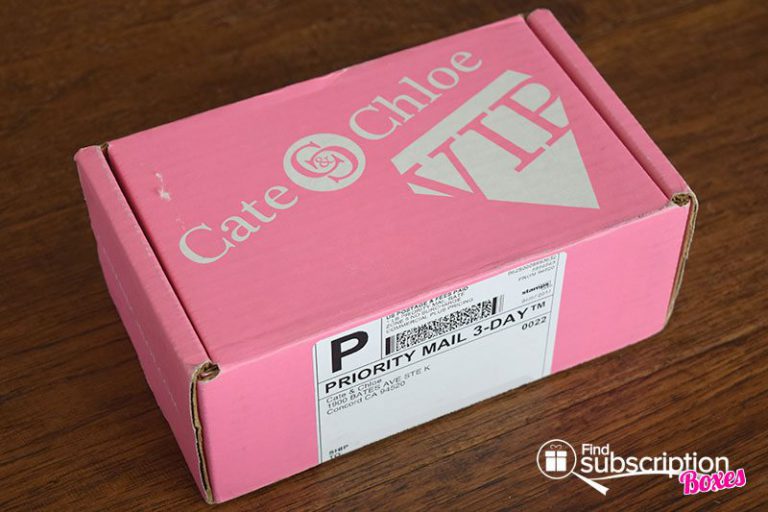 Each Cate & Chloe VIP box includes a product card describing that month's theme and jewelry items. Every VIP box also includes a bonus beauty or lifestyle Perk of the Month item.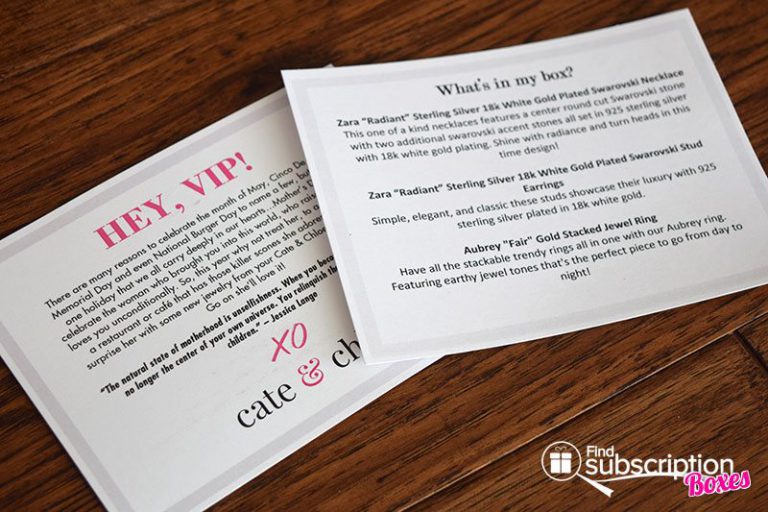 Here's a first look inside our May 2017 Cate & Chloe VIP Box.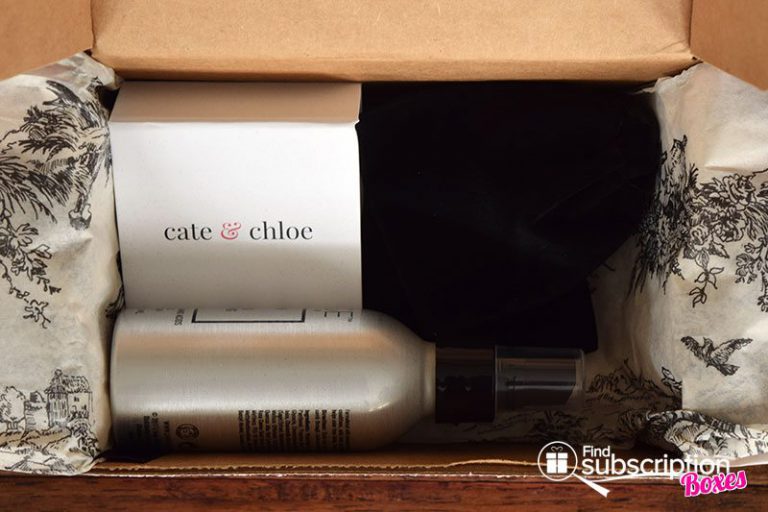 Inside the May 2017 Cate & Chloe VIP Box
There were 3 jewelry pieces and the VIP Perk in our May Cate & Chloe VIP Box monthly subscription box for jewelry.
Zara "Radiant" Sterling Sliver 18k White Gold Plated Swarovski Necklace
This one of a kind necklace features a center round cut Swarovski stone with two additional Swarovski accent stones, all set in 925 sterling silver with 18k white gold plating.

Zara "Radiant" Sterling Silver 18k White Gold Plated Swarovski Stud Earrings
Simple, elegant an classic, these studs showcase ehtier luxury with 925 sterling silver plated in 18k white gold.

Aubrey "Fair" Gold Stacked Jewel Ring
Have all the stackable trendy rings all in one with this Aubery ring featuring earthy jewel tones that's the perfect piece to go from day to night!
Perk of the Month: L'ange Hair Replenish Conditioning Spry – L'ange is best known for supplying elevated hair tools and haircare to fit the lifestyle of the modern woman, and her family too!.
May 2017 Cate & Chloe VIP Box Review Wrap-Up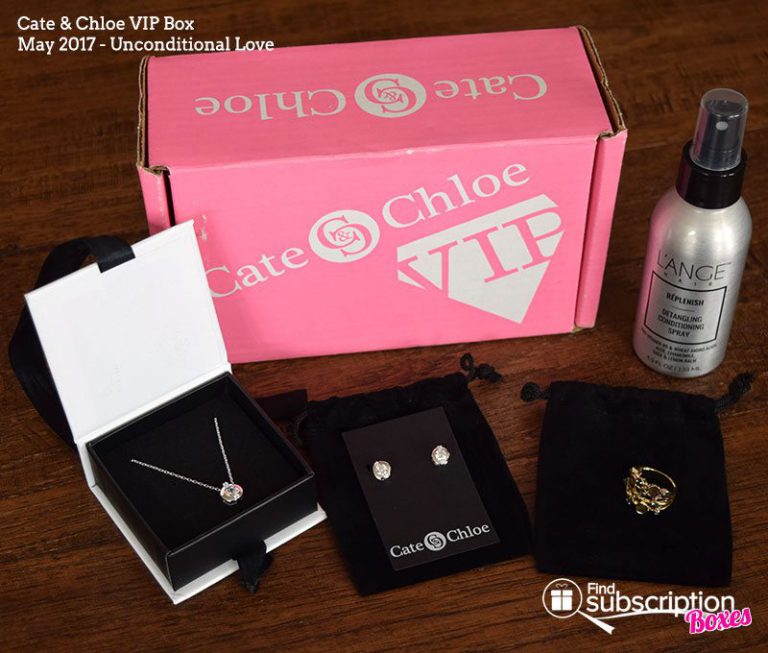 The May "Unconditional Love" Cate & Chloe VIP Box once again delivered amazing jewelry items that are awesome additions to our jewelry collection. A Cate & Chloe VIP Box subscription is one of our favorite ways to get new, on-trend jewelry every month. The May box, which is currently on sale, i a great gift for Moms this Mother's Day.
Let's start with the matching Swarovski necklace and stud earrings. The round cut Swarvoski stone on the necklace and in the stud earrings glisten and sparkle with every movement. The bling to makes them elegant, while the classic design also makes them great accessories for daytime looks.
The Aubrey Gold Stacked Jewel ring emulates the look of stackable rings in one simple piece. The gold ring has earthy jewels in varies sizes set on the top of the ring and makes a statement.
The May VIP Perk was L'ange Hair's Replenish conditioning spray. This leave-in conditioner is the perfect product to revive and nourish your hair after the dry winter air. The spray is formulated with Pro-Vitamin B5, Aloe, Chamomile and wheat amino acids to add body and maintain a healthy scalp.
What did you receive in your May Cate & Chloe VIP box?
May 2017 Cate & Chloe VIP Box Coupon
We're excited to share an exclusive Cate & Chloe VIP Box promo code for FSB readers! Use exclusive code FSBUNCONDITIONALVIP35 to get 35% OFF all one month Cate & Chloe VIP Box subscriptions (The Starter Package, Double the Fun, Full VIP Status.)