Comic Block is the comic book subscription box brought to you by Nerd Block. Comic Block subscription box delivers $60 worth of comic collectibles including an exclusive comic book t-shirt, comic book merchandise, comic books, and other comic collectibles. With today's Comic Block review, we're unboxing the May 2017 Comic Block.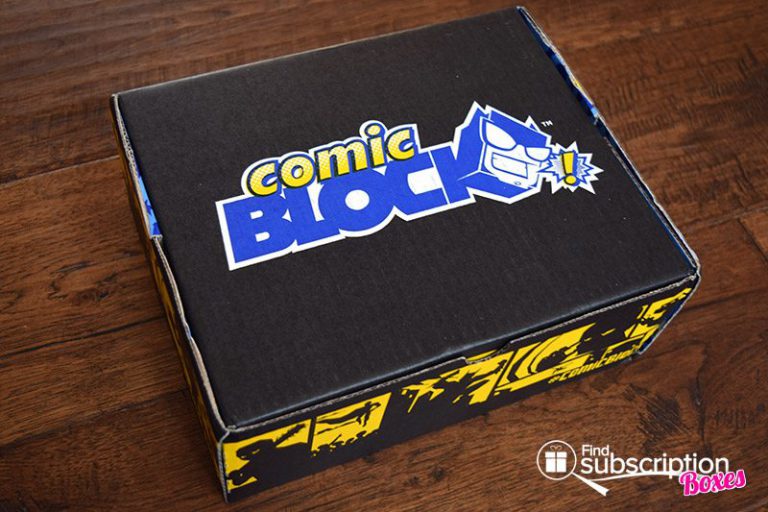 Every Comic Block has a new Nerd Block Magazine – Comic Book Edition. The magazine describes each of the comic book collectibles in the box.  This month, there were also other articles like a Q&A with Two Tribes, and rankings of the Best and Worst Sonic Games and Best to Worst Carrie Prom Scenes.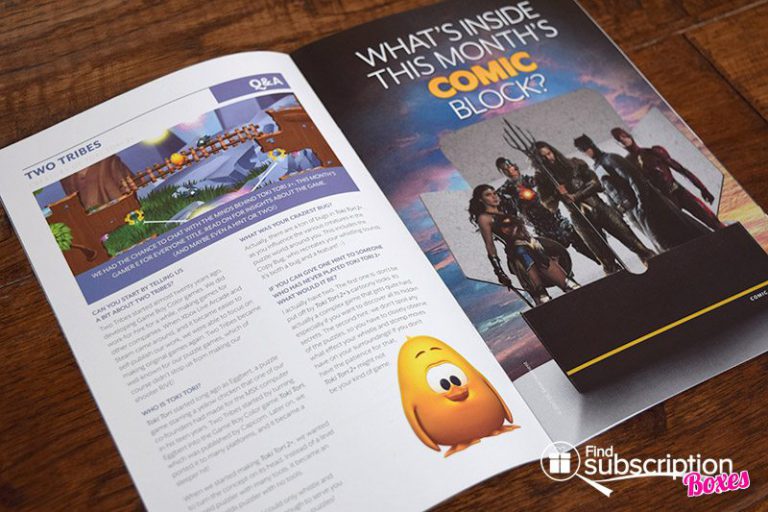 Here's a first look inside our May 2017 Comic Block.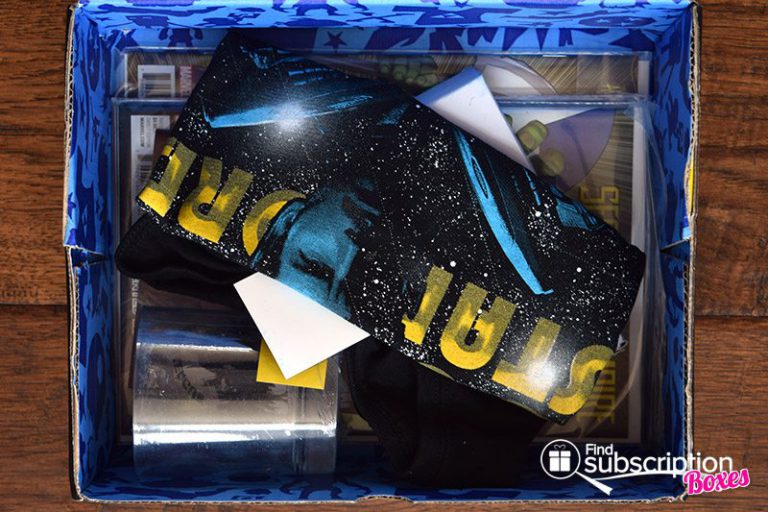 Inside the May 2017 Comic Block
There were 7 comic book collectibles in Comic Block's May comic box.

EXCLUSIVE Star Lord T-Shirt
The Guardians of the Galaxy are out in full force and you can show your support with this exclusive Star Lord t-shirt.
EXCLUSIVE Justice League Bookends
Bring the Justice League into your home and with these exclusive bookends featuring a simple silhouette design.
EXCLUSIVE Justice League Whiskey Tumbler
Enjoy a glass of your favorite drink in this BPA-free, freezer and microwave safe tumbler featuring the Justice League.
EXCLUSIVE All New Guardians of the Galaxy #1
See how the Guardians of the Galaxy ties into Marvel's latest event, Secret Empire with this all-new Guardians of the Galaxy comic.
EXCLUSIVE Secret Empire #1
See how some of your favorite heroes are shaking up in Marvel's Secret Empire.
EXCLUSIVE New Humanz #1
Travel through time and delve deeper into the quickly expanding universe of the Relativity universe.
EXCLUSIVE Stained #1
Follow David Baron's first foray into comic book writing with his new Stained series.
May 2017 Comic Block Review Wrap-Up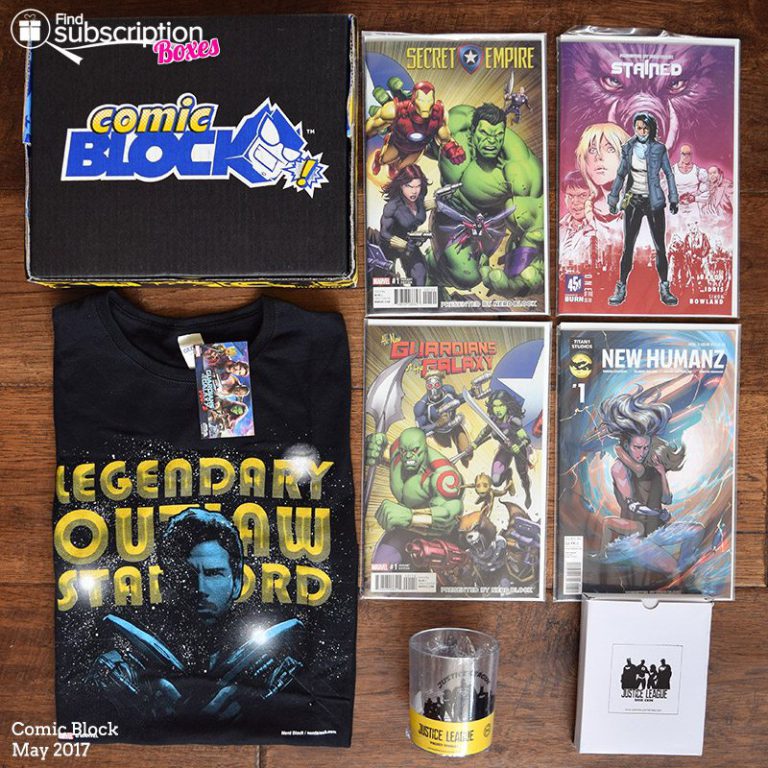 In the All New Guardians of the Galaxy #1, we catch up with the Guardians (including Baby Groot) on their latest mission on Citopia. Unfortunately, the deal doesn't go as planned and one of the team is left with a mysterious ailment. This was an exciting read that was peppered with traditional Guardians humor. The Comic Block May exclusive t-shirt is a legendary shirt featuring the Star Lord.
The new Marvel's Secret Empire variant cover combines with the variant cover from All New Guardians of the Galaxy #1 to create an epic image featuring some of our favorite Marvel Heroes. As we started reading, we were shocked to see Captain America as the Supreme Leader of Hydra! This issue gives us a first look at the world after Steve Rogers has been transformed into the Ultimate Hydrate Sleeper Agent by a Cosmic Cube.
New Humanz by Titan Studios introduces us to mother and daughter Riley and Sadie. A normal day by the lake turns their world upside down when they are mysteriously transported 200 years into the future. Now, Riley is working for a crime syndicate to save enough money to help Sadie get a real human body. The issue ends leaving us wondering how Riley will survive her latest assignment.
We enjoyed David Baron's Stained comic. Emma is partially mechanical and works for the CCPD as a bounty hunter. In this first issue, we get a taste of how Emma catches the bad guys and her life. This issue also provided a sneak peek into Chapter 2.
Finally, Nerd Block rounded out the May Comic Block with two Justice League collectibles! The Justice League bookends are solid black, durable plastic that assemble to create each end. One side has the silhouettes of Wonder Woman and Batman. The other side has Batman and the Flash. Also from Justice League is the plastic whiskey tumbler. With the silhouettes of the Justice League as the design, this tumbler is perfect for enjoying cool beverages. In case you missed it, here's the latest Justice League trailer!
What was your favorite May Comic Block comic book item?
Comic Block Coupon
Join Comic Block now and save on your first comic box! Use Comic Block promo code FindBoxes to save 15% off the first month of new monthly Comic Block subscriptions. Save up to 25% with multi-block and multi-month subscriptions!